RestartHer 2018: The Day the Women Left their Homes…
Schonali
in
Back to Work, Women-friendly Companies, Events
|
24 Sep 2018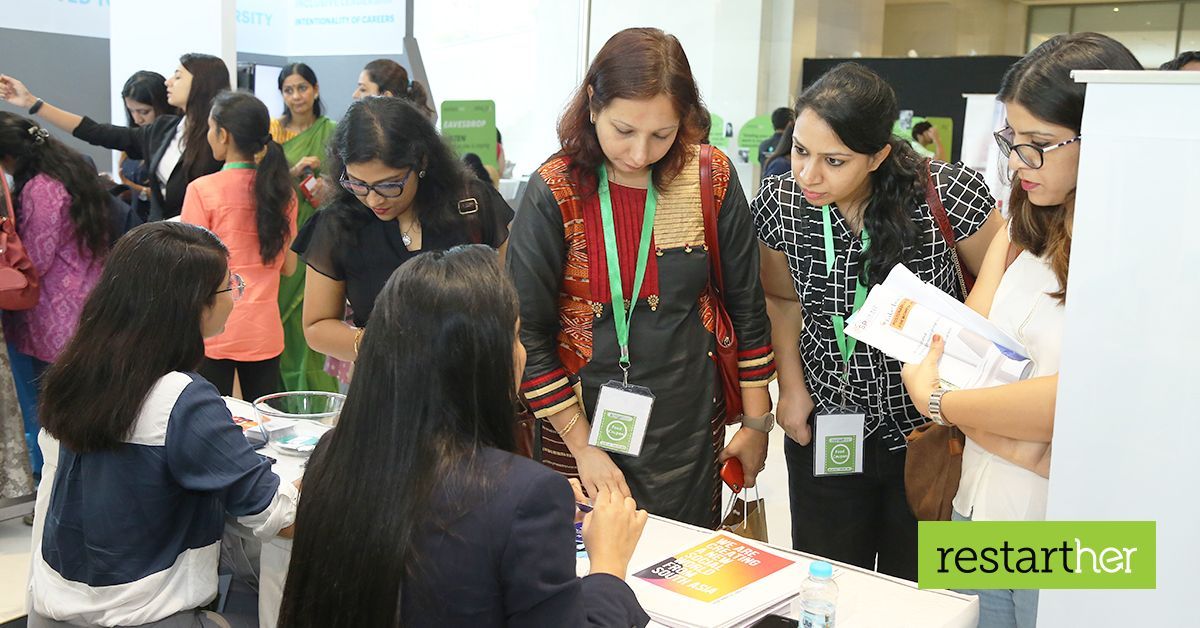 …and Walked in to Reclaim their Careers
From Mumbai, to Delhi, to Bangalore, we took RestartHer to India's women in each city, and they poured through our doors ready to restart and ready to rise, in the workplace.
From the riveting SPEAKERS on stage…
To the informative COMPANY BOOTHS at the career fair…
To the eye-opening WORKSHOPS through the day…
To the captivating EXPERIENCE ZONE of Difficult Conversations…
Women on a break in each city made the MOST of their day.
The earliest registration was 1.5 hours before doors opening, and in every city, more than half the JobsForHer team had left the building leaving behind restarters still networking with every possible recruiter, industry leader, or peer they were meeting that day.
Astounding.
Let it never again be said that women who took the break are NOT ready to make their comeback to the workplace BOSS-STYLE.
Your energy, your commitment to the restart, your impatience to get BACK to work as soon as that door opened to you – all of these are glad tidings for the future of work in India.
Our team worked relentlessly for 3 months to put this roadshow together, over 3 weekends, in 3 cities, across India. Even our babies were saying "RestartHer" in their sleep. And we couldn't be prouder of how YOU showed us that this work is work well-done, job-satisfaction well-earned, and an event to be supremely proud of pulling off.
And, of course, we didn't do it alone.
THESE are the COMPANIES & ORGANIZATIONS who helped us bring RestartHer 2018 to YOU:
We had SPEAKERS from THESE companies on stage inspiring women to return to work by sharing with them all the ways in which the working world is prepping for their return, and enabling women who are on the cusp of taking breaks to do so mindfully and purposefully:
And, as committed as we are to helping you RESKILL BEFORE YOU RESTART, were THESE renowned organizations who hosted workshops with expert trainers:
We had MENTORS step out of their offices and sit at tables with you, giving you PERSONALIZED GUIDANCE in your career restart journeys.
Mentors heading departments like HR, Talent Acquisition, Software Development, Global Operations, Automation Solutions, L&D, Communications, and Data Intelligence, and heading behemoth, medium, and small companies like:
All of this and more was what made RestartHer 2018 India's BIGGEST conference & career fair for women ready to restart & rise in their careers.
Thank you for being there… Thank you for engaging with the event… Thank you for taking the first step back to your career.
India needs her women back to work.
Your family needs the BEST version of YOU there is.
So, what's next?
YOU RESTART.