Intuit Again - Meet & Greet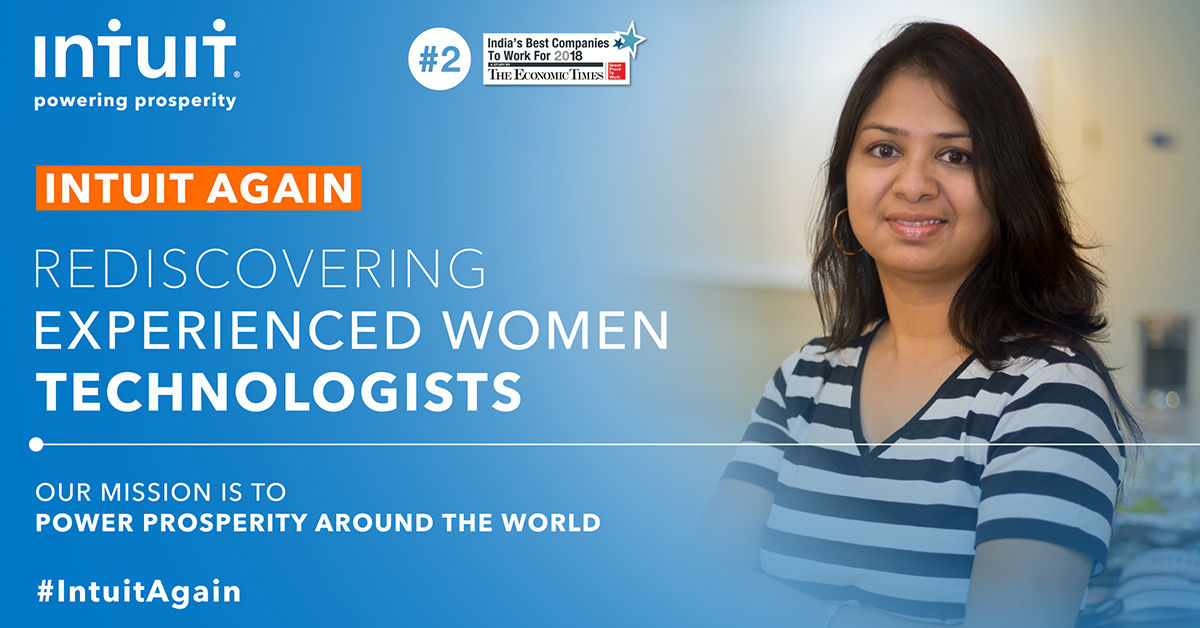 24th May, 2019 to 24th May, 2019

|

02:00pm to 04:00pm

|

Bangalore / Bengaluru
About Intuit Inc.
Our Mission is powering prosperity around the world
We do it by attracting the world's top talent, bringing vital partners into our global platform, and leaving the world a better place through exceptional corporate citizenship.
More Money, More Time, More Confidence
Our global products and platforms, including TurboTax, QuickBooks, Mint and Turbo, are designed to empower consumers, self-employed and small businesses to improve their financial lives, finding them more money with the least amount of work, while giving them complete confidence in their actions and decisions. Our innovative ecosystem of financial management solutions serves approximately 50 million customers worldwide, unleashing the power of many for the prosperity of one. Please visit us for the latest news and in-depth information about Intuit and its brands and find us on social.
About Intuit Again
Deciding to go back to work after a voluntary break for caregiving purposes– is both exciting and daunting. Most women technologists who take break find it challenging to deal with fact they aren't updated, while the technology has moved forward. In a big step to increase diversity across all levels at our workplace and also to bridge the talent gap, Intuit Again got launched in 2015.
Intuit Values
At Intuit, we live by our values of customer obsession and innovation while stressing on the fact that diversity thrives innovation. We also deeply understand and respect the choice of women who opt for a break. So with every new cohort, we aim to provide an improvised launch pad for women returnees back to work and continuously encourage and engage with them to be bold in pursuing their career goals.
Our Intuit Again internship program runs approximately for 6 months. It is a thoughtfully–designed program that extends much beyond just providing a work opportunity to women technologists on break. What sets us apart, is that this program offers our interns to work on some real-time projects that not only gives candidates a chance to work at one of the "Best Companies to Work For" (#2 in India, in 2018) and sharpens their technical and professional skills but also boost their confidence in many ways.
To learn what makes Intuit one of the best places for women to work for, please visit www.intuitagain.com.
In case you or woman technologist you know looking to get back to work, do write to us at again@intuit.com.
To know the agenda of the day scroll down.
Do Your Best Work. Again. Apply Now!
INTUIT AGAIN - Sr Data Engineer
INTUIT AGAIN - SRE Senior Software Engineer
INTUIT AGAIN - Java Developer (EBS)
INTUIT AGAIN - Java Developer (SBSEG)
INTUIT AGAIN - C++ Developer (SBSEG)
INTUIT AGAIN - Java Developer (CTO-Dev)
INTUIT AGAIN - C#/.Net Developer
Agenda:
Registrations
Leadership Talk
Panel Discussion
Assessment for Awesomeness (A4A) presentation by Dennis Wilfred, Head of Talent Acquisition
Q&A Session
Networking with the Leaders and Talent Acquisition Team from Intuit
Date: 24th May
Time: 2 pm to 4 pm
Venue: EcoSpace, Intuit Campus 8, Adarsh Palm Retreat, Bellandur, Bengaluru, Karnataka 560103