Women For Women - Showcasing the JobsForHer Ambassadors
Kaajal Ahuja
in
JFH Ambassador Tribe
|
14 Apr 2017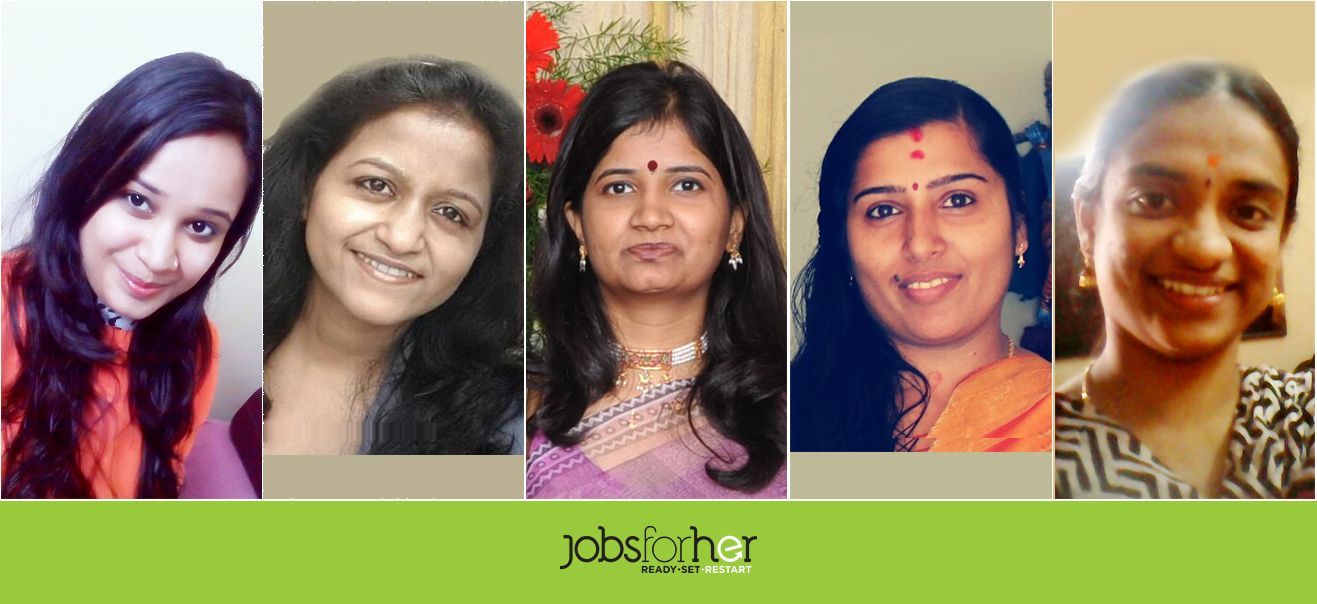 When I say that the JobsForHer team has less and less to do every day when it comes to the JFH Ambassador Tribe, take my word for it - I DO NOT say it in a derogatory sense.
The impassioned women on this ever-expanding community, who, in no time have built bonds as close as soul sisters, are more than willing to jump in and resolve immediately the
concerns of their fellow ambassadors, ON THEIR OWN.

Be it a job query, a personal battle, or ways to upskill and upsell oneself - the JobsForHer Ambassadors find ways to figure it out, within…
Pooja Kushwaha:
A graduate in M.Sc., my passion leans towards music and events. To add to that, I love meeting and interacting with new people. I had to take a short 3-month break due to personal commitments. Having previously worked as a microbiologist, I'm now keen on a work-from-home opportunity so that while tending to family, I can continue to nourish the creative part of me as well.
| Read the JFH Promise to Women Returning After a Break
Swarnarekha:
Being part of the JFH Ambassador community has boosted my confidence. After my graduation, I worked with some big brands like Infosys and JP Morgan, in Bangalore. Since I had to move back to my hometown - Coimbatore, I then picked up a role to handle UK tax processes over the next 2 years. In time, I moved to Chennai due to marriage, and before I could even start my professional journey there, I conceived.
It is now two and a half years since I've been on a break. While resurfacing my talents, I also want to go back to being independent.
Anu Rathore:
Originally from Jodhpur, I'm a computer engineer by profession. My strengths are my honesty and dedication towards my work, and the ability to work under pressure. In my leisure time, I enjoy writing poems and short stories. I have previously worked with placement companies in the field of HR. I went on a 5-year break, during which I got married, migrated to a new place, gave birth to, and nurtured my child.
Being a qualified woman, I feel the need to utilize my potential instead of sitting at home. I want to become independent so that I'm a role model for my son. Playing the part of a JFH Ambassador is awesome! I hope to create awareness about the initiatives at JFH so that many other women can benefit from them too.
| Sign Up with JobsForHer to become a JFH Ambassador
Swati Madkatte:
Presently looking for a work from home opportunity, I hope to be independent when I start working. I have 6 years of experience in online marketing and tech support. Motherhood was the reason I stepped down. But now that my daughter is 3 years old, I wish to get back to work. It's been a great experience spreading the JFH word to inspire all those women who're ready to come back but aren't sure about how to.
Sreepriya Ajaykumar:
An MBA graduate, I have previously worked as a test engineer with Infosys. Since writing is my passion, after a 6-year long break, I took it up as a profession and am currently working as a freelance content writer. I have two kids aged 7 years and 3 years. I took my break for two reasons: maternity and travel.
The passion to be a working mom got me back to work. I feel that a woman's power to be financially independent brings with it work-life balance. Being an ambassador with JobsForHer, I have discovered the power of networking while interacting and working with other highly talented women on the group.
The JobsForHer Ambassadors are a network of highly motivated women who have varied work experience and have taken a career break owing to personal reasons. Our Ambassadors are our brand propagators, who share our vision and are determined to restart their career while helping other women start, restart and rise.
If you wish to start or restart your career journey by becoming a part of this motivational tribe, then sign up with us HERE OR Email us @ ambassador@jobsforher.com OR Whatsapp Khushaali on 9663904952
About the Writer:
Kaajal Ahuja is a commerce graduate, who worked in the field of Customer Support first at HDFC Bank, and then at Dell International. During her 11-year career break, she spent four years volunteering as a Teacher at a government-run educational institution and also ran her own enterprise – 'Hey Gorgeous' – alongside, for 8 years. It was during her break that she discovered her love for writing, and is now back, working part-time as a Senior Content Writer at JobsForHer. She is married and is an upbeat mommy to a 13-year-old.