Parents' Day 2019: Parental Leave, not just Maternity Leave, is the Need of the Hour
Ujwala
in
Back to Work
|
31 May 2019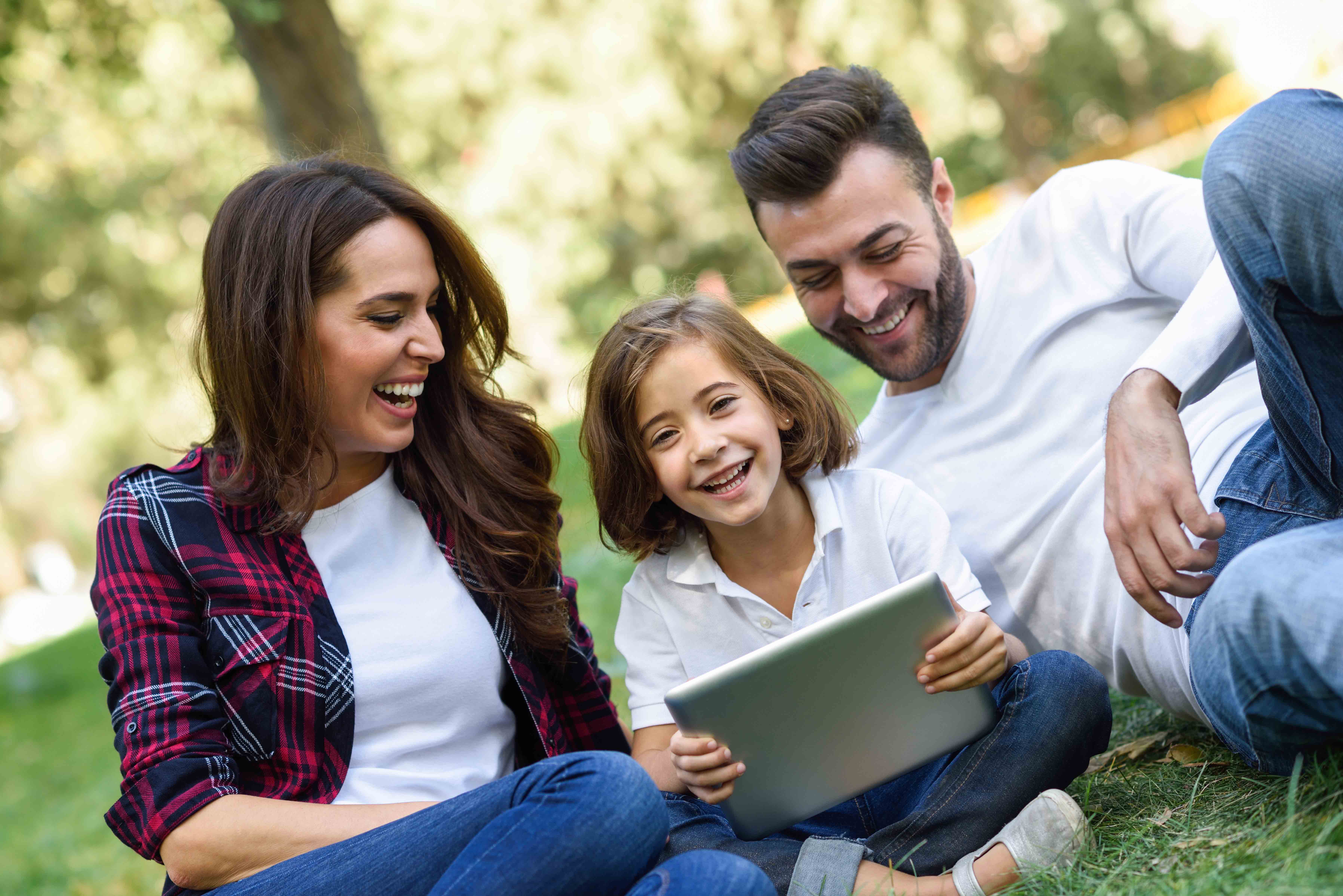 Once a parent, always a parent. But when it comes to parenting skills, there is no right or wrong. Regardless of where they live or what they do — stay-at-home, working, on a career break, or just setting out on a career path — parents around the world are setting new standards for child rearing while constantly learning and reinventing.
Here's how you can return to work after a career break
In keeping with the times, we need more parental leave and family-friendly policies because BOTH parents play a crucial role in their children's overall development. From pregnancy through to the formative years, it is important that the primary caregivers create an amiable, loving environment that will lay the foundation for a stable and healthy future.
The Global Day of Parents, declared by the UN General Assembly in 2012, is observed on June 1 and honours parents throughout the world for their selfless commitment to children and their lifelong sacrifice towards nurturing this relationship[1]
The Reality Behind the Stay-at-Home-Mom Routine
While Maternity Leave is a great period to recoup and prepare for the ride, if you were a working woman before you became a mother, then, soon enough, you feel the 'I-need-to-get-back-to-work' pangs. The need to have a conversation with the outside world grows. But you also think about the repercussions on child-care. "Will I be able to manage both?" "Can I find a solution that works for the family?"
Another roadblock is the lack of knowledge or skill to cope with new, emerging job roles.
JobsForHer conducted an online survey for women re-starting their careers and 38% cited childcare as one of the biggest challenges in resuming work after a considerable break.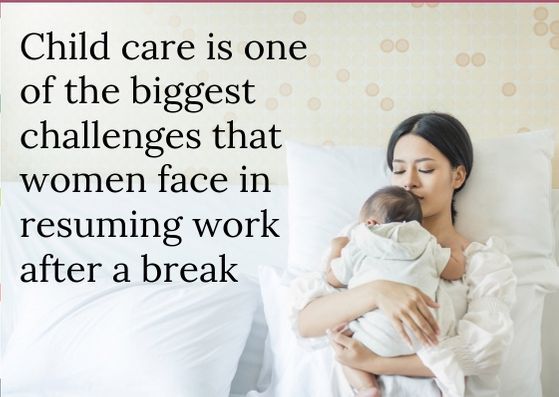 Amendments to the Maternity Act, 1961, are significant, but what about balancing paternity leave directives? Men should be provided with incentives to take longer periods of paternity leave as well. Paid paternity leave can have positive effects for gender equality at home and at work, disrupting prevailing stereotypes.
In particular, family-oriented policies can contribute to the achievement of Sustainable Development Goals...relating to doing away with poverty and hunger; ensuring healthy lives and promoting of well-being for all ages; ensuring educational opportunities throughout the lifespan and achieving gender equality.[2]
Why is Parental Leave Necessary?
In a world where societal pressure and influences have a lasting impact on a child's development, it is imperative that BOTH parents are hands on when it comes to child rearing. Maternity leave is essential for a woman to spend time with the new born and create a strong bond.
Parental leave guarantees quality time with children, but it also emphasises sharing of responsibilities between partners, building and nurturing bonds beyond the mundane.
Even though it's becoming more accepted, stay-at-home dads often find themselves the target of criticism or judgment. The opinions of others can make stay-at-home dads feel like outcasts in the child-rearing world. It can be hard not to snap back or feel beaten down, but how well you handle such remarks can help you feel more comfortable in the role.[3]
A UN report also states that "family-oriented policies can contribute to ensuring healthy lives and promoting the well-being for all ages; ensuring educational opportunities throughout the lifespan and achieving gender equality."
Family leave policies will also help break the stereotype and allow for accountability and responsibility of parental roles, and the extended support system.
Find out more about what companies have to offer for women restarting their careers.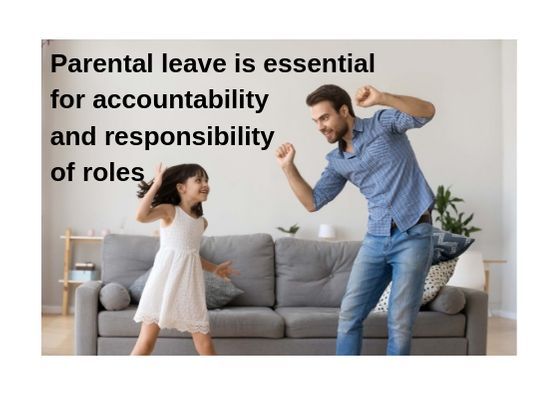 Traditionally, in many societies, fathers have been moral teachers, disciplinarians and breadwinners. In many countries, there is now an increased emphasis on the father's role as a co-parent, fully engaged in the emotional and practical day-to-day aspects of raising children. Recent research has affirmed the positive impact of active involvement by fathers in the development of their children[4].
The Curious Case of the Working Parents
With the growing need for raising independent children, ensuring a stable income, AND getting their careers back on track, parents (often mothers) today opt to continue to work even after the arrival of a child in the family.
A solid support system is key to help make this happen — support from in-laws, a family-friendly company, friends, a day-care facility… anyone who can help balance work and family. A workplace that encourages family-friendly policies, an understanding manager, and colleagues that have your back is the need of the hour.
"We shouldn't be limited by anyone else's expectations set for us. I think every mama needs her own support network. I have mine. I find support in my family and friends, and I think sharing experiences, laughing about them and moving forward is the way to keep motivated.[5]

Raise a Toast to the Parents of the World
So, whether they are working from home, in a full-time job, or at home, the goal of every parent is to create a nurturing, happy, and stable environment for children to grow in. On this Global Day Of Parents, here's hoping for more parental leave and family-friendly policies to help them achieve this goal!
And as more and more women get back to work, let's retain them and train them to rise in the ranks with a strong support system that contributes to their professional development, while they take on parental responsibilities with pride and confidence.
To get on board with companies that offer opportunities for women to start, restart, and rise in their careers, APPLY HERE!
Like what you read? Find similar blogs HERE:
Unique Skills that a Stay-at-Home Mum Brings to a Career Restart
How to Deal with a Career Break in the IT industry
References:
[1] https://www.un.org/en/events/parentsday/
[2] https://www.un.org/en/events/parentsday/
[3] https://www.verywellfamily.com/top-misconceptions-about-at-home-dads-3126848
[4] https://www.un.org/en/events/parentsday/background.shtml
[5] https://www.childmags.com.au/mothers-working-in-creative-careers/