10 Unique Skills that a Stay-at-Home-Mum Brings to a Career Restart
Ujwala Thirumurthy
in
Back to Work, Weekend Reads
|
20 May 2017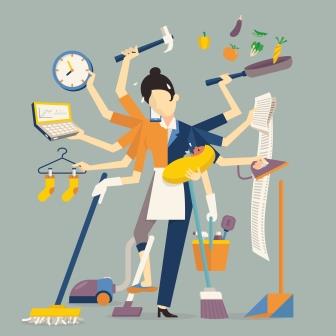 Stay-at-Home-Mom (SAHM) - this phrase bothers me. It seems to belittle the role of a mother by labeling her as someone who "stays at home."
"Oh, you're a SAHM. What ELSE do you do?"
If you've been faced with this question and didn't know how to react, we've got some good news!
For whatever reason you have been/are staying at home, it's time you viewed that break as a launch pad for greater things to come (and I don't mean making cookies – even if they ARE to die for).
Being a SAHM is the best thing that could have happened to you.
Why?
Because, after years of handling children and family, you become well-equipped with extraordinary, UNIQUE abilities that can come in handy in when you decide to put an end to your career break!
Patience tops the list!
From sleepless nights to an ever-demanding infant/toddler, being a mum brings with it immense patience AND the ability to brave it all with a smile.
Multitasking is a close second.
Because, how else would you be able to put up a meal AND do the laundry AND the dishes AND make sure you have enough and equal energy for your children?
But wait, there's so much more!
Here are 10 UNIQUE skills you've learnt being a SAHM, which can help you restart your career:
1) Event Management
If you can plan a birthday party for 60 kids (I mean energizer bunnies) 5-10years, I say you're a qualified event planner!
From the polka-dot theme to a pirate party, to the menu and venue, you make it look seamless. Whether it is keeping tabs on an ever-changing list of guests because, "I made some friends at the school picnic today, can they come too?", or chalking out fun games – you are a rock star event planner in your own right!
2) Team Building / Conflict Resolution
If you have two or more kids at home who have a gang of 5 more who gate crash, then you have mastered the art of teamwork. This comes with the added skill of maintaining decorum while keeping said gang entertained. It might involve conflict resolution techniques so that they don't tear each other's hair out.
3) Crisis Management
Whether it's a hospital emergency, a cupcake dilemma, a costume that needs altering, that last-minute homework or just plain toddler tantrums, you can handle ANY crisis like a pro, EVERY DAY!
4) Influencing and Persuasion Skills
From getting them to brush their teeth to eating on time; from, "Get an A grade and you'll get a bicycle", to "Don't' eat too much chocolate or you'll have worms in your tummy…"
If you can handle THIS on a daily basis, then you've got higher levels of influencing and persuasion skills than most Project Leads on a team in the workplace.
5) Negotiation Skills
Negotiating with a toddler is like negotiating with a clever little elf who can wriggle out of any situation invariably forcing you to give IN or give UP!
Almost EVERY SAHM will have gone through bouts of "I want ice-creeeeeeammm" in the dead of the night.If you can negotiate your way out of a toddler's unreasonable demands at a time when only owls and bats are awake, then you sure as hell can negotiate ANYTHING.
6) Time Management
Let's face it. Any task involving a toddler will take two to three times the actual time. Despite this, making breakfast, snack AND lunch by 6 am, waking up the toddler, and getting them ready for school in the next 45 minutes while you handle their tantrums, the maid, the dog, AND the power cut, requires high-level training in time management!
But, hey, you do it EVERY single day, and you didn't get no training! (You could teach a few things, though.)
7) Fantastic Interpersonal Skills
Stay-at-home or not, the ability to understand words that aren't even said is exclusive to mothers. You can sense when your child is in need of you, you understand the slightest signs of discomfort, and you acknowledge their actions without needing them to say a word. You read between the lines, and you're there for them ALL the time!
It doesn't get more interpersonal than this!
8) Punctuality
Get to school on time. Go to bed on time. Eat food on time. Do homework on time. Get back home on time.
It's all about punctuality.
Whether it's a school event or a birthday party, getting wherever you need to be on time is key, and as a SAHM you have nailed the virtue, which translates into mega brownie points when meeting deadlines at work or making a first impression in an interview.
9) Planning and Accuracy
Planning a vacation or a vaccination, planning meals for a whole week or simply getting everything in order, it takes a great deal of time and patience to get the best out of your decisions. It must involve a contingency plan, sufficient back up AND a head full of alternatives. You do it all and with complete confidence.
There are teams in the workplace that take endless workshops to perfect this, and they STILL don't get it 100% correct.
10) Focus on the Big Picture
Being a mum teaches you how not to sweat the small stuff. A cut here, a bruise there, a nose bleed, a stomach bug – it's all part of the game. Although your heart aches to see them in pain, you focus on what needs to be done. You don't let these pitfalls get in the way of powering through the day and doing what's best for them.
That in essence, makes you an expert at micro-management without once letting the big picture out of sight.
So, there you have it.
As a SAHM, you don't just stay at home. Be proud to be a mother on a career break, and be proud to showcase it to the world.
I'm certain there's atleast a dozen more skills that are unique to each and every mother, and it's time you gave yourself due credit for all that you do, and all that you've mastered over the years!
All you need is a dash of confidence and a daring attitude to put these skills into practice. And now we've given you both, so what are you waiting for?
Whether you are just starting out, already working or want to restart your career, visit our site and browse our bank of part-time, full-time, work-from-home, freelance, volunteer roles and returnee internships in 2000+ women-friendly companies! Create your profile, upload your resume and start job-hunting today!