What Would You Do If You Weren't Afraid?
Neha
in
Expert Advice
|
07 Sep 2015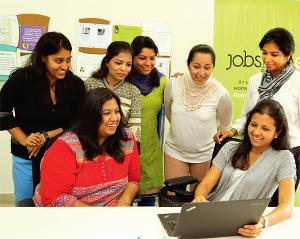 8 September 2015: Celebrating Our 6-month Journey
JobsForHer started with one woman's cognizance of what needed to be done for the Indian workforce – reversing female brain-drain. Fast-forwarding to just 6 months from our inception and what Neha Bagaria started has metamorphosed into nothing short of a social and economic movement across the city of Bangalore, and, in fast-growing trickles, across the entire country. Every day, we have resumes streaming in from experienced and well-qualified women who stepped away from their careers to cater to their family needs, and we have job openings from companies who recognize the value of these women's experience and commitment. Our 6-month journey has been peppered with company testimonials explosive with praise for the quality of our candidates, a swelling cascade of woman leaders' endorsements who champion our vision, and women we meet every day, in our daily lives, who thank us for having started. We are grateful, we are happy, and we are committed to bettering our endeavours to bring our women BACK TO WORK!
We now have jobs in full-time, part-time, work-from-home, freelance as well as returnee-internship positions, at companies like Aditya Birla Capital, Tesco, Zomato, Narayana Health, BabaJob Services, SnapDeal, Unilever, and more, registered on our portal!
Here are some of our happy customer testimonials:
"The Snapdeal women-returnee program is aimed at providing all women who are on a career break an opportunity/platform to come back with the same gusto. We find that they are as EAGER TO LEARN and explore and it has worked beautifully for us. we look to scale this further in times to come in partnership with organizations like JobsForHer, which are doing a GREAT JOB in this space. This has been a part of our larger diversity initiative Advitya. We truly believe that every individual is unique and our strength at Snapdeal is tapping into this unique potential."
-Madhumitha Venkataraman
Associate Director, Human Resources
and Lead, Diversity, Snapdeal
"JobsForHer is simplifying our hiring process. We received ten CV's, interviewed six and hired two. Bith joined within a week. These defy the average efficiencies we have seen in the past ten years."
-Gautam Golchha
Co-Founder - Tailorman, managing Director - Suit Ltd.,
[Division of Silver Crest Clothing, Bangalore]
And here's what the women who restarted their careers had to say:
"I had been trying to get a job through other portals for two months with no luck. As soon as a friend told me about JobsForHer, I submitted my profile and applied for several suitable job openings. That was on a Tuesday. two days later, I received a call from one of the companies who liked my resume. They interviewed me on Friday, and offered me a job on Monday.
I accepted and joined them from the next week itself! I'm amazed that this portal could get me back in a job in the span of just a week- JobsForHer rocks!"
-Rinju
Hired by Silver Crest Clothing Pvt. Ltd.
We've even had great accolades from inspirational women like Anuranjita Kumar (MD & CHRO, Citi South Asia)
We are also being supported by several women who want to contribute their part by putting their skills to use with JobsForHer, either through our Volunteer roles and also through our Ambassador program, whose first-ever Training Meet-Up happened today, at our office. We are very excited to have our Volunteers and Ambassadors inspire and motivate other women who want to launch/relaunch their careers!
"I have restarted my career after a two-year career break as an HR Volunteer after I realised that returning to work after an extended break is rarely easy. When my professional-self was a hazy memory, it was hard to feel capable of picking up my career where I left off.
I started off by thinking, "I want to restart my career". Next, I trawled online sited for any jobs that I could so that was flexible/local/paid enough. I fired off job applications and waited.
When yet another, "Thank you, we have received applications from candidates with more recent experience," reply appeared, I was demoralised. my already-fragile self-confidence plummeted.
Volunteering at JobsForHer helped me regain my confidence and update my skills- I felt much more confident attending interviews after this volunteer position!""
-Mani Sharma
HR Volunteer
And finally, we've had praise pouring in during our meet-ups so far, at our inception-home, Church Street Social, which were well-attended each time. We love how these meet-ups provide us with excellent feedback from our candidates and women who are on the job-hunt after a break in their careers, for whatever reason. We're always learning something new that we can change or add or fix! To find out about our next meet-up, follow our facebook page.
---
Know a woman who wants to start, restart or rise in her career or a company who wants to hire experienced talent? Ask them to post their resume or job opening at www.jobsforher.com today and join the back-to-work movement!