Diageo Business Service, India — Meet & Greet for Women Professionals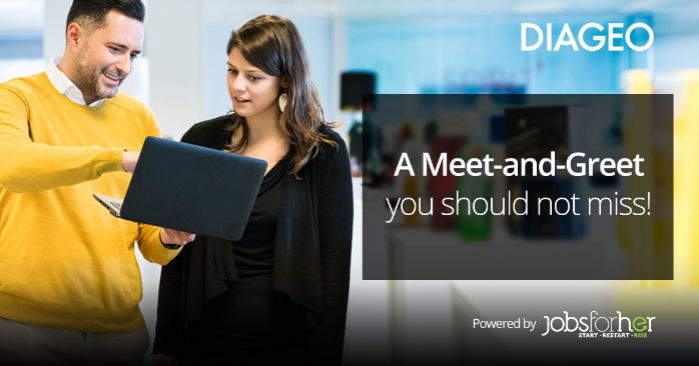 6th March, 2020 to 6th March, 2020

|

09:30am to 05:00pm

|

Bangalore / Bengaluru
Ladies, listen up!
Diageo Business Service, India (DBSI), a global leader in beverage alcohol is HIRING across functions.
And they want to meet you at their exclusive Meet & Greet that is taking place on March 6th in Bangalore.
All you need to do is apply to these DBSI job openings:
If you are shortlisted, you will be invited to attend the Meet & Greet.
Date: March 6th
Venue: Karle Special Economic Zone, HUB 2 Building, 2nd and 3rd Floor, 100 Feet Kempapura Main Road, Nagavara, Bangalore
Agenda:
| | |
| --- | --- |
| 9.30 am | Registrations |
| 10 am | Orientation / General Intro |
| 10.30 am | Meet and Greet / Interviews |
| 1 pm-1.30 pm | Break |
| 2 pm-5 pm | Meet and Greet / Interviews continue |

The company has multiple value-added functions, like Financial Control, Data & Analytics, HR, Control & Compliance, Project Management, Application & Technology Services, Source to Pay and Sell to cash.
Women professionals with expertise in any of these functions should REGISTER for their Meet & Greet NOW.

About DBSI
Diageo Business Service, India, has an outstanding collection of beverage brands across spirits and beer.
DBSI has over 200 beverage alcohol brands that vary from old and new, large and small, global and local — that are enjoyed around the world in more than 180 countries.

The DBSI Heritage
Diageo Business Service was created in 1997. They have built their business on the principles and foundations given by stalwarts of the industry — Arthur Guinness, John Walker, Elizabeth Cumming and many more.
Today, the company still remains a leader in the industry due to their beliefs, values and entrepreneurial spirit.

The DBSI Business
DBSI aims at being one of the most trusted, relished and respected consumer products companies in the world.
The geographical diversity of their multifunctional business centres across the world have made them continuously improve their performance.
Innovation and the constant development of thriving new ideas have always been a part of DBSI's growth strategy.
Diageo Business Centre prides itself on the 30,000 determined people worldwide who are responsible for the growing business, nurturing of the company's brands, creation of new products, categories and experiences for consumers.
At DBSI, be part of a culture where everyone has the opportunity to develop and grow.
Hurry! APPLY NOW to attend their exclusive Meet & Greet event!