About Us
Diageo is the world's leading premium drinks company with an outstanding collection of brands, such as Johnnie Walker, Smirnoff, Baileys, Captain Morgan, Tanqueray and Guinness. Our purpose - Celebrating life, every day, everywhere - has an important role in our company, for our people, our brands, in how we perform and how we create shared value.
About Diageo India
We are India's leading beverage alcohol company with an outstanding portfolio of premium brands. Our portfolio of over 140 brands of Scotch whisky, IMFL whisky, brandy, rum, vodka, gin and wine includes the much-loved McDowell's No.1, Royal Challenge, Signature, and Antiquity as well as Diageo's iconic brands such as Johnnie Walker, VAT 69, Black & White, Smirnoff and Ciroc among others. . In 2013-14, Diageo plc acquired a 54.8% shareholding in United Spirits making India one of its largest markets. We are a high performing business that is sensitive to consumer, community and societal needs. We are proud of being a responsible producer and marketer of beverage alcohol, and we champion responsible consumption as part of a balanced lifestyle.
We are looking to hire exceptional women talent in:
Manufacturing and Supply Chain areas like Operations, Quality, Sourcing, Environment, Health Safety (EHS) & Productivity.
Commercial Function like Sales, Key Accounts Management, Market Activation, Sales Excellence and Sales Analytics.
Marketing roles like Brand & Product Management.
Corporate Support Functions like Treasury, Taxation, Secretarial, Compliance and Law.
Join us on our LinkedIn page to keep in touch and know more: https://www.linkedin.com/company/3069440/
About Diageo Business Services India
We are one of the five Diageo Business Services that are based around the world and our India office is in Bengaluru. The remaining four centers are in: Budapest, Bogota, Manila and Nairobi. We provide a broad range of services to our businesses around the world. We are already 600 strong people in Bengaluru and growing. This global scale and reach helps deliver strong control environment and significant cost savings, while freeing local teams to market and sell our great brands to customers and consumers.
As part of the team, you'll have the opportunity to develop your skills in an array of different areas, including:
Source to Pay
Order to Cash
Financial Control and Record to Report
Controls
HR shared services
Data and Analytics
Project Management
Technology
Culture
Our success as a business depends on the success of our people. So we make sure that we create an environment where everyone feels included and able to perform at their best.
Our values are at the heart of how we do this. We believe that everyone is different and we build an environment where they can be themselves and say what they think.
We are inclusive. We have a diverse employee base. We look for people with a wide variety of individual characteristics, perspectives, and experiences in every part of our business.
We employ bright, collaborative people and support them to build their careers and develop as professionals and leaders. People who are genuine and inspiring, who can bring our values to life and create the conditions for everyone to succeed.
Events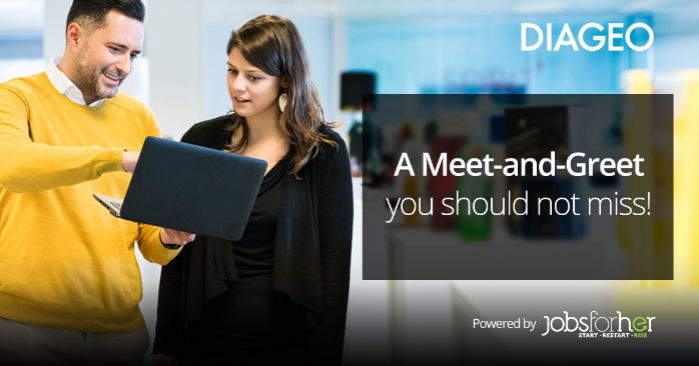 Diageo Business Service, India — Meet & Greet for Women Professionals
Ladies, listen up! Diageo Business Service, India (DBSI), a global leader in beverage alcohol is HIRING across functions. And they want to meet yo...
location_on Bangalore
View more details
Industry
FMCG/Food/Consumer Durables