Women for Women – the Sure Way to Progress!
Neha
in
Back to Work
|
07 Oct 2015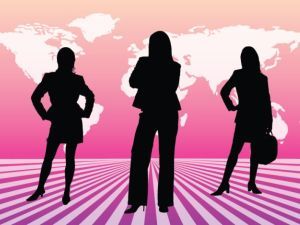 "After ten years out, I had all but given up on ever going back into TV. I felt this was a ridiculously long time and that no TV Company would ever consider employing me again. Why did I go then? Deep down inside, I still loved and missed the weird and wonderful world of TV" – Harriet Wallace
Before she had kids, Harriet Wallace had been a series producer for Channel 4.
It all started with a local event being run by Media Parents, a TV jobsite and networking organization that supports TV freelancers. Harriet like any of us returning after a break was apprehensive and hesitant about any chance of getting the right break. What transpired was nothing short of a miracle for Harriet as she got a place sponsored by the BBC – largely thanks to having met them at that first networking event run by Media parents. The Back to Work Scheme, which was run by the local TV Channel was to act as the catalyst for this woman to get back to work after ten years, and that, too, in the field of her choice.[1] There are many companies that have back to work programs for women, which women should definitely look out for and apply to, when restarting their careers.
The circumstances today have led to the creation of many Harriets waiting for that miracle moment to fulfil their long lost dreams. There are many women that we meet in our daily interactions who come across as being highly capable, exuding a sense of confidence in themselves and the others around them.
These warriors in the arena of life - the wives, the mothers, and sometimes, even grandmothers - deserve to "break even", as it is time for their acceleration to find their dreams and achieve their passions.
It is a wide misconception that women coming back to work will not deliver as well as a freshman lot of candidates. The truth is that these wonderful people come with the determination to prove many such false notions wrong. They come instead with a storehouse of knowledge that only a homemaker can acquire, along with extreme resilience and forbearance after handling tantrum-throwing toddlers.
The other fallacy is that of society, which assumes that these women are depriving other contenders of opportunities. This delusion has to be erased from the minds of the people in general because the truth is that no society can run short of meaningful work for all, as the world's population is exploding, and we need to get as many people empowered as possible – be it man or woman.
The best civilisations were those that believed in equal opportunity for one and all, irrespective of differences based on gender, caste, or color. It is these societies that flourish for the simple reason that a complete balance can be maintained only if there is equality for all. The world's population is growing at an alarming rate and there will be many mouths to feed, and many minds to educate.
So, all the beautiful women out there who dream in your kitchen, or wherever else in your home, step out for all the right reasons because you deserve better and the world needs you!
JobsForHer is a company that exists because of women who wanted to restart their careers, and in doing so, want to make sure that other women who want to start, restart and rise in their careers, CAN. Log on today, create a profile and upload your resume, to begin your job-hunt, today!
Here's wishing you all a happy come back into your respective forte, to build super-strong careers for yourselves!
The best is yet to come as we are there to hold you firm, even if you fall hard, only to rise high once again.
About the Author:
Gayathri Vivek (BBM. MBA. LLB, PGDIPR), worked with Career Plan and Diadem Softech in Coimbatore, as a personality development trainer and a customer relations officer, respectively. She is currently working in the capacity of an external educational consultant with Shilp Enterprises, in Bangalore. She is also a proud JFH Ambassador! As well, she does legal drafting and documentation. She is interested in writing, singing and socio-political circumstances and consequences. She is married with two children.
[1] After 10 Years Out of the Workplace, I Now Have the Job of my Dreams. This is How I Did It. – The Guardian, http://bit.ly/1mBZ3qh