She Heads Talent Acquisition at Caterpillar Inc. - India ASEAN & Australia, and Centrestages Women's Careers
Kaajal Ahuja
in
Mentors Speak
|
31 Aug 2017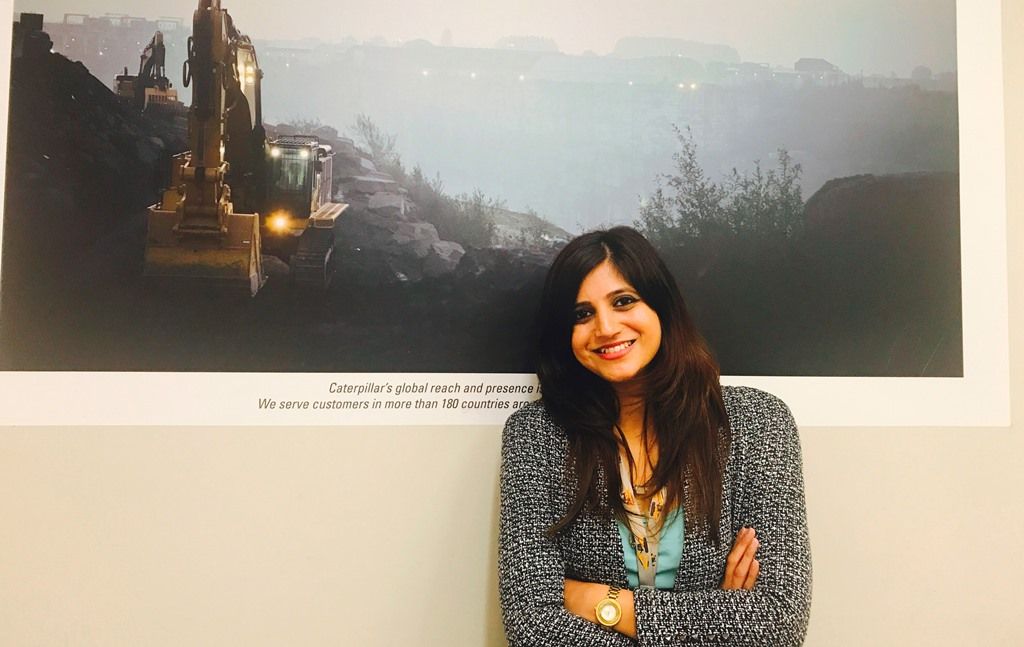 This woman powerfully worked her way up the corporate ladder in a short span of 13 years, between September 2004 and September 2017. From an HR Executive at the onset of her career to being the Head of Talent Acquisition - India ASEAN Australia - at Caterpillar Inc. today, Harsha Bhosale Sambi has left no stone unturned in proving her mettle, and regally scaling new heights.
An experienced Human Resource professional, with a demonstrated history of working across IT, software, manufacturing and finance industries, Harsha is adept in the domains of HR Consulting, Strategic Business Partnering, Customer Relationship Management (CRM), Technical Recruiting and HR Policies & Management.
Team Caterpillar believes that women and girls around the world play an essential role in community and economic development. Driven towards gender equality, they're committed to a diverse and inclusive environment that values and respects their employees globally.
And not only is Harsha a staunch supporter of those ethics but is also actively involved with several women support groups and initiatives to help translate her thoughts into action.
| Capterpillar Inc. Will Be at RestartHer - India's Biggest Conference & Career Fair.
Have You Signed Up For It Yet?
Hi, Harsha! We value your coming on board as a Mentor. Tell us, have you ever taken a break in your career?
I haven't really taken a break in a career that spans across 13+ years. However, I am urged to add that while I was on my 12-week maternity leave, enjoying every bit of motherhood and experiencing a great transformation around me personally, the scenario back at work was no different either.
My role at work too was simultaneously being strengthened by new challenges and responsibilities in the time that I was away. On the last day of my leave, I had an email waiting for me in my inbox, summarizing the busy and learning times ahead! To my surprise, I was extremely excited while reading it and it energized me to pick up the pieces and start from where I left off, not so long ago.
Most of the times, it is not the length of the break that matters, but the drive or that one solid reason we give ourselves, to return and give our best to our careers and our families.
It all worked out for me and in fact led me to the best assignment of my career!
| This is What Happens When He Stands Up For Her - Aaushi Bhalwal's Return to a Second Career
What do you most enjoy about your line of work?
Being a leader in the sphere of Talent Acquisition provides me the unique opportunity to add flavors and colors to the demographics of the organization. We are on a constant lookout for diverse talent, and the challenge is more about the permutation and combination of a perfect match, a great cultural and motivational fit, and most importantly the addition of a new Caterpillar family member!
I enjoy being a part of groups and initiatives apart from my day job that contributes towards the enterprise's objectives.
Additionally, I enjoy being an integral part of Caterpillar's Employee Resource Groups (Global Diversity & Inclusion). Being the Asia Pacific President for the 'Women's Initiatives Network' with them for 15 chapters across the region gives me an opportunity to work with some highly talented women who carry the zeal to bring in engagement and development through these initiatives.
I am also a trained facilitator for a leadership development program exclusively for women leaders 'Breakthrough Leadership for Women', and Caterpillar is the only organization where this program is facilitated internally. Through the various sessions conducted in India and Singapore, which housed women leaders from Singapore, Japan, Australia, Indonesia, Thailand and India, my learning has been manifold and immense.
| Sign Up With JobsForHer to Kickstart Your Second Career. Find Full-Time, Part-Time, Work-From-Home, Returnee Internships, & Freelancing Opportunities, all under one common roof.
Any person/persons who have been immensely supportive throughout your professional journey?
My family has been more than supportive of all my decisions - be it moving away from home for my education or choosing a partner of my choice. I have been blessed with a support system that allowed me to return to work when my son was just 2 months old! This wasn't a requirement but an understanding from my family, and the great partnership of thoughts about one's career with the right time to get back.
My husband decided that we move closer to work to ensure I can achieve work-life balance, and while spending quality time with our son. My parents too are of immense help when it comes to taking care of my son while I am away at work, each day.
That is so good to know! What drives you to mentor second career women?
What drives you to mentor second career women?
I have personally benefited from mentors throughout my career, and also from individuals that I have been a mentor to, or a reverse mentor (being a mentor to an executive leader). I wish to provide that direction, to women who plan to go back to the workplace and build a career of their choice.
I believe that a coach or mentor provides you that extra, unbiased perspective, and professional socialization – both being an essential part of one's career.
Also, being part of a career development group provides one with exponential learning, exposure, and visibility.
We'd love to know what you and Caterpillar look to address /contribute at the upcoming RestartHer event?
More than anything, I'd love to share my experiences as a working woman, mother, and more importantly, as a leader!
At Caterpillar, in addition to the many contemporary flexi-work options/policies, we believe in investing in the development of a solid pipeline of future women leaders and unceasingly work on the same. Our Executive Leadership continues to provide exemplary support in this direction, and I am personally a part of one such pillar within the organization, called 'Women in Leadership'.
My intent for the event is to contribute towards sharing our success stories and best practices and learning of key contributions from other participating companies.
Come and discover what YOUR takeaways from RestartHer could possibly be.
Take a look at what we have lined up at the Career Fair & Conference.
To follow Harsha on our MentorForHer portal, go HERE.