Philips: Sustaining Families' Health. Getting Women Back in the Game.
Kaajal A
in
Women-friendly Companies
|
29 Jun 2018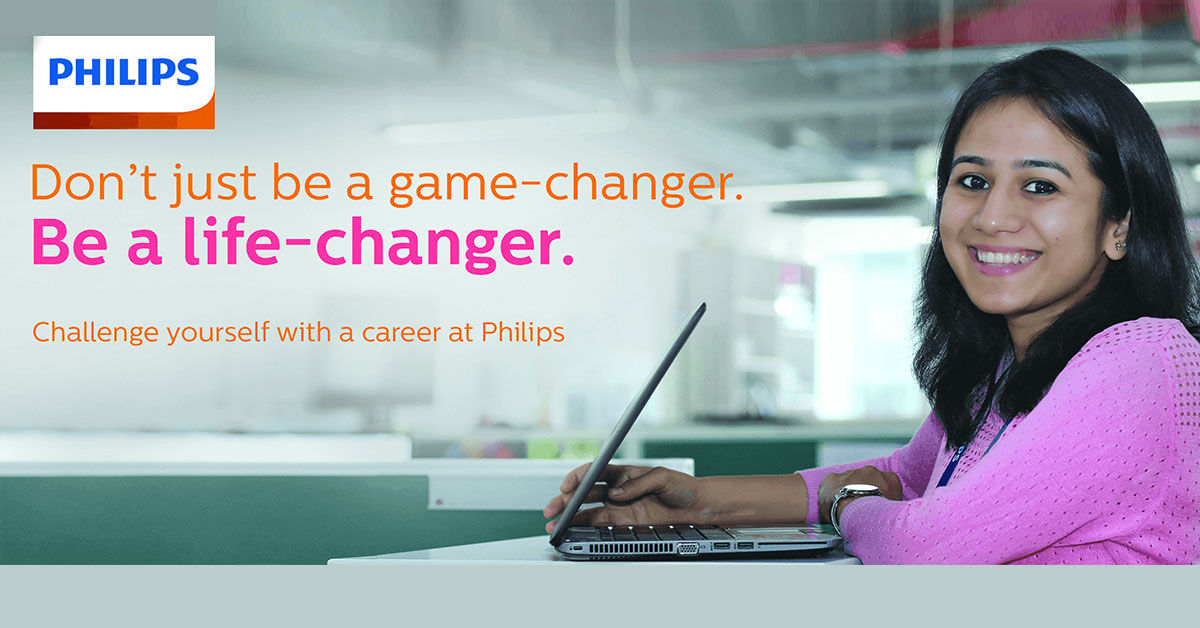 "I chose Philips because I wanted to be part of an organization that's working hard to make a positive difference in the world. When I see the Philips name tagged on any product, I am delighted to say that it is my company."
Shalini Sugumaran - Account Operations Asst. Manager at Philips.
Proud to be part of an ambitious, creative, and diverse team she cannot imagine working anywhere else.
About Philips
Philips India is a subsidiary of Royal Philips of the Netherlands, a leading health technology company focused on improving people's health and enabling better outcomes across the health continuum from healthy living and prevention, to diagnosis, treatment and home care.
Philips leverages advanced technology and deep clinical and consumer insights to deliver integrated solutions. The company is a leader in diagnostic imaging, image-guided therapy, patient monitoring and health informatics, as well as in consumer health and home care.

Getting Women Back In the Game
Passionate about creating a gender-balanced workforce, Philips India has set in motion BIG – Back in the Game, their initiative towards getting women to reclaim the careers that were once theirs.
Back in the Game (BIG) is an internship initiative driven by the Diversity Council at Philips India.
BIG is a 3-months paid internship program by Philips India to facilitate experienced women talent transition back into the workplace after a break in their career.

Working with Philips: Make an impact on the world as well as your team.
You've already achieved a lot but now you're at a point in your career when you expect more and want to make a change for the best. Working at Philips will give you an opportunity to do just that; because they're a company with a big ambition.
It's their mission to improve people's lives through meaningful innovation and they want you to play a central role in this by leading teams, driving projects, thinking strategically and inspiring colleagues from all over the world.
To fulfil your potential, they will give you the flexibility, stimulation and opportunities to keep you inspired and engaged.
At Philips, working with them is more than just a job. It's an experience filled with surprising moments that will transform you in lasting and positive ways, as together, you will improve the world for the better.

Women Friendly Policies at Philips
Maternity Leave
Paternity Leave
Child-care Facilities
Flexi Option
Work from home policy
Sexual harassment Policy
Serving a Greater Purpose
When you work at Philips, what you do every day can contribute to the innovative health technologies and solutions that Philips develops. Ones that make a positive impact on billions of people every year… including you and your family.
In fact, at Philips, your professional and personal lives often intersect in unexpected and fulfilling ways.
You may lead a team that develops an ultrasound scanner which shows the first moving images of your sister's unborn child. Co-develop an app that encourages your neighbour's kids to brush their teeth. Make a vital contribution to hospital imaging equipment which allows medical specialists to work with greater confidence and speed when treating your uncle. Or your insights on the personal care market result in products that make friends feel better about how they look.
Philips' current employees have experiences like this every day.
What will YOURS be?

At Philips, they recognize that work is only ONE part of your life. When you're at your best, they're at theirs.
They offer a variety of benefits and health programs to help keep you strong, both mentally and physically. This helps you perform to the best of your ability at work, while also making you more able to manage the rest of your busy life.
One such example is their flexible working policy, so you can balance home and work commitments in a way that maintains productivity.
They're serious about offering an inclusive workplace that is both engaging and leads to personal growth. In fact, they believe that by providing the right environment, with the experience you have, one can continuously grow as a professional as well as a person.
Join Philips Today!
At Philips, it's not just about building products, but a healthier society. So come aboard THIS company where you have the opportunity, not just to be a game-changer, but a life-changer.