Does Your Career Break Have a Routine?
Ujwala
in
Back to Work
|
27 Oct 2018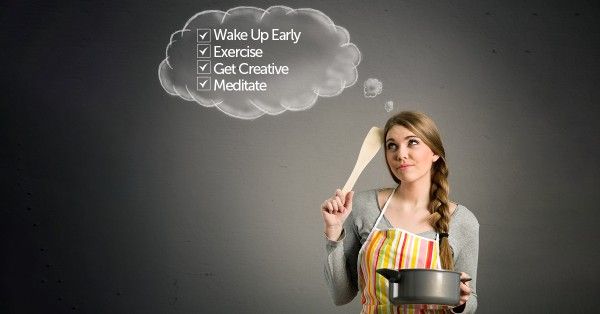 Yes, as bizarre as it may sound, having a routine while on your career break can be especially beneficial in helping you stay grounded, focused, and confident.
That being said, a routine need not be boring and monotonous.
Remember when you got your first job? You left home with great pride and returned some 9 hours later to don the role of the homemaker, comfortably setting aside the corporate side of you, because you knew there's a routine that governs the entire process. And that's probably why you were able to handle it all so effectively.
Now, cut to the present.
You've been on a career break for a while now. How do you feel? Clueless? Sometimes, even anxious?
You've come to the right place.
Don't worry, it's something we all go through, and they're all natural emotions, and they depend on several factors including why you chose to take a break. But the good news is you CAN do so much more to ensure that these emotions don't get in the way of your progress.
And that's when a routine comes into the picture. If you had one when you were working in an office, you should have one now regardless of how you spend your time.
Here are four things you can do to get a routine in order; a routine that will lift your confidence levels, and set you up for a fantastic career restart:
1) Wake up at the same time every day, and do this...
This holds good for anyone, but it's probably most important for someone on a career break. Set a stipulated time and stick to it. Give yourself five seconds before jumping out of the bed. Yes, five seconds is all it takes to gather yourself, and see yourself indulging in creative tasks, or just doing something you love. And then say, "I've got this"! As trivial as it may sound, this will set the tone for the rest of your day. You can thank me later.
2) Exercise for at least 15 minutes a day
The effects of physical exercise on your brain is unbelievably intense; in a good way, of course. You've probably read of the positive effects but I'm still going to say it. A simple exercise routine that you can follow as soon as you wake up is a fantastic start to your day. And with apps that give you specific, timed-exercise routines, it's really super easy. You'll look better, you'll feel better, and you'll have set yourself up for another gorgeous day in your career break.
3) Do one new thing every day
Make no mistake. There is a creative genius in you waiting to be identified and nurtured. A career break is a great time to tap into the little-known side of you. And you'll never know unless you do, right? So, engaging in a task that sparks your creativity or gets your grey cells in action is a great routine. Get busy for at least 30 minutes a day.
Paint, read, listen to your favorite podcasts/talk shows, get gardening, stitch, write, bake....the list is endless, and these are only the most common ones. The idea is to incorporate a task that is outside of your mundane chores. It's not as complicated as you imagine. All you need to do is set your mind to it, set a time for it, and let the creativity flow. And no, cleaning utensils, and folding laundry does not count as creative unless your mind is churning out a thousand ideas of what creative things to do next...
4) Meditate
You don't need to sign up for a yoga class or an expensive meditation retreat to calm your senses down. All you really need is some quiet time - anywhere. In fact, research suggests that doing any task mindfully constitutes meditation because you're focusing on that task alone. But, being able to take some time off - 10 minutes to be precise, will help you refocus, and gather your thoughts.
Sit with your eyes closed in your favorite place/comfort zone, preferably with your legs crossed and hands folded, and let no one or nothing disturb you from those moments of silence. Put on a chant or chant yourself to slow down your breath, and align your mind and body. When you're done, you will be refreshed and ready to spring into action.
And when you incorporate these into your career break every single day, it will turn into a routine that will help you reassess your present and plan for your restart. Soon, you'll see those insecurities and anxiety-filled thoughts vanish.
So, sister, hustle! Because the time is now.
And when you're ready to take on the world, we're here waiting for you!