Times of India - Power of 8: Tales of Courage Against Odds
Vinutha
in
In The News
|
15 Apr 2019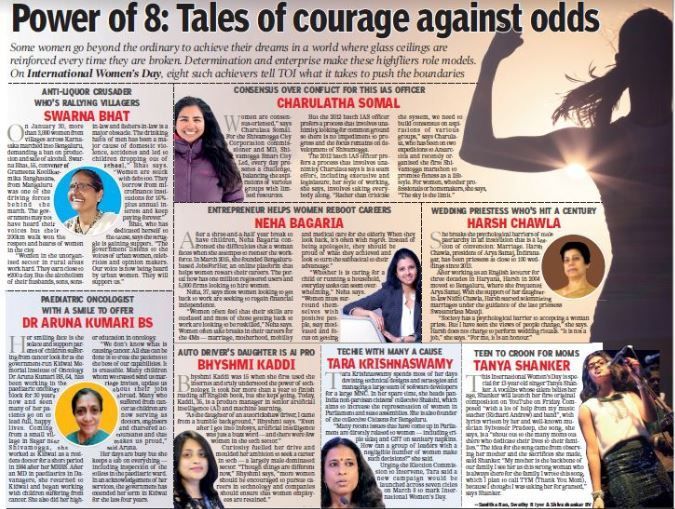 Power of 8: Tales of Courage Against Odds
Some women go beyond the ordinary to achieve their dreams in a world where glass ceilings are reinforced every time they are broken. Determination and enterprise make these highfliers role models. On International Women's Day, eight such achievers tell TOI what it takes to push the boundaries.
Anti-liquor crusader who's rallying villagers
Swarna Bhat
On January 30, more than 3,000 women from villages across Karnataka marched into Bengaluru, demanding a ban on production and sale of alcohol. Swarna Bhat, 55, conv Grameena Kooli mika Sanghatan from Mangaluru was one of the driving forces behind the march. The government may not have heard thei voices but the 200km walk won the respect and hearts of women in the city.
"Women in the unorganised sector in rural areas work hard. They earn close to? 200 a day. But the alcoholism of their husbands, sons, sons in-law and fathers-in-law is a major obstacle. The drinking habit of men has been a major cause of domestic violence, accidents and led to children dropping out of," Bhat says.
"Women are stuck in debt too. They borrow from microfinance institutions for 16%- plus annual interest and keep paying forever."
Bhat, who has dedicated herself to the cause, says the struggle is gaining support. "The government listens to the voices of urban women, celebrities and opinion makers. Our voice is now being heard by urban women. They will support us."
Paediatric oncologist with a smile to offer
DR Aruna Kumari BS
Her smiling face is the solace and support parents of children suffering from cancer look for at the government-run Kidwai Memorial Institute of Oncology. Dr Aruna Kumari BS, 64, has been working i paediatric oncolo block for 30 years now and seen many of her patients go on to lead full, happy lives. Coming from a small village in Sagar ne Shivamogga, she worked at Kidwai as a resident doctor for a short period in 1984 after her MBBS. After an MD in paediatrics in Davanagere, she returned to Kidwai and began working with children suffering from cancer. She also did her higher education in oncology.
"We don't know what is causing cancer. All that can be done is to treat the patients to the best of our capabilities. It is treatable. Many children whom we treated send us marinvites, update us out their jobs broad. Many who suffered from cancer as children are now serving as doctors, engineers and chartered accountants and that makes us proud," said Aruna.
Her days are busy but she keeps a tab on everything — including inspection of the toilets in the paediatric ward. In an acknowledgement of her services, the government has extended her term in Kidwai for the last four years.
Consensus over conflict for this IAS officer
Charulatha Somal
"Women are consensus-oriented," says Charulata Somal. For the Shivamogga City Corporation commissioner and MD, Shivamogga Smart City Ltd, every day presents a challenge, balancing the aspirations of various groups with limited resources.
But the 2012 batch IAS officer prefers a process that involves unanimity, looking for common ground so there is no impediment to progress and the focus remains on development of Shivamogga.
The 2012 batch IAS officer prefers a process that involves unanimity. Charulata says it is a team effort, including executive and legislature; her style of working, she says, involves taking everybody along. "Rather than criticise the system, we need to build consensus on aspirations of various groups," says Charulata, who has been on two expeditions to Antarctica and recently organised the first Shivamogga marathon to promote fitness as a lifestyle. For women, whether professionals or homemakers, she says, "The sky is the limit."
Entrepreneur helps women reboot careers
Neha Bagaria
After a three-and-a-half year break to have children, Neha Bagaria confronted the difficulties that a woman faces when she attempts to reenter the workforce. In March 2015, she founded Bengaluru-based JobsForHer, an online platform that helps women restart their careers. The portal now has one million registered users and 5,000 firms looking to hire women.
Neha, 37, says most women looking to get back to work are seeking to regain financial independence.
"Women often feel that their skills are outdated and most of those getting back to work are looking to be reskilled," Neha says. Women often take breaks in their careers for the 4Ms — marriage, motherhood, mobility and medical care for the elderly. When they look back, it's often with regret. Instead of being apologetic, they should be proud of what they achieved and look to turn the sabbatical to their advantage."
"Whether it is caring for a child or running a household, everyday tasks can seem overwhelming," Neha says. "Women must surround themselves with positive people and stay motivated.
Wedding priestess who's hit a century
Harsh Chawla
She breaks the psychological barriers of patriarchy in an institution that is a b tion of the convention: Marriage. Hars Chawla, President of Arya Samaj, Indiranagar, has been a priestess at close to 100 weddings since 2013.
After working as an English lecturer for three decades in Haryana, Harsh in 2004 moved to Bengaluru, where she frequened Arya Samaj. With the support of her daughter-in-law Nidhi Chawla, Harsh started solemni marriages under the guidance of the late priestess Swatantrlata Mataji.
"Society has a psychological barrier to accepting a woman priest. But I have seen the views of people change," she says. Harsh does not charge to perform wedding rituals. "It is not a job," she says. "For me, it is an honour."
Auto driver's daughter is artificial intelligence pro
Bhyshmi Kaddi
Bhyshmi Kaddi was 15 when she first used the internet and truly understood the power of technology. It took her more than a year to finish reading an English book, but she kept going. Today, Kaddi, 35, is a product manager in senior artificial intelligence (AI) and machine learning.
"As the daughter of an autorickshaw driver, I came from a humble background," Bhyshmi says. "Even after I got into Infosys, artificial intelligence was just a buzz word — and there were few women in the tech sector."
Curiosity fuelled her drive and moulded her ambition to seek a career in tech — a largely male-dominated sector. "Though things are different now," Bhyshmi says, "more women should be encouraged to pursue careers in technology and companies should ensure that women employees are retained."
Bhyshmi currently works as the senior product manager for AI and voice assistant at Indegene - a global healthcare solutions provider to top pharma companies.
Techie with many a cause
Tara Krishnaswamy
Tara Krishnaswamy spends most of her days devising technical designs and strategies and managing a large team of software developers for a large MNC. In her spare time, she heads pan-India non-partisan citizens' collective Shakthi, which aims to increase the representation of women in Parliament and state assemblies. She is also a founder of the collective Citizens for Bengaluru.
"Many recent issues that have come up in Parliament are directly related to women — including triple talaq and GST on sanitary napkins. How can a group of leaders with a negligible number of women make such decisions?" she said.
Urging the Election Commission to intervene, Tara said a new campaign would be launched across seven cities on March 8 to mark International Women's Day.
Teen to croon for moms
Tanya Shanker
This International Women's Day is special for 13-year-old singer Tanya Shanker. A vocalist whose talent belies her age, Shanker will launch her first original composition on YouTube on Friday. Composed "with a lot of help from my music teacher (Richard Andrew) and band", with lyrics written by her and well-known musician Sylvester Pradeep, the song, she says, is a "shout out to the many moms out there who dedicate their lives to their families." The idea for the song came from observing her mother and the sacrifices she made, said Shanker. "My mother is the backbone of our family. I see her as this strong woman who is always there for the family. I wrote this song, which I plan to call TYM (Thank You Mom), because I thought I was taking her for granted," says Shanker.
Publication : The Times of India
Headline : Power of 8
Published Date : 08/03/2019
Link to the Article : Click here