5 Yoga Asanas For All Working Women
Sasmita
in
Working Women, Weekend Reads
|
21 Jun 2019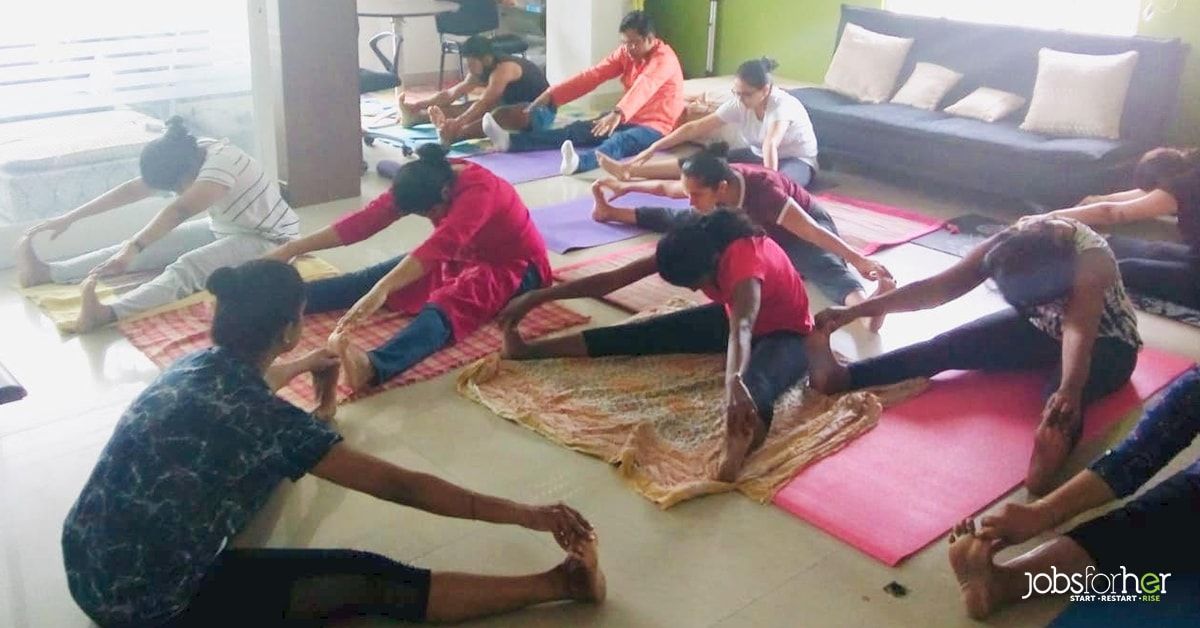 This International Yoga Day, we introduce a woman just like you.
Ujwala Thirumurthy is a daughter, daughter-in-law, wife, mother and a working professional, who was introduced to the art of yoga and meditation when she was 21 years old.
Ujwala works as a full-time content writer at JobsForHer, and finds her work-life balance through yoga.
She has been practicing yoga for 18 years and tells us why yoga is a lifesaver for women.
"I'm not sure if anyone can achieve complete work-life balance, but yoga gives me the energy and calmness of mind to power through everything that's thrown my way. This is true of any form of yoga. And that's my escape route — my ME time." — Ujwala Thirumurthy
The longing to experience a new level of existence led Ujwala to complete a full course and teacher training course over 2 years.
Today, she is a SKY YOGA certified practitioner in Simplified Kundalini Yoga (Manavalakalai), blessed by Yogiraj Vethathiri Maharishi.
When Is The Best Time To Practice Yoga?
Practicing yoga first thing in the morning sets the routine right. It gives you clarity and the ability to stay undisturbed from the task at hand.

Practicing yoga in the evening before dinner eases your body and mind, and prepares you for undisturbed sleep.
Yoga Asanas For Women
Ujwala shares with us the 5 asanas for women, especially those who work and need to be in office, even when they are feeling a little down.
1) Asana For Period Pain: Balasana (Child Pose)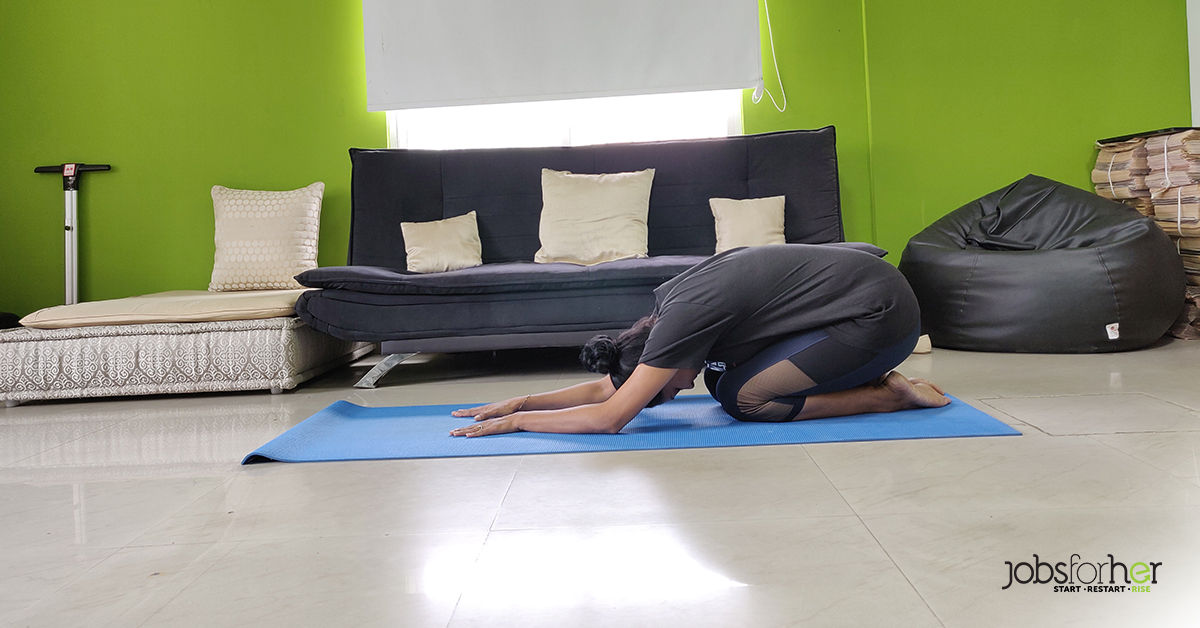 Sleeping in the foetal position takes the pressure off abdominal muscles, which can help relieve cramps.
Balasana relaxes the skeletal muscles around your abdomen, and less tension leads to fewer cramps and less pain.
2) Asana For Back Muscle Tension: Kapotasana (Pigeon Pose)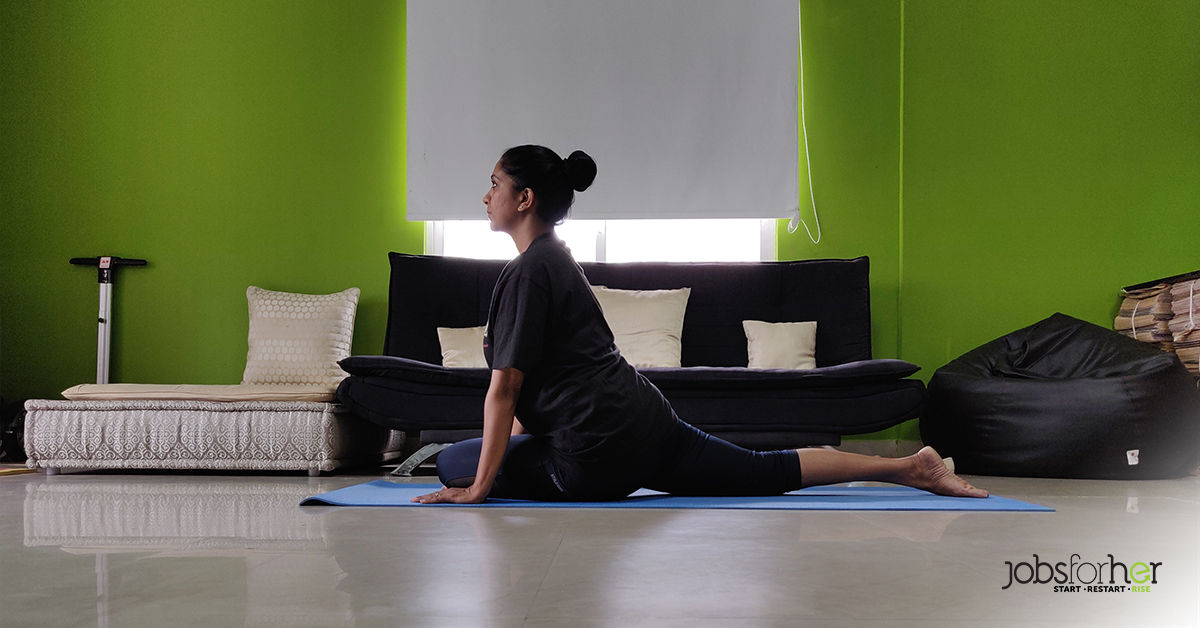 The Pigeon Pose, or Kapotasana, gives a deep stretch to your glutes and psoas muscles (that is located in the lower lumbar region of the spine), which helps relieve back muscle tension that is commonly caused due to desk jobs.
Breathe into the areas that feel tight, and with each exhale you will feel the tension melt away.
3) Asana For Fatigue: Ananda Balasana (Happy Baby Pose)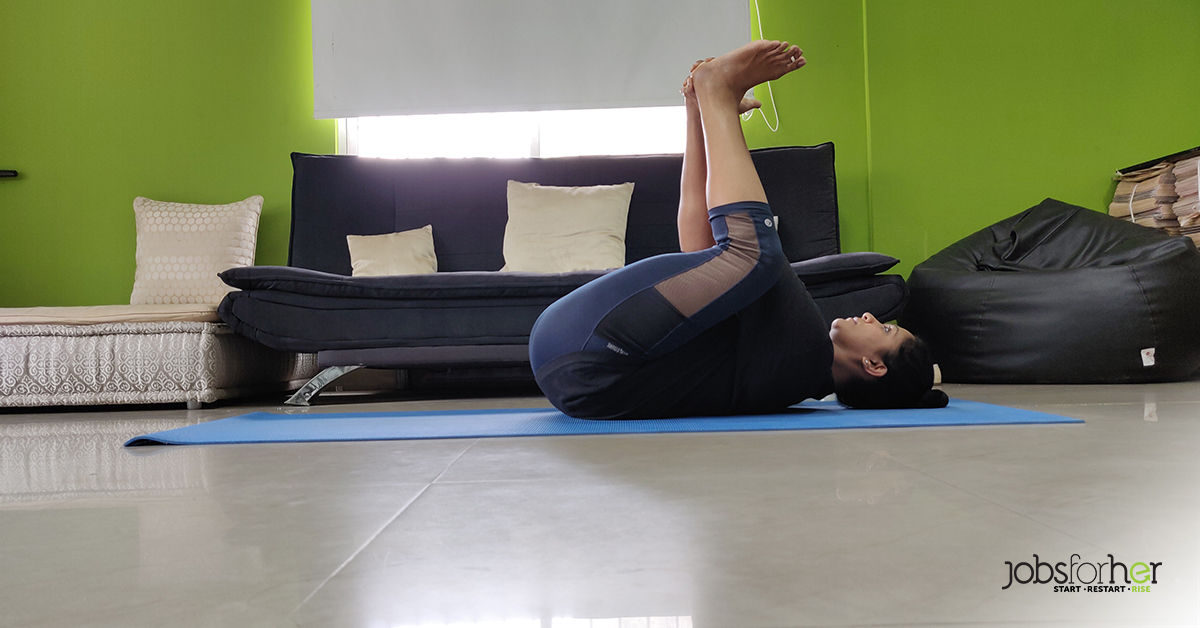 True to its name, Ananda Balasana, also known as the Happy Baby Pose, helps you leave behind the busy stressful day.
As you sink into the Happy Baby Pose, it opens you to the calm and happy world around. It helps reduce your heart rate, hence relaxing and calming the mind.
It also helps release stress, thanks to the deep stretch.
4) Asana For Concentration: Vrikshasana (Tree Pose)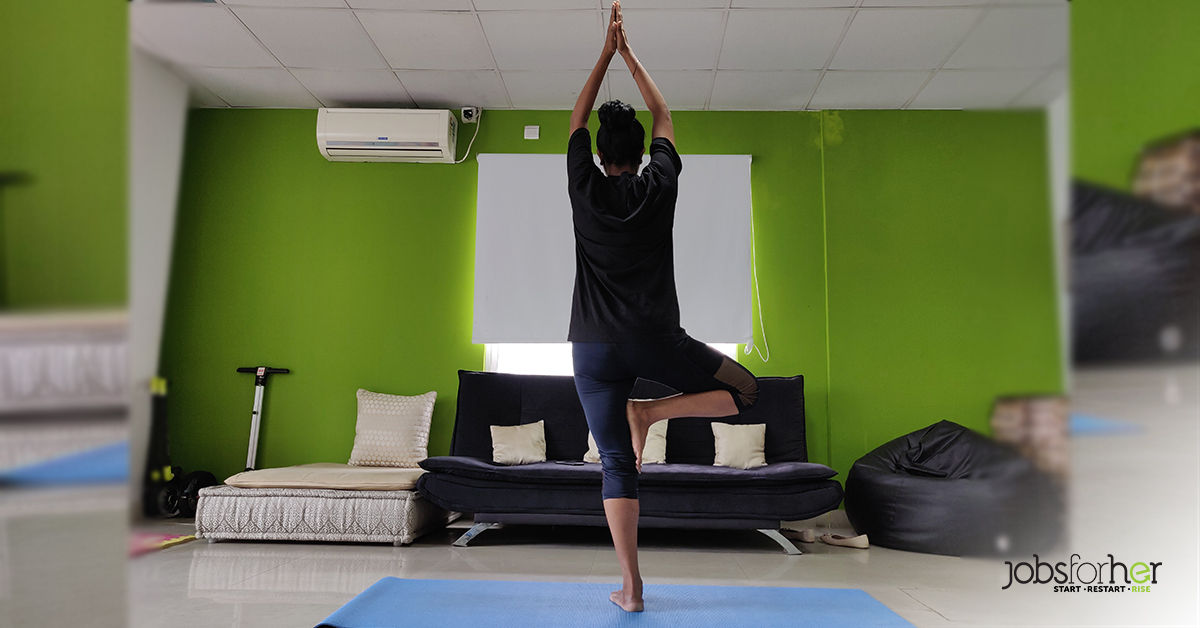 Vrikshasana, or the Tree Pose, is a balancing pose that helps you gain both mental and physical steadiness and poise.
Unlike many other yoga asanas, you need to keep your eyes open while practicing Vrikshasana, to maintain balance.
It improves concentration and focus, while also calming your mind.
This pose also helps build self-confidence, which helps you deal with issues in a composed manner.
5) Asana For Headaches: Paschimottanasana (The Seated Forward Bend)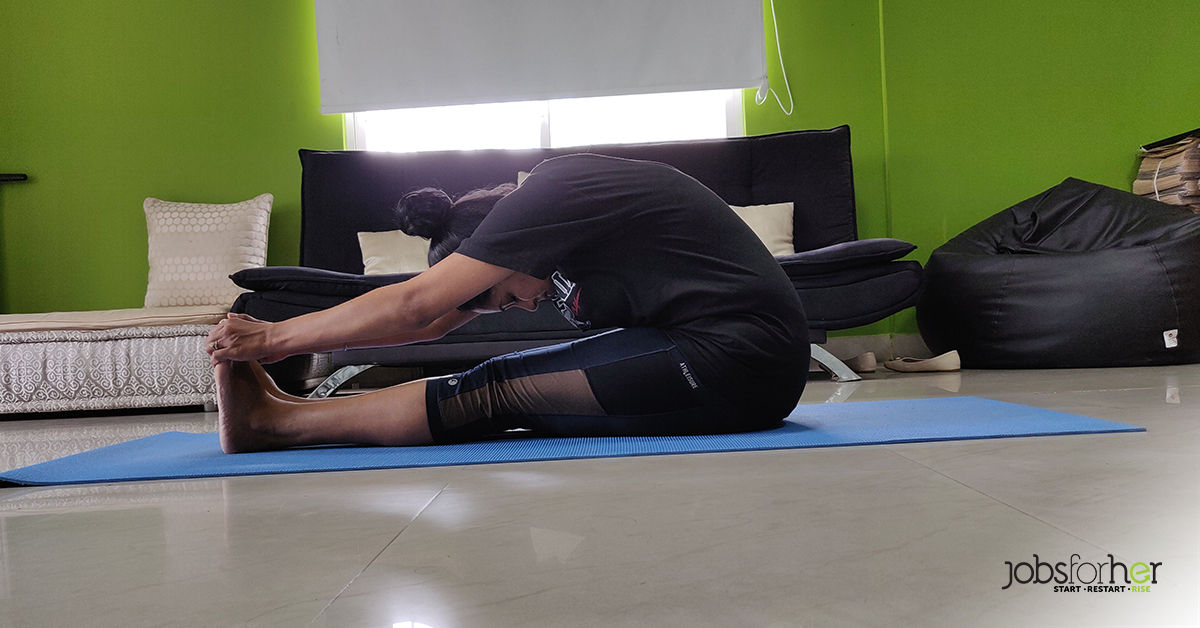 Paschimottanasana gives a good stretch to the spine, shoulders and hamstrings, and releases stress.
Practicing this asana helps calm the nerves, slow the release of hormones from the adrenal and pituitary glands, ease stress, relieve headaches and calm the mind.
But before you start on your wellness journey, there are some things that you need to keep in mind:
Yoga is not a substitute for medicine

Pregnant women should refrain from

practicing yoga and should look for prenatal yoga classes under trained supervision

Yoga must not be practiced right after a meal

Avoid practicing yoga post fever, surgery, fracture, sprain, etc.

Practice yoga under trained supervision only
Now that you have a handy guide on how to strike the perfect work-life balance, sign up to gain access to a slew of jobs here to Start. Restart. and Rise in your career.
* JobsForHer or Ujwala Thirumurthy will not be held responsible for any bodily harm caused due to amateur yoga practice by any person.