3 Unconventional Ways to Spend Women's Day this Year!
Neha
in
Events
|
05 Mar 2016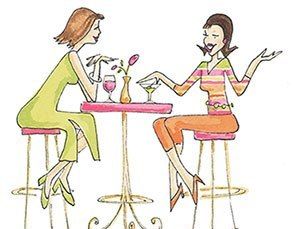 This Women's Day, we reflect on how far we've come - as individuals, as a team, as a company, as influencers in society, as women in our city, as Indian women...together - and we have to pinch ourselves to believe it. Because one year ago we were started by one woman with a dream to bring Indian women back to work, and today we can see just how many companies and organizations share that dream with us!
We value our collaborations with influential women and their organizations in our mission to bring Indian women back to the workplace, and in this spirit, we would like to share with you 3 unconventional ways to spend a meaningful, connected, and FUN International Women's Day this year...
1) Conscious Closet Party | Shenomics
A Clothes Swapping Movement & Networking Event on International Women's Day!
Give your closet a socially responsible makeover! Bring in two (or more) of your almost new or lightly worn pieces that you no longer want. Maybe you have one too many FB photos in that top, or perhaps that dress never fit you quite right? Whatever the reason and whatever the item bring it in for a swap! Acceptable items include tops, bottoms, dresses, shoes, hats, saaris, scarves- almost anything!! Please ensure these items are laundered, ironed, and in good condition! The day of the event come with your items, network with other women, and swap your pieces for something new that you love. It's better than shopping, it's swapping!! Swapping is good for the environment as it recycles and extends the life of clothes. And of course, there is the added bonus of saving us money! We ask all unswapped items be donated at the end of the night. All donated pieces will be sold and proceeds will be given to our charity partner Educate Girls. Bring some, take some, and donate the rest! Tickets to attend the event are being sold online for ₹500: https://in.explara.com/e/conscious-closet-party-a-clothes-swapping--networking-event. FB Event Page: https://www.facebook.com/events/728576543945612/ Article Further Explaining CCP: http://shenomics.com/international-womens-day/
2) #BreakingBarriers | Women's Web
Be inspired by women who mean business.
Breaking Barriers is our flagship event which is in its third edition and is a mega event for women in business, aspiring entrepreneurs, thought leaders and decision makers. This is a three-city event in Mumbai, Delhi and Bangalore starting on 12th March 2016 and is a great opportunity for women to learn, network and grow.
Women's Web has been part of the lives of 6 million women readers and strives to enrich them. Through Breaking Barriers Women's Web has connected with over 250 women entrepreneurs.
Breaking Barriers - Marketing Mantras in a Connected World will aid women in revisiting their marketing strategies and help them in understanding new trends with regards to consumer behaviour and open untapped avenues to promote their venture/work with new insights.
The event would feature some highly respected and interesting speakers, such as Bharathi Jacob (SeedFund), Ashwini Ashokan (Mad Street Den), Nidhi Aggarwal(Kaaryah), Sumesh Menon (Investor) sharing their expertise in their respective areas of work.
Breaking Barriers will serve as a platform to network and will also have opportunities like getting marketing pitches evaluated, one on one mentoring with some great minds in the business and a chance to be featured on a Women's Web video after prior registration.
Partners
Target Accelerator | PayUMoney | Kaaryah
SheThePeople.tv | Jean Claude Biguine | Sheroes.in
Anita Borg Institute | Jobs For Her | Moya
When

: Bangalore, 12th March, 2016, 10: 30 AM – 4 PM
Where

: Target Accelerator, Manyata Tech Park, Bangalore

Gain a preview into the future of marketing. Make sure your business is ahead of the curve. At this event, we will reflect on and answer questions such as:

-How can my marketing strategies be impactful when the market and media are more crowded than ever? -What new marketing/consumer trends will impact on my business and how do I prepare for these? -How does my business adapt quickly to changing consumers, rather than being left behind the competition?

Nominate or Apply for a chance at one on one mentoring, pitch a marketing plan and feature in a Women's Web video!
3) "Women At Work: Key Trends & Challenges" | Bangalore Chamber of Industry and Commerce
Our founder - Neha Bagaria - is a featured panellist among other eminent & distinguished panellists representing both Government & Private sectors of our city at this motivational conference!
We urge you to find the time to attend at least one, if not ALL of these worthwhile, momentous events, this Women's Day. It will be a fantastic opportunity to pitch in and do good while also networking for your career and its (very important) future!
And don't forget to REGISTER for the JFH Diversity Drive 2016 in your city!
From all of us at JobsForHer, HAPPY WOMEN'S DAY!


If you're looking to start your career, or for new and exciting roles to showcase the skills you've gained along your professional and personal journey, you can find them at www.JobsForHer.com. Create your profile, upload your resume and start job-hunting today!