Webinar on Personal Branding with Gayathri Ramamurthy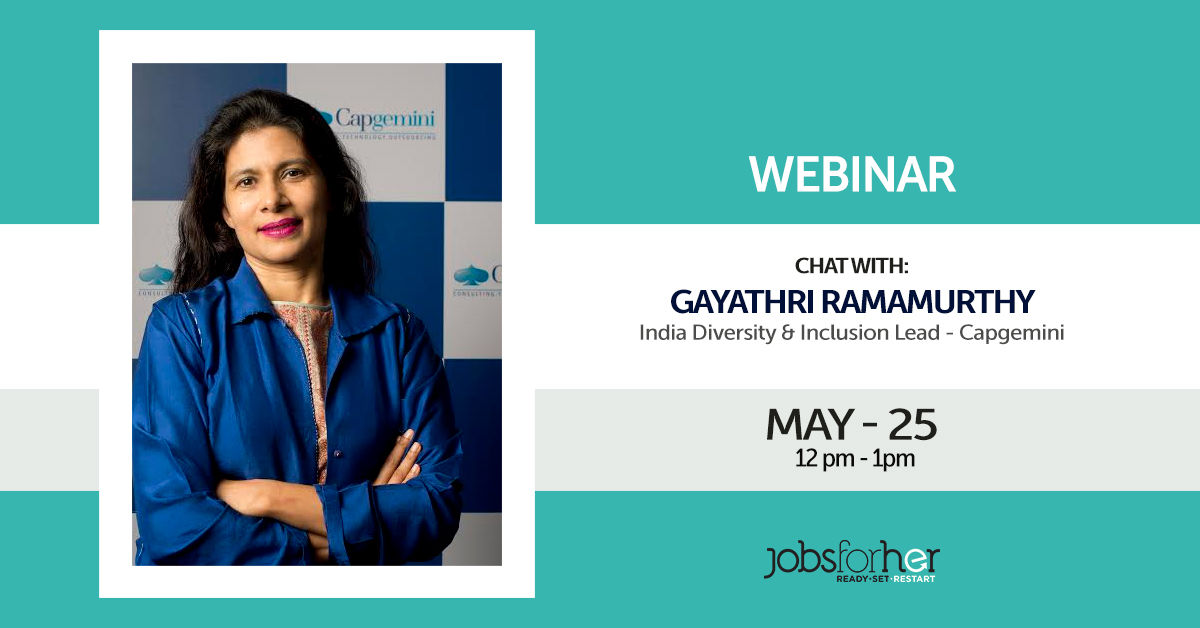 25th May, 2017 to 25th May, 2017

|

12:00pm to 01:00pm

|

Any
Free
Registration closed
Free
Webinar on Personal Branding
Gayathri Ramamurthy , Diversity & Inclusion Lead - Capgemini
Gayathri is an HR professional and currently responsible for Diversity & Inclusion (D&I) in India. She also enables a safe and equitable workplace for employees, through the Grievance Review Forum (GRC) and Policy on Prevention of Sexual Harassment (POPSH) forums. Additionally, she is part of the core team of the global program on Women@capgemini, to enable gender balance and build a platform for women to accelerate into leadership.
As lead for D&I, she is required to break into bias, raise the level of awareness and ensure that Capgemini is an equal opportunity workplace across all forms of diversity seen in society. Through the Grievance Review Forum, workplace issues are addressed based on a process and policy. Policy on Prevention of Sexual Harassment is conscientiously managed as per the requirements of the Law.
Prior to this, she was the lead for the Leadership COE in Talent function, where her responsibility commenced from induction, through their journey in the organization. The development of the leadership level was addressed through an in-house customized program coined as EXCELL, an award winning program that she created and executed for India leadership.
Through various life stages, she had the privilege to make choices to balance her life priorities and a yearning for learning. She strongly believes that diversity is an inherent dimension in society and every individual needs to commit to inclusive practices.
She is a featured mentor on JobsForHer. Click here to follow her https://www.jobsforher.com/mentors/profile/gayathri-ramamurthy/17
Click on the GoToMeeting link to attend - https://global.gotomeeting.com/join/707144997