Odessa's Hiring Event for Women in Tech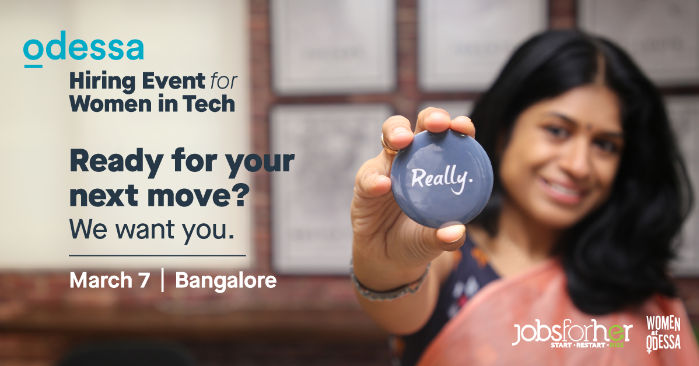 6th March, 2020 to 31st March, 2020

|

09:00am to 02:00pm

|

Bangalore / Bengaluru
Looking for a dynamic career in tech? Odessa has a place for you.
At Odessa, you'll help the world's largest brands bring efficiency to their operations. You'll work with passionate professionals who are building smart technology, managing top-notch talent, and developing proven strategic services.
Most importantly, you'll go to work every day at a place that has invested in programs and initiatives meant to help you feel valued and supported.
Odessa's workforce is 42% female, and has been awarded the 'STPI Export Award for Highest % of Women in the Workforce' four times. We aim to be a place where people from different backgrounds and experiences get together to do their best work. In order to achieve that, the company places high value on transparency, diversity, engagement and outreach.
Agenda of the event:
8.30 - 9.00 AM : Registration
9.00 - 9.30 AM : Networking over Breakfast
9.30 - 10.30 AM : Panel Discussion - " Cracking the Gender Code : #womenintech "
10.30 - 11.30 AM : Workshop - " Superpow-her: leveraging individual strengths to develop your personal brand "
11.30 - 3.30 PM : Programming test and Interviews
12.30 - 1.30 PM : Lunch & Networking
Job opening:
How to Attend the Hiring Event
Register for an open position that fits your profile. The team at Odessa will get in touch with you if you are a match.
You will receive an email to attend Odessa's Hiring Event, which will feature an engaging panel discussion on Women in Tech, followed by individual interviews with Odessa's technical leaders.
When: March 7, 2020
Timings: 8.30 am - 3.30 pm
Venue: Bangalore