Mentoring Event in Hyderabad for Women on a Career Break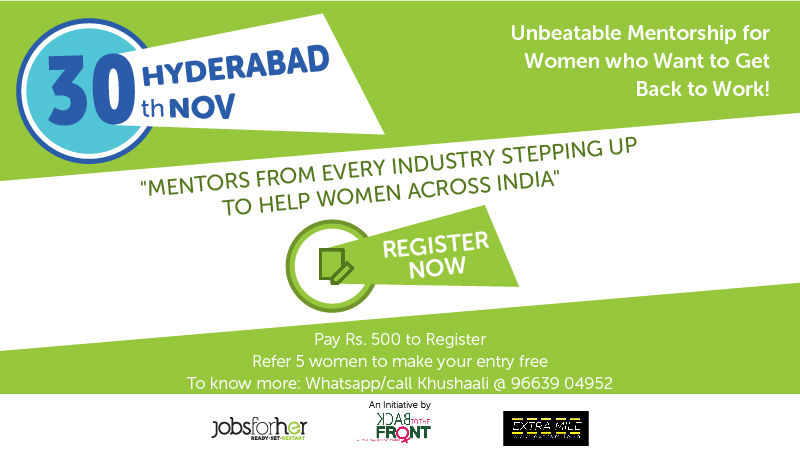 30th November, 2016 to 30th November, 2016

|

10:30am to 12:30pm

|

Hyderabad / Secunderabad
Other
Registration closed for this event.
Mentors from every Industry are stepping up to Help Women Across India
on 30th November for the first time in HYDERABAD
JobsForHer is partnering with BackToTheFront & ExtraMile to launch a pan-India Group Mentoring program for women who are looking to restart their careers after taking breaks for marriage/motherhood/elderly-career, etc.
From November 28th to December 3rd , for 6 days, in 6 cities, mentors from diverse industries such as IT, FMCG, Education, E-commerce, Media, etc., are stepping up to meet, interact with, and mentor women on a career break. There cannot be a more excellent networking opportunity for a woman on a career break.
This Mentoring Roadshow will help women realize their potential through the eyes of industry leaders who will also share their insights, and advise them on how to achieve their career dreams.
Some of the mentors already confirmed are:
 Meenakshi Dhingra - Google - Staffing Lead - Hyderabad
 Smita Nair Jain - Sears Holdings India - Senior Divisional Vice President - Hyderabad
 Tanay Kediyal - Wells Fargo - Chief Administrative Officer - Hyderabad
 Sharada Rao - Cognizant - SBU Head Delivery– Life Sciences - Hyderabad
| | | | | |
| --- | --- | --- | --- | --- |
| Venue :- Fusion 9, 1st Avenue, Road No. 1, Banjara Hills, Opp. City Centre, Hyderabad, Telangana 500034 | | | | |

TO REGISTER FOR BANGALORE - CLICK HERE
TO REGISTER FOR MUMBAI - CLICK HERE
TO REGISTER FOR GURGAON - CLICK HERE
TO REGISTER FOR CHENNAI - CLICK HERE
TO REGISTER FOR PUNE - CLICK HERE
Register today and book your seat NOW