Make a Leap in Your Career With Tres'Chic Academe's Workshop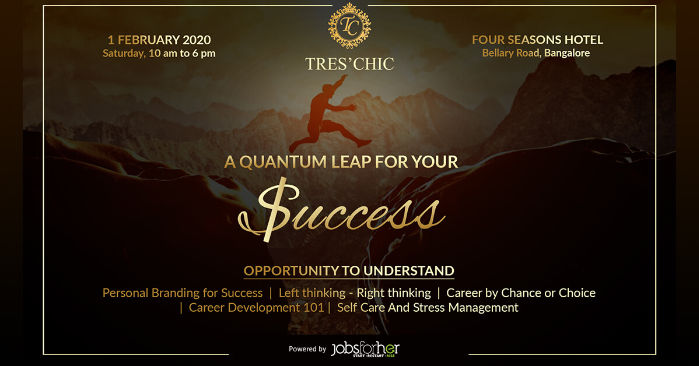 1st February, 2020 to 1st February, 2020

|

10:00am to 06:00pm

|

Bangalore / Bengaluru
Other
Registration closed
Book your ticket through JobsForHer TODAY at this discounted price of INR 5899
'A Quantum Leap for Your Success'
– a workshop by Tres'Chic Academe to help you rise in your career.
About the Workshop
The focus of the workshop is on empowering you to scale greater heights in your career.
Award-winning speakers who are the best in the industry will talk about exceptional life qualities that are essential to your career growth.
Get valuable insights on:
Body language
Personal communication
Personal branding
Critical and creative thinking
...and many more traits that will help you grow professionally.
Who Can Participate?
This workshop is for women who are:
Planning to upskill
Ready to rise in their career in 2020
Entrepreneurs
Ideators
Professionals
Thought leaders
Sales/marketing executives
HR managers
Trainers
Mentors or public speakers
Event Details-
When: February 1, 2020, 10 am-6 pm
Where: Four Seasons Hotel, Bellary Road, Bangalore
Book your ticket through JobsForHer TODAY at this discounted price of INR 5899
Speakers for the Event
Chitra Balasubramaniam, Award Winning Image Consultant, Keynote speaker, mentor at Cherie Blair Foundation and Author
Balasubramaniam M, Wealth Expert, Motivational Speaker, and founder of Zillion Consulting
Rashmi SriPraabhu, Corporate Leadership & Career Development, Business Success Coach
Lakshmi Datta Arun, UNESCO Certified Therapeutic Movement Facilitator, Member of International Dance Council, France
Neha More, Sales & Marketing Professional & Life Coach
Do YOU want to rise in your career?
Then, register for the workshop now!