Get back to work, like a boss!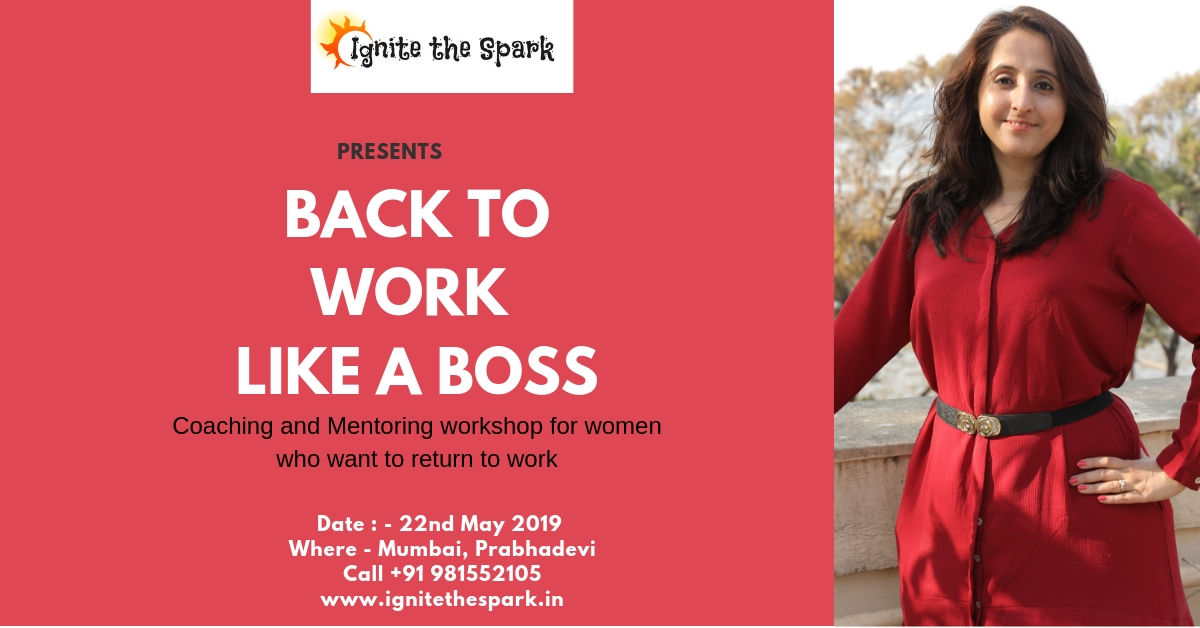 22nd May, 2019 to 22nd May, 2019

|

10:00am to 05:00pm

|

Mumbai / Navi Mumbai
Rs. 5000
Registration closed
Ladies, ready to take a leap back into the workforce, but don't really know where to begin? Well, fret not, for that is all set to change on May 22.
Back to Work — Like a Boss by Ignite Spark is a mentoring and coaching workshop that will help women identify their strengths, values, natural gifts and talents. This will put them in a powerful state, to take constructive and firm steps towards their goals.
Speaker Alpa Kapadia Teli, a Leadership and Life Coach, will give participants clarity on what they want and give them the courage to act on it. She will also help identify long-term and short-term actions and plan the way forward.
Who this workshop will benefit:
Women who are ready to take charge of their lives and take action toward financial independence.

Women who have taken a break tried to look for opportunities, but haven't got a profile that works for them.

Those who don't know where to start and want to get clarity through a structured process about the road ahead.

Women who are committed, hardworking and sincere about getting results.

Women who feel that they have a higher purpose and need to do something bigger, but sometimes what they want to do is so different from what they have done that they don't know how to bridge the gap.
What to expect in this programme:
A two-hour self-discovery exercise, which will help you understand your own self better
Archetype discussions
Harness group wisdom
Long-term goal setting and short-term action plan for realising your goals
One-on-one coaching time to help further your action plan
Two 15-minute calls after the workshop for hand-holding in the process of achieving your goals
Administrative Details : (Time, date and location are tentative as of now)
Date - 22nd May 2019,
Time – 6 hours. 10.30 am – 5 pm
Takeaway - Clarity of what you really want to do and an action plan on the way forward.
Location: Prabhadevi, Mumbai
The cost will be Rs. 5000 per head, special offer for JFH candidates at Rs 2000 per head
A batch of 15- 20 women
Prior registration is mandatory.