DataHack Summit 2018 - Where Humans meet Artificial Intelligence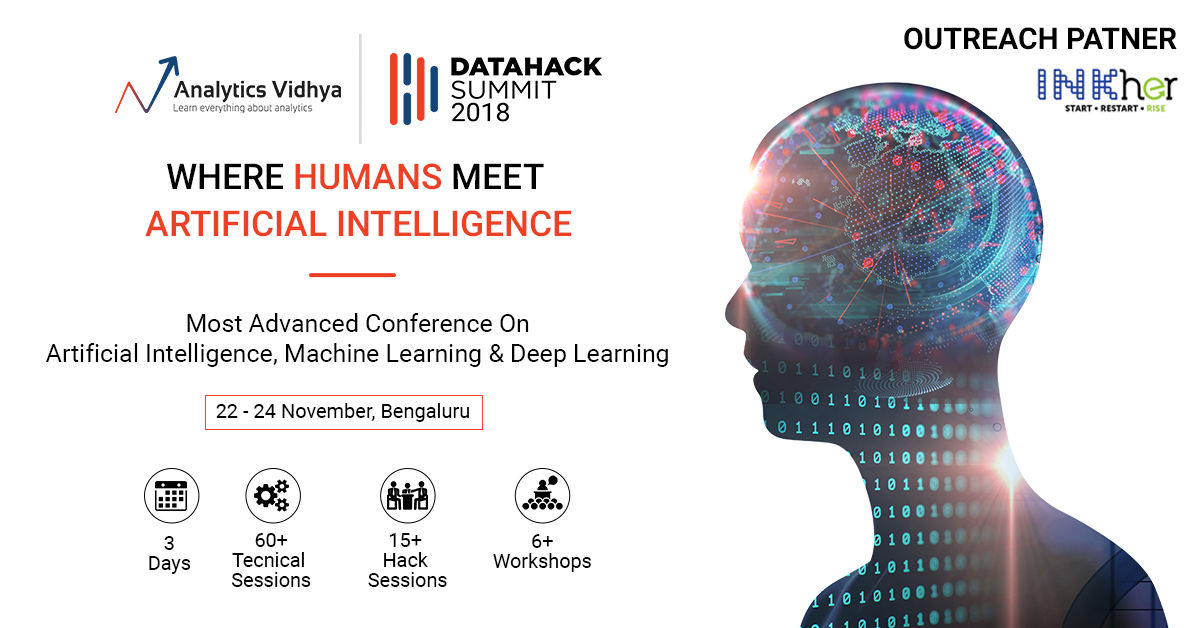 22nd November, 2018 to 24th November, 2018

|

09:00am to 06:00pm

|

Bangalore / Bengaluru
Rs. 10000
Registration closed
Here is what is happening at the summit:
60+ Technical Talks: Attend talks by industry leaders on real-life case studies and get latest on applications of Data Science in domains like Telecom, Fintech, Cyber Security, Healthcare and much more.


15+ Hack Sessions: 1- Hour Live-problem solving by experts! Get to know the cutting-edge tools like spark, tensorflow and techniques like deep learning, image processing, natural language processing and upskill yourself in just 60 minutes.


AI Research: World-class academicians, researchers, and professionals will share the latest research across multiple domains and areas and help you understand unique solution across multiple domains and areas.
World-class AI practitioners, AI thought leaders, IOT experts, chief data scientists, data officers, researchers, machine learning engineers, technology evangelists, & data hackers will come together to tackle the toughest data-challenging issues of global organizations.
60+ POWER SPEAKERS:

Xander Steenbrugge (ML6), Dr. Shailesh Kumar (Jio), Dr. Paul Pallath (Vodafone), Dr. Pulak Ghosh (IIM Bangalore), Dr. Nishant Chandra, Anand S (Gramener), Kiran R (VMware), Karthikeyan Sankaran (Latent View), Kunal Jain (Analytics Vidhya), Rohan Rao (Paytm), Sudalai Rajkumar (H2O.ai) and more.

15+ LIVE HACK SESSIONS:
Building your first intelligent agent to play video games
What makes you more money – A/B Testing or Multi Arm Bandit?
Designing recommendation systems for offline retail
Object Detection using Convolutional Neural Networks
Transition from Pandas to Spark Dataframe using Scala
How to apply NLP on healthcare dataset
Performing Unsupervised Neural Machine Translation to and from Rare Languages and more
8-HOUR HANDS ON WORKSHOPS:


The MasterClass – How to win Data Science Challenges?
Hands-on Deep Learning for Image Processing using PyTorch
Getting Started With Natural Language Processing
Getting Started With Deep Learning
Machine Learning At Scale Using SparkML For Big Data
Applied Machine Learning.
Get 10% OFF on all tickets for CONFERENCE ONLY TICKET, or CONFERENCE & WORKSHOP
A special 20% discount available for 3 members of the INKHer community for the conference
15+ Hack Sessions
Attend 50+ expert sessions
Speed Networking
Lunch included
Offer Ending Soon
2 Days Conference Pass (22 - 23 November)
Venue: NIMHANS Convention Center, Bengaluru
For more details, please visit https://bit.ly/2zYEc1a