Bangalore: Gear Up for Vapasi — the Tech Bootcamp by ThoughtWorks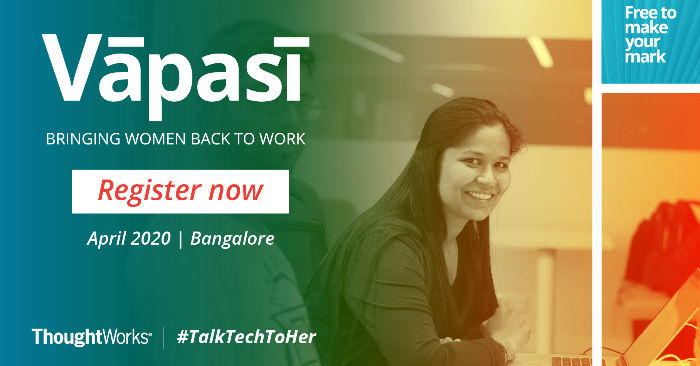 13th April, 2020 to 8th May, 2020

|

09:30am to 05:30pm

|

Bangalore / Bengaluru
Calling experienced women technologists currently on a career break! Here's your chance to resume your tech journey with Vapasi a #TalkTechToHer initiative from ThoughtWorks.
Sign up for Vapasi, a four-week free ThoughtWorks' certified technical training program that will enable you to sharpen your programming and testing skills through hands-on sessions.
Why should YOU apply to Vapasi?
More than 200 women returnees participated in the last 12 batches of Vapasi tailored to Developers and Quality Analysts. And the good news is that many of them are already on their second-career journeys, working successfully with ThoughtWorks and other companies across India.
If you were waiting for the right opportunity all this while, then grab this one right now.
Registration is open for the upcoming editions of Vapasi tailored to Developers happening in Bangalore, and it is free!
Duration of Vapasi: 4 weeks (13th April - 8th May)
Timings: Mon-Fri, 9:30 am to 5:30 pm
Who can apply?
Women technologists with 3 or more years of experience in Software development, prior to their break

Minimum 1-year career break

Basic understanding of Java or any Object-Oriented Programming languages
Last date to register: 6th April 2020
Don't let this opportunity slip. Get back to work with Vapasi, by ThoughtWorks.
Venue:
ThoughtWorks Technologies
ACR Mansion G + 3 floors
147/F, 8th Main, 3rd Block
Koramangala
Bangalore. (Map)