Work-From-Home During Coronavirus: The Manager's New Role
Namrata Harish
in
Expert Advice
|
16 Apr 2020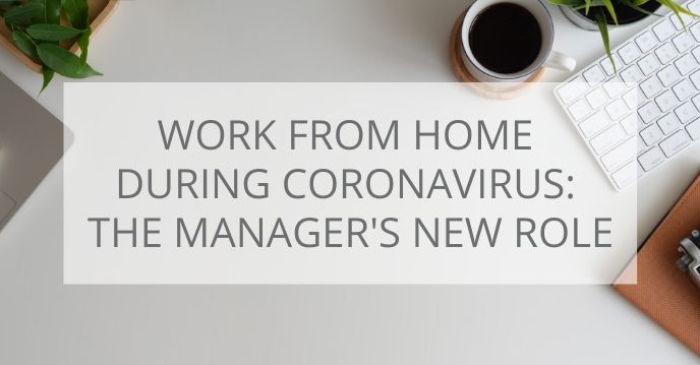 Managing Your Remote Working Team While Working From Home: It's New, But Doable
It's been a few weeks now since corporate India has shifted to the #WorkFromHome method, and remote working has become the new norm.
Even those businesses that have allowed intermittent work-from-home policies are taking time to adjust to having their entire employee population shift base to their homes.
Added to this is the fact that children are at home now due to the nationwide lockdown in India, and household chores keep mounting.
Faced with these new odds, the question that comes to mind is how do managers factor in this new norm while setting boundaries and privileges for their employees, while also fostering productivity?
The Manager's Role While Working From Home
One thing that works in your favour if you're a manager is that you are working from home too, so you've already crossed the bridge of empathy towards your team members.
Many managers have had to deal with sentiments of dissatisfaction and disconnect from their team members once work shifted to the home base.
On the other hand, many managers have to fend off worries from the business side that productivity will likely take a hit once employees work from home.
A good manager will have to ensure that their teams stay engaged, disciplined and productive.
JobsForHer sourced tips and tricks from senior leaders across various companies on how they're managing their teams while working remotely themselves.
The common thread among all their responses was this — keep your lines of communication open.
This isn't about micro-managing. Managers who work from home have to be involved in their team's work by doing, for example, agenda calls in the morning, status check meetings in the evening, as well as social calls in between.
Did you know: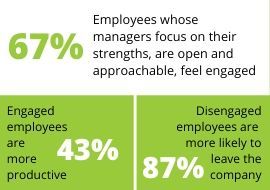 How Managers Can Handle Their Remote Working Teams
A manager can do a variety of things to manage the business and work with his/her team.
Here are some of the top tips from some industry leaders of India Inc.:
Dr. Vipul Singh, Divisional VP, Head HR, ADP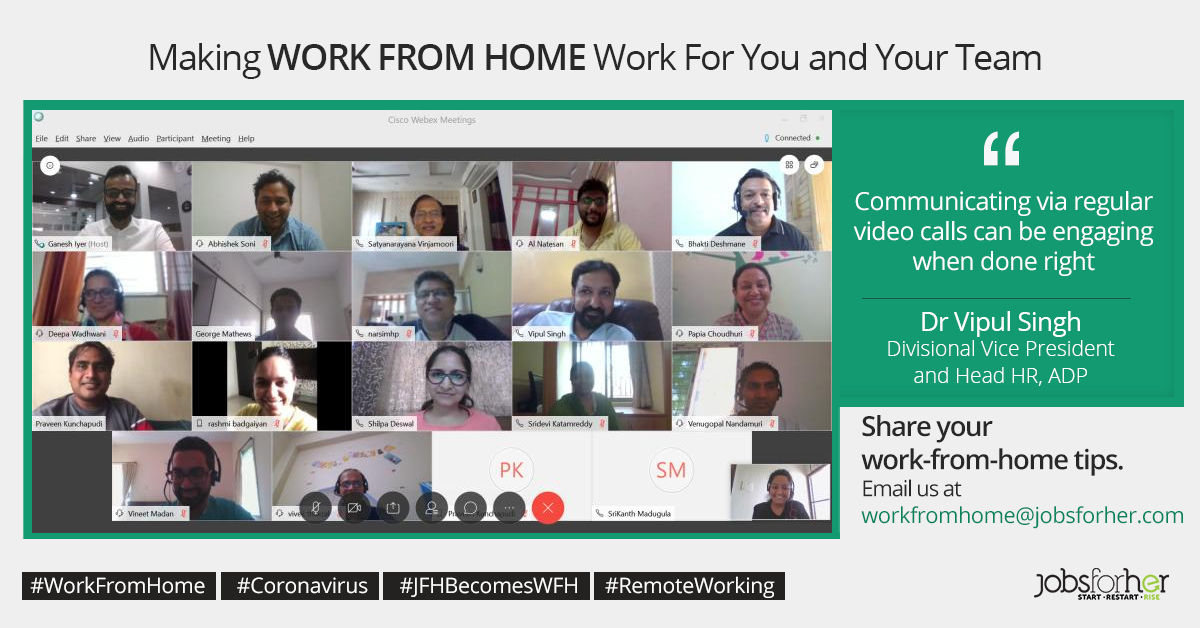 Working from home to help India minimise the threat of COVID-19 is not only wise, but also brave. It reflects your company's commitment to staying connected and productive, while also valuing your employees' health.
Office life may be affected, but the spirit of camaraderie need not! That's what Dr. Vipul Singh and his team are striving for by staying connected and productive.
Here are his top tips for taking on new challenges at this time:
Believe that teamwork means doing great things together
Communicating and connecting via regular video calls, chats and emails can be engaging when done right
Know that this hard time will pass and things will go back to normal. Until then, motivate your team to stay strong and keep their spirits high as always!
Capt. Gajanan Karanjikar, Head, Coastal Shipping, Sical Logistics Ltd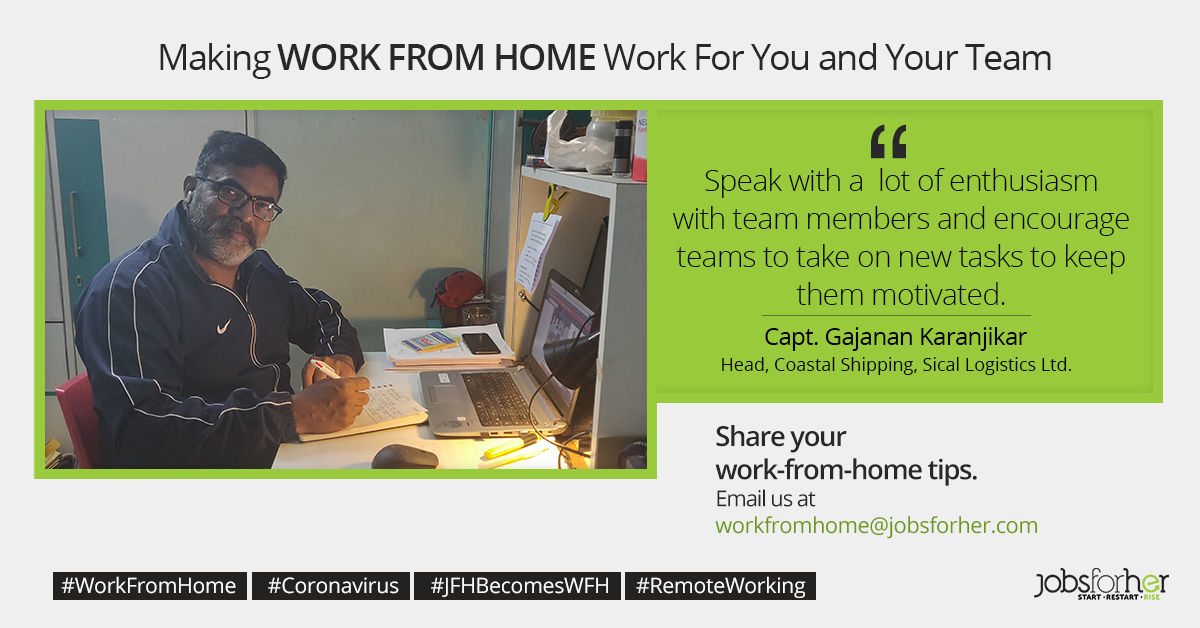 Working in the essential sector during the lockdown has its own set of difficulties. Here are tips from Capt. Gajanan Karanjikar:
Have a cup of tea with your team daily. Share some latest news on the Coronavirus impact; share positive news to help raise morale
Conduct online meetings with every team member and remember to ask about the welfare of family and friends
Do not be overbearing; keep conversations casual. Do not boss around, as times are tough. Everyone is worried about the future. Discuss future plans of the company and how things are going to be sorted out
Speak with a lot of enthusiasm with team members and encourage teams to take on new tasks to keep them motivated
My team works in the essential sector and feels demotivated, as the rest of the country is working from home. If you work in the essential sector, remember the need to keep your team motivated
Pradeep Chavda, Director, HR, India, Sodexo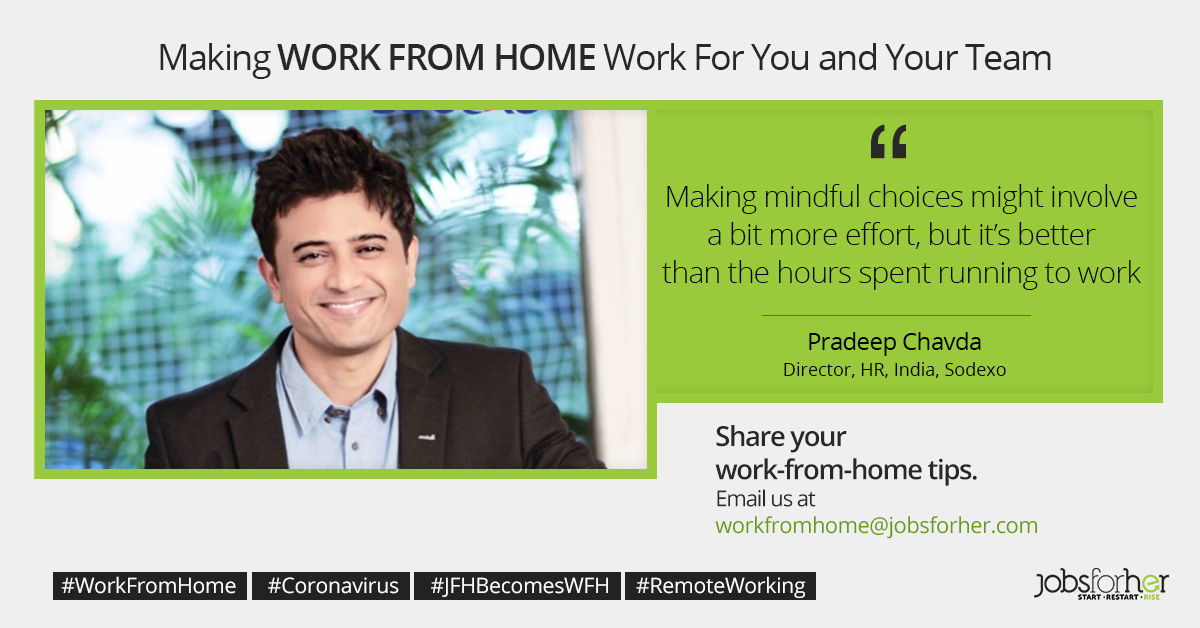 Working from home has become the new norm and most managers have to redefine their roles now.
Before you can ensure your team is happy and productive, you must take care of yourself and be at your best — health and productivity-wise.
Pradeep Chavda has summarised his top tips for making sure you can contribute your best.
His tips include:
Draw boundaries: Create a proper workspace in your home; this can put you in the right frame of mind
Get dressed: A proper outfit prepares your mind to start working
Plan your time: Set aside time for work, lunch, a break, and so on
Stay active: A lack of physical activity could decrease your ability to focus
The right food: Try cooking simple, healthy and easy-to-prepare meals
Anurag Rana, Head, Human Resources and Talent Acquisition, Sirion Labs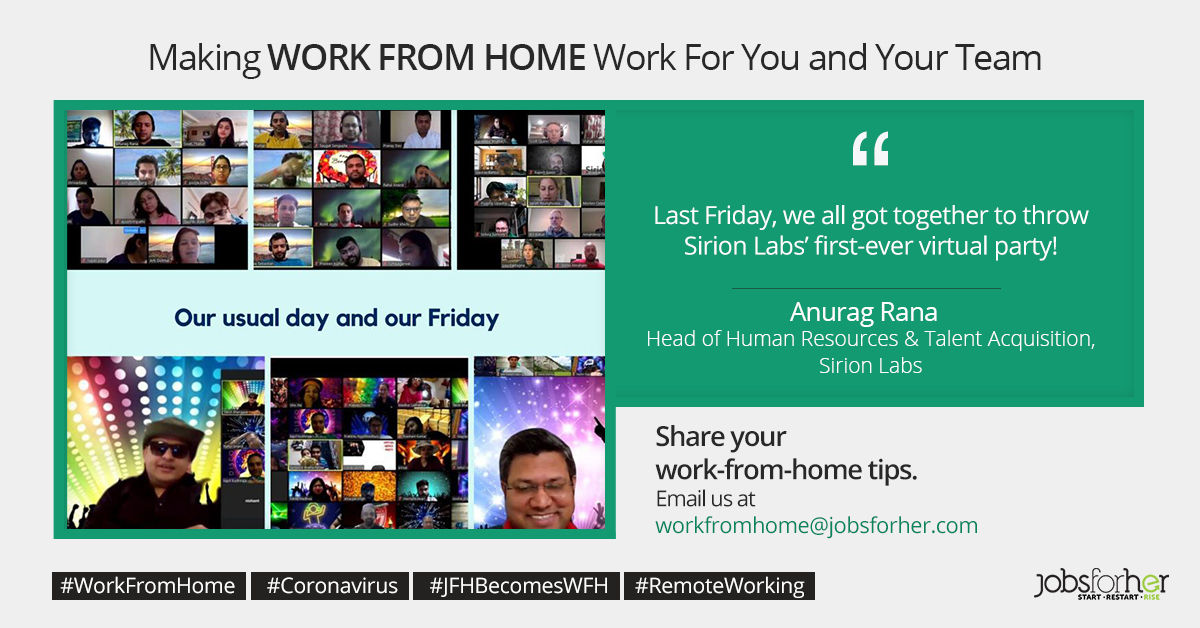 COVID-19 has taught India Inc. that when the going gets tough, we have to find new ways to adapt, reinvent ourselves, and bounce back in the face of adversity.
That is exactly what Anurag Rana and his HR team have been busy doing while working from home.
Here are some crucial action points taken by his team:
Creating a separate DL where employees can raise COVID-specific concerns, which are responded to immediately by a designated task force
Providing extended family medical coverage for COVID-19, in addition to regular group medical cover
Getting together as a community to throw their first-ever virtual party
If you are managing your team remotely, do share with us how YOU are making this work-from-home time work.
Send us a photo and tips on how you handle it all.
Email us at workfromhome@jobsforher.com
WhatsApp us on 9741065202
Find out more about making work-from-home work for you here: www.jobsforher.com