Work-From-Home During Coronavirus: How to Successfully Manage Your Team
Namrata Harish
in
Expert Advice
|
01 Apr 2020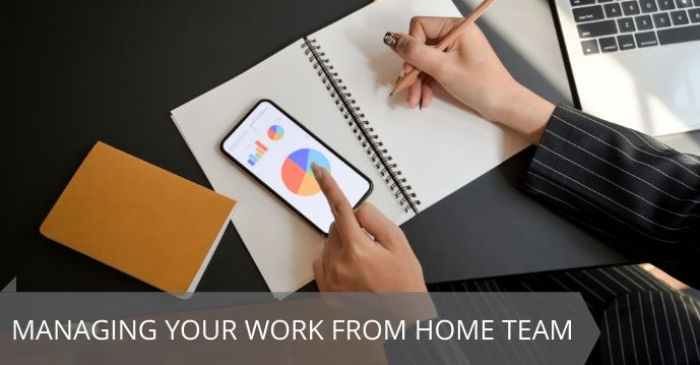 The Experts' Guide to Managing Your Team While Working From Home
Working from home is a trend that many companies in India have adopted in the last few years, but the Coronavirus crisis has made it imperative for ALL workers in non-essential services to stay at home.
Businesses still need to keep going and recover from the downturn the economy has taken. So, in this situation, what role do managers play in keeping their teams motivated, connected and productive, and their business goals intact?
Quite a crucial role, it turns out. Managers are looked up to by their teams to keep calm and focused during moments of crisis, and the onus of keeping the employees productive also falls on them.
Challenges Managers Face
These are the common challenges faced by the managers of remote workers:
1. Lack of face-to-face supervision
Often times, managers slip into a mode of extreme distrust, because they cannot visually assess their team's work ethic. Employees, on the other hand, feel that their managers are out of touch with their needs.
2. Lack of a combined effort
While working from home, team meetings can seem hard to execute, but managers can otherwise feel their teams slipping into silos that are unable to work together.
3. Social isolation
Many managers consider creating camaraderie between team members to be the mark of good leadership. But while working remotely, employees can feel socially isolated from one another with fewer opportunities to connect. This can lead to a loss of "belongingness", according to research done by scholars at the Harvard Business Review.
Solutions for Managing Remote Teams
Nevertheless, many Indian managers from across the board have been trying out unique ways to manage their remote working teams, and have proven quite successful in improving productivity.
Here are some examples:
Rebecca Kurian, Head, Marketing, India, LogMeIn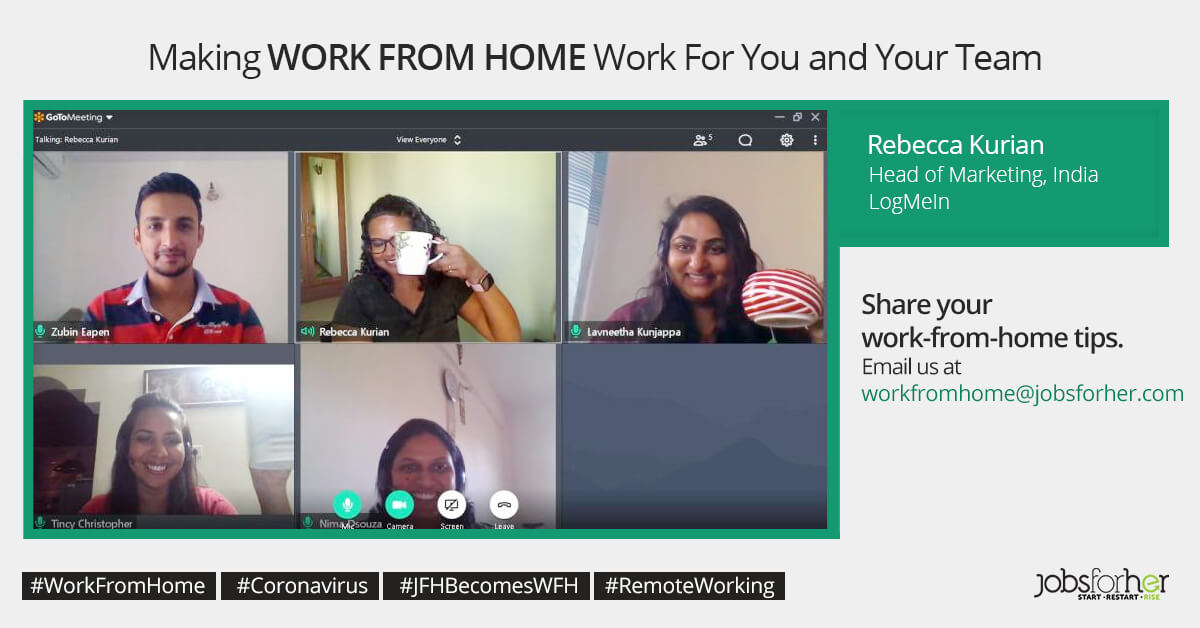 Remote work can seem challenging, but it is not impossible. Research suggests that virtual workplaces can run smoothly and seamlessly with just a modification of perspective. And managers across organisations are finding different ways to make work-from-home work for themselves and their teams.
Here's Rebecca's top tip on managing remote teams:
"A coffee at 4 pm to catch up with my team over #gotomeeting helps us collaborate and feel engaged"
Neethu Shukla, Head, Talent Development and Engagement — India, Aveva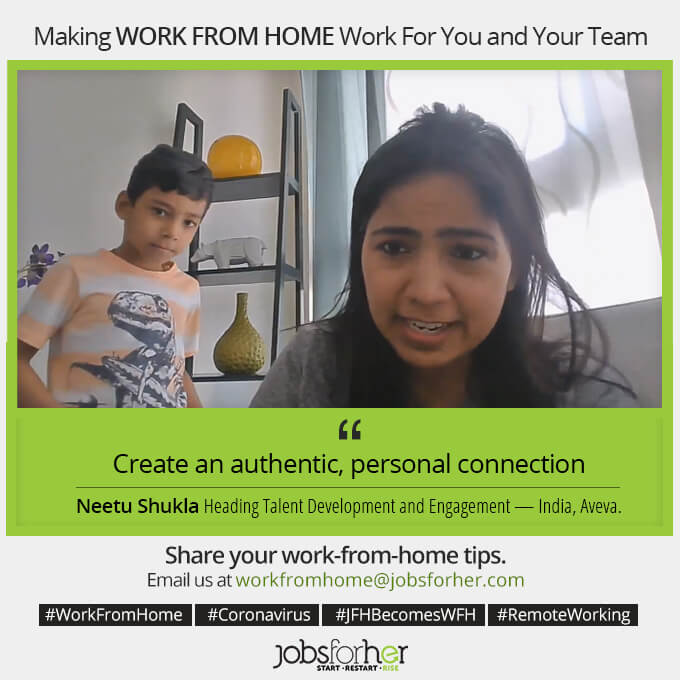 Making remote working work for you is all about having the right tools and mindset. Even before the breakout of the Covid-19 pandemic, remote working was an integral part of corporate India.
Here are some tips from Neethu on how to manage your and your team's work during this phase:
Set a routine
Identify a dedicated 'work' space at home
Dress and groom like it's a regular office day
It is easy to feel isolated if you are not careful
Create an authentic, personal connection
Ramakrishna V, Head, Human Resources, Home First Finance Company India Limited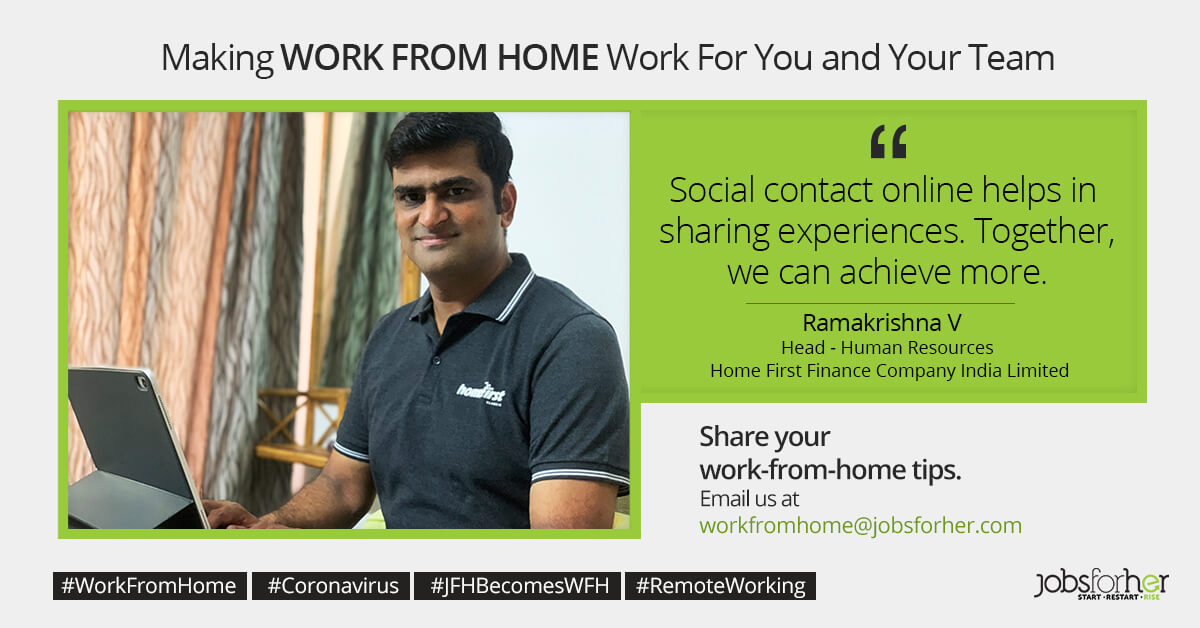 Managing teams remotely has been attempted and worked out successfully by managers across the world.
What might seem like a stressful time for your team can actually become an opportunity for productive collaboration, provided you present the right mindset when interacting with your team.
Ramakrishna V has been level-headed as he leads his team through the ups and downs of the Coronavirus crisis.
Here are his top tips for focusing on the job at hand while working from home:
Take short breaks while working from home. This helps you bring focus back
Try to have at least 1-2 group conversations per day. Social contact helps. In sharing experiences together, we can achieve more
Try to list out activities to be done for the day and tick them off by the end of day. This helps you gain a sense of accomplishment
Anand Jha, VP, HR, Cafe Coffee Day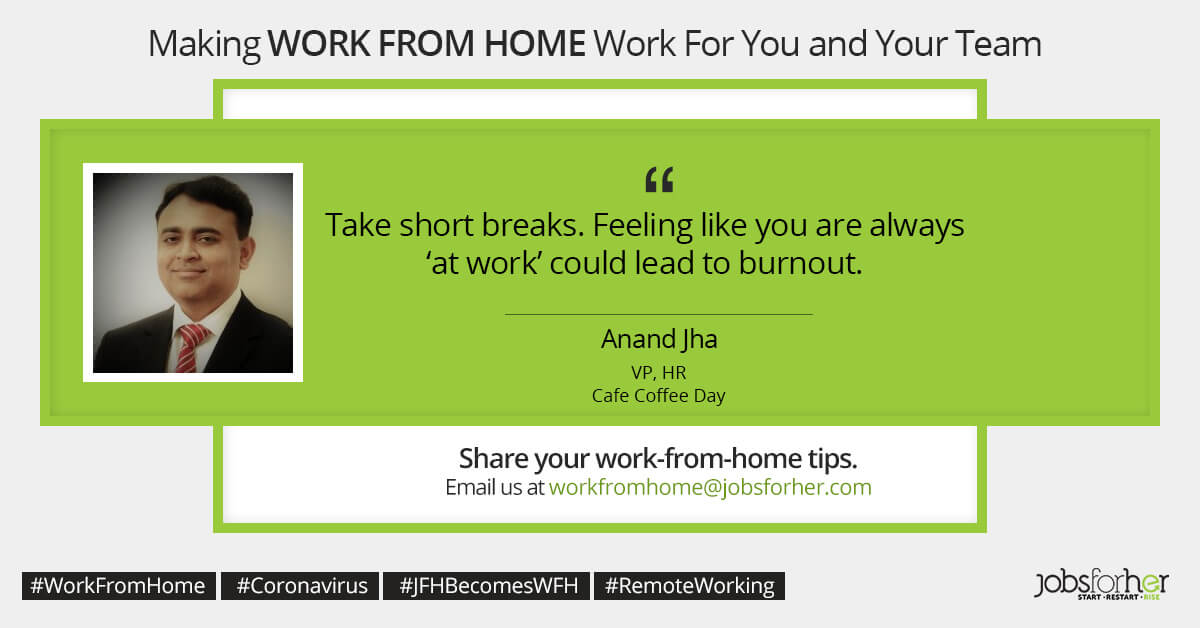 The most important thing we can do during the Coronavirus crisis is to stay resilient at work. Employees look to their managers to be their source of calm and inspiration when things are constantly fluid at work.
Anand Jha has been inspiring his team as they work from home. Here are his top tips for handling work while staying at home:
Identify a proper workplace in your house where you won't be disturbed
Get ready for work as you would on any other working day
Log in and start work at your usual shift time
Over-communicate. The onus is on the work-from-home individual to be over-communicating what they're doing and what they are accomplishing
Log off after office hours to be with your family
If you are unwell, please take sick leave. Don't work from home in sickness
Build trust by maintaining/enhancing productivity
Rahul Bhavsar, Director, Global Cloud Marketplace, IngramMicroCloud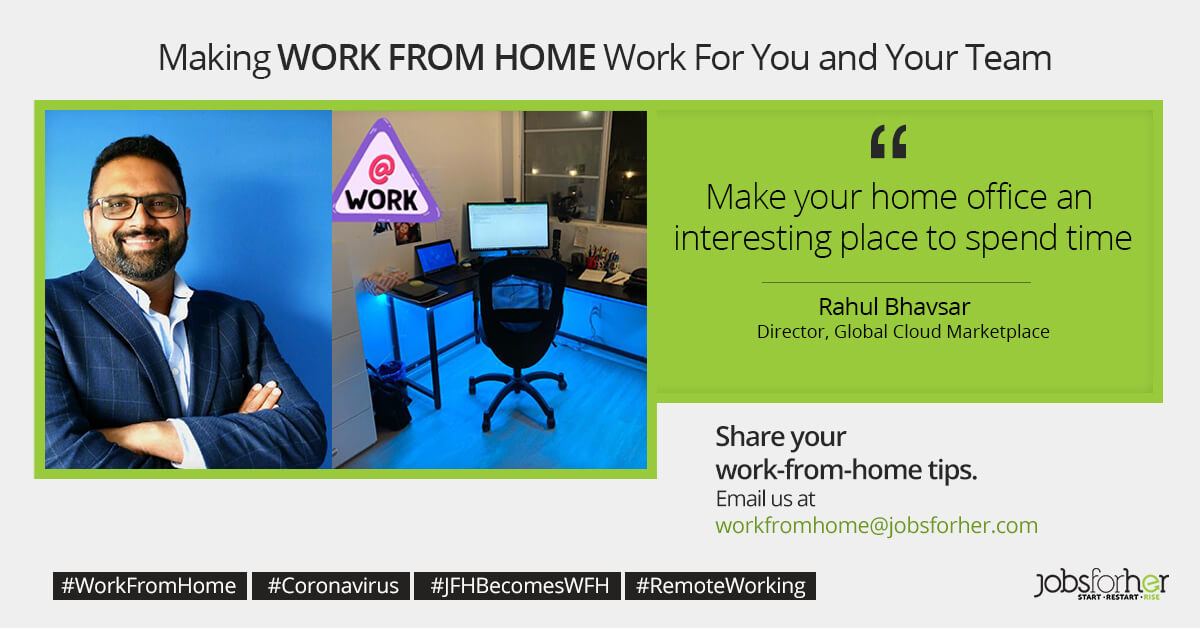 Rahul Bhavsar has embraced the "new normal of working from home".
Here is his top tip for working from home:
Make your home office cool and interesting
Ramesh Nair, CEO & Country Head, JLL India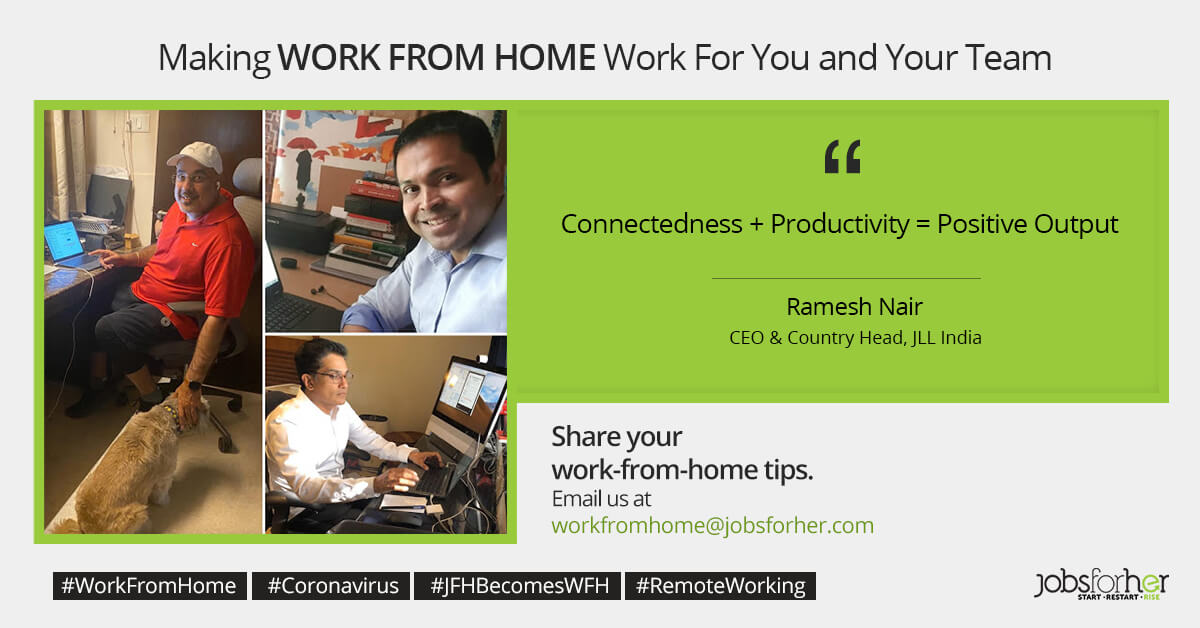 Working from home might have been a huge trend in the working world in the last five years, but many organisations are doing it for the first time on such a massive scale, and excelling at it!
For JLL India, working from home is about doing everything you would on a regular day, just differently.
Ramesh Nair understands that working from home at this time is a big change for working parents who need to manage potential work closures and family commitments.
Here is his top tip for managing the home and work front in unprecedented situations:
Adopt and adapt to the concept. Remember that connectedness + productivity = positive output
If you are managing your team remotely, do share with us how YOU are making this work-from-home time work.
Send us a photo and tips on how you handle it all.
Email us at workfromhome@jobsforher.com
WhatsApp us on 9741065202
Find out more about making work-from-home work for you here: www.jobsforher.com