Work-From-Home During Coronavirus: Helping Your Team Work Remotely With Kids
Namrata Harish
in
Career Development, Expert Advice
|
06 May 2020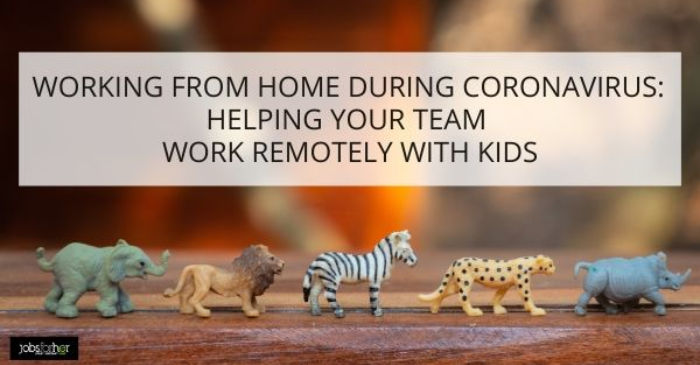 Work From Home During Coronavirus:
How to Manage Employees Working Remotely
With Children at Home
Working from home may have become the new normal for corporate India, but it brings with it new challenges, especially for working parents.
Most of us did not expect to be working remotely for months at a time. Working parents could previously rely on schools and daycare for child care, and could actually make a physical transition from home to office, facilitating a switch in mindset as well.
Now, the boundaries between the office and home don't exist, and children have been at sheltered at home for more than a month. Working moms feel the effects of these transitions keenly.
Working Moms in India Face Different WFH Challenges
In India, a majority of working women relegate household chores to domestic help. With the lockdown, they had to fend for themselves. So working mothers have had to shoulder all the responsibilities of the household and family by themselves.
The biggest challenge is this scenario is distraction, the inevitability of blurred boundaries and having to divide one's time between chores, activities and work.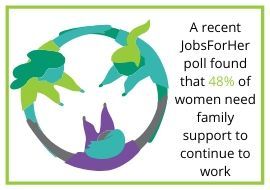 Most women in India rely on external child care or support from elderly family members in managing their children. With that taken out of the equation, working moms are facing new challenges in an environment that's already hard to break into.
So, what can organisations do to help their employees who are trying to make working remotely work for them and their families?
The first step begins with managers understanding that the old rules don't apply. With the new working environment come new methods of working.
What Managers Can Do to Help Remote Workers With Kids
Here are a few best practices for managers/employers to adopt when dealing with parents working from home:
Break out of the 9-5 routine: It is important to differentiate between work hours and the rest, but it need not be at the same time as it was pre-Coronavirus. Many of these parents need to help their children set up online classes and make sure they're set for the day before they can log in. So even if they're beginning a little later, or asking to work in shifts to take turns parenting within the home, consider their situation before laying down the law.
Set new/different work targets: Your employees might not be completely immersed in their work at all times, and that's ok. A distributed workforce might not be able to go at work full-steam, so redefine their targets, reducing them where possible. You will find that your workforce will perform better when realistic goals are set.
Engage socially with your team: Have your team meet online socially often. Shared experiences can help bolster their courage and relieve isolation. In fact, studies show that empathetic managers have created better results with their teams than restrictive ones.
In our continuing series to find out how managers are making work-from-home work for themselves and their team, we spoke to two team leaders who have taken the empathy approach with great results.
Dr Annapoorna Ravichander, Executive Director, Public Affairs Foundation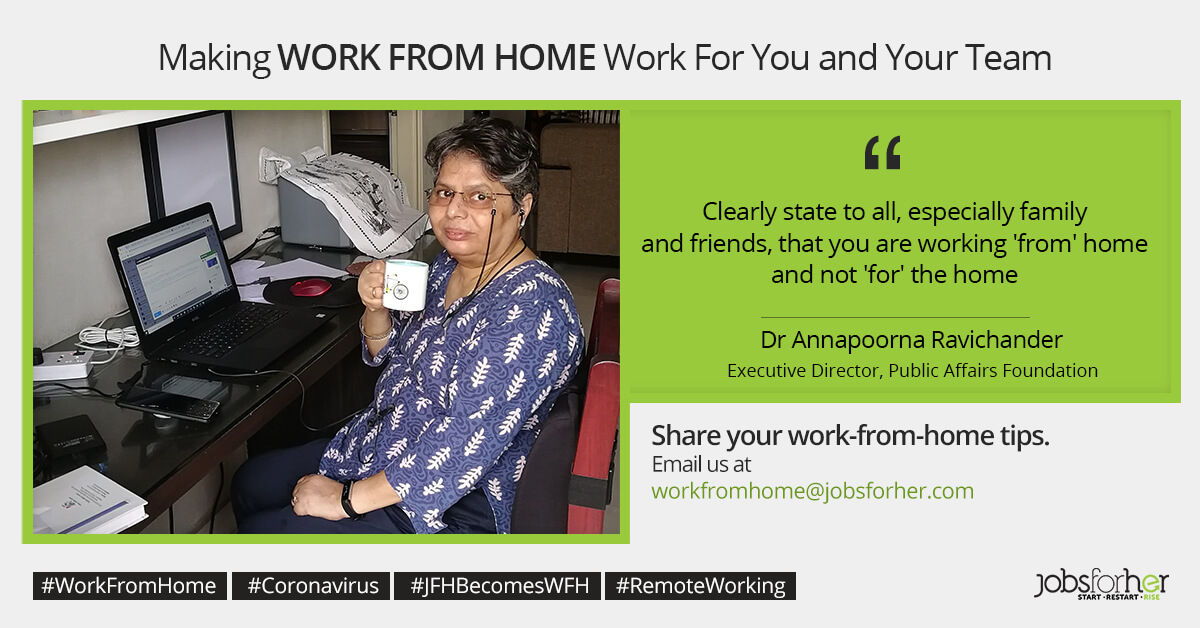 Working from home is not a new experience for Dr Annapoorna Ravichander, who has worked as a freelance consultant before.
Here are her "simple golden rules" for success at this time:
Clearly state to all, especially family and friends, that you are working 'from' home and not 'for' the home
Wake up as usual and finish your domestic chores
Start work as per the office time
To do all this, your planning, multi-tasking, time-management and perseverance skills play vital roles
Gaurav Singh Panwar, Associate Director - People, S&P Global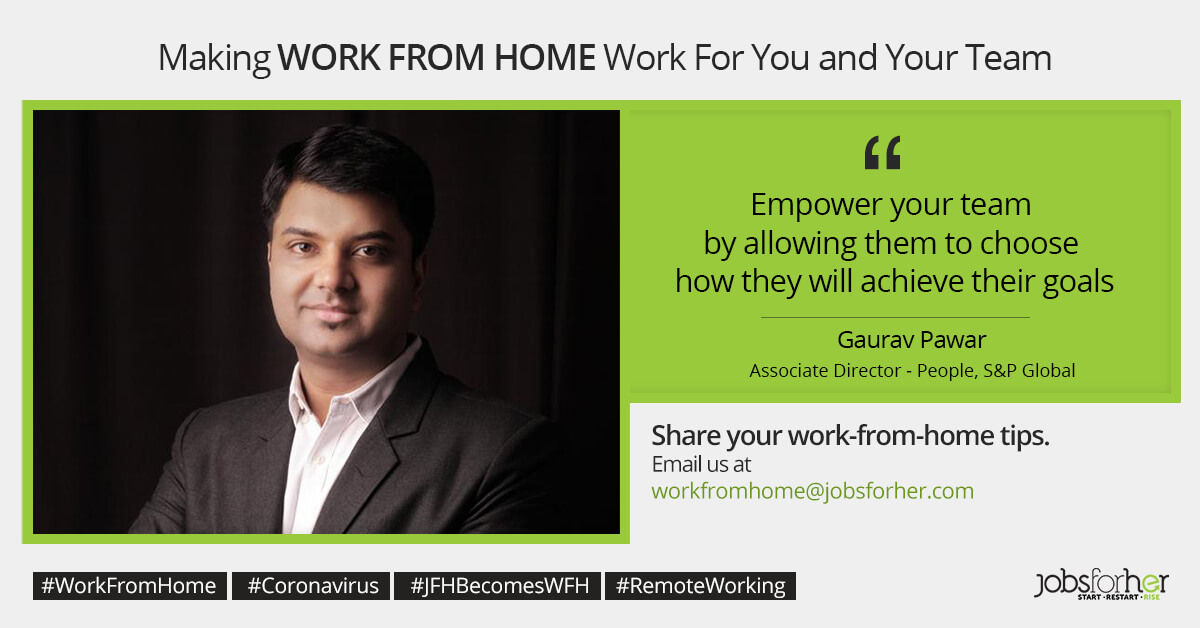 A compassionate yet driven leader is the need of the hour. Gaurav Singh Pawar believes in being an active listener to build trust.
Here are his top tips for working from home:
Empower your team by allowing them to choose how they will achieve their goals.
To create trust, a leader should be comfortable letting their guard down and expressing their personal concern for what is happening.
Give your children defined 'education hours'. Provide a place for them to do their learning.
You are more likely to get things done when they feel right, outside of meetings and other time-sensitive events on your calendar, so take advantage of that.
If you are managing your team remotely, do share with us how YOU are making this work-from-home time work.
Send us a photo and tips on how you handle it all.
Email us at workfromhome@jobsforher.com
WhatsApp us on 9741065202
Find out more about making work-from-home work for you here:
www.jobsforher.com