The Rising Homepreneurs: An online platform that helps stay-at-home women sell & earn
Sasmita
in
Back to Work, Career Development, Women-friendly Companies
|
29 Apr 2019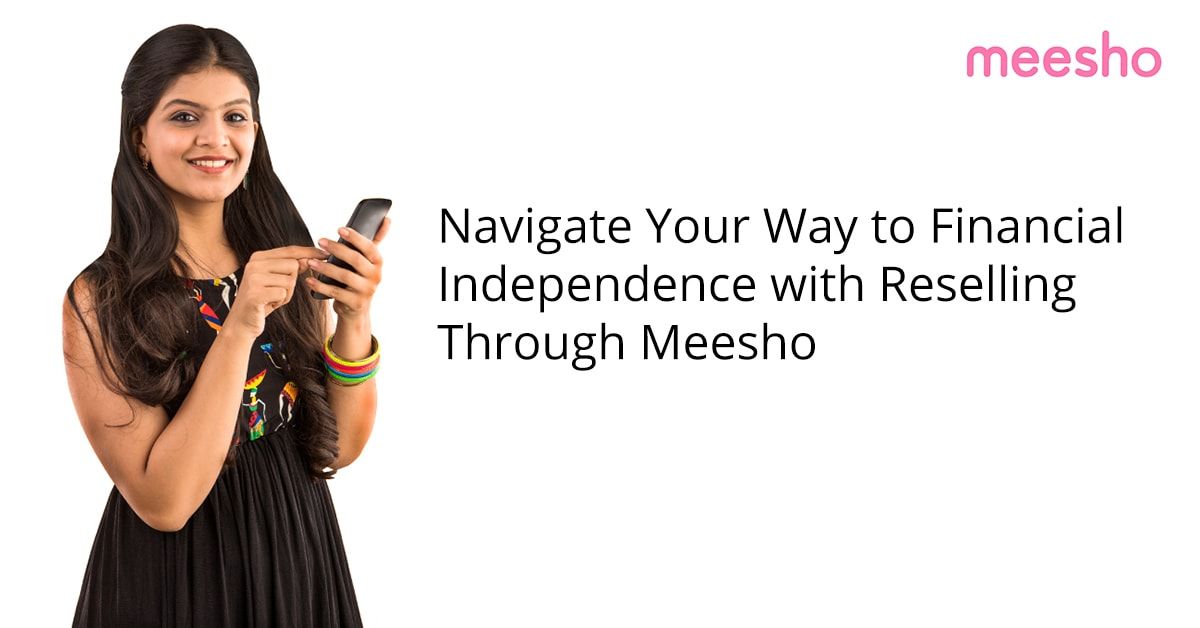 Encashing the online frenzy, more than 20,00,000 Indian women homemakers across the country are increasingly using social media. Indian housewives are reported to be registering $8-9 Bn gross sales by selling apparel, jewellery, & lifestyle products. *
In a saturated marketplace, where similar products are being sold by 10 different companies, it's a challenge to discover a platform wherein each stay-at-home individual can start their online business and earn a share while still making their family a priority.
Sounds like the song "Free to be..." Isn't it?
This is where Meesho stands out.
Navigate your way to financial independence with Meesho
Wish to be self-employed while you earn in your free time? If you want to harness the flexibility of running an online business from home while earning extra bucks, this is for you!
Regardless of the skill-sets tracked down by corporate firms, you have a chance to fly under the radar and unlock your talent to maximize your income potential by working from home.
Doesn't matter if you are on a break, or planning to take a break in your career, through Meesho app, you get access to an open platform to build a passive income in your free time.
Meet the Super Five: 5 Rising Women Entrepreneurs leading the Indian social e-commerce revolution
(In the picture: The Rising Women Entrepreneurs of today receiving the prestigious Meesho award)
Nothing could be truer of this new generation of dynamic women entrepreneurs who are not only breaking the geographical barriers to discover their own online marketplace, but also empowering many other women by transforming them into successful resellers.
Generating a soaring income of five figures per month by selling products online, these women are yielding a profit margin of 5-10% a month thereby, leading the Indian social e-commerce revolution. And the best part, their self-employed venture is not even remotely linked to the corporate entity. Rather, they are the homepreneurs!
Meesho - A profitable online shop to earn while staying at home
Welcome aboard.
It all starts from here. Meesho online selling business is a nationwide chain of retail items, wholesale, and suppliers that helps to motivate women sellers to earn commissions and maximize their income right from home.
With Meesho's online selling platform, you get an opportunity to set-up your own online store for shopping, selling products to your contacts, earning customer loyalty and create an impact in your lifestyle.
With a vision to create 20 million resellers by 2020 across nations, Meesho was exclusively formed to offer all the onboard support systems, opportunities, and resources to women entrepreneurs to start their online store with just a phone and earn right from the comfort of their home.
As an empowered Meesho homepreneur, you get to:
Earn without investment

Build your own online shop

Shape your entrepreneurial talent

Sell and earn a profit margin for products sold

Build an independent identity

Build your online social network with like-minded homepreneurs

Enhance networking skills

Get recognized as a successful entrepreneur

Hone your earning potential

Upskill social selling abilities

Change your life
The Reselling Journey
The journey that dated back in 2015 was not, however, a smooth sail to start.
The biggest challenge was how Meesho should build its credibility in the eyes of the homepreneurs by encouraging women to start on their own and handhold their online business without sacrificing priorities. Based on the idea that people buy from people they trust, the Meesho app for selling merchandise on social media was invented. This greatly appealed the buyer network to include more entrepreneurs, especially the stay-at-home women to join the network.
Since then, Meesho never looked back. Originated as a hyperlocal fashion discovery platform, Meesho has come a long way to evolve as a sustainable business model.
With truly consumer-friendly innovation, Meesho has witnessed dramatic growth and emerged as a mascot of e-commerce. Being one of the fastest growing startups, Meesho is a revolutionary concept that aims at solving the challenges that resellers are facing today in the e-commerce space. The momentum continues, and the customer base is expanding its horizon even further.
Meesho's deliberate efforts have paid off in honing the talent pool of women entrepreneurs to jumpstart their home-based e-commerce online shop and successfully generating passive income without compromising on household priorities. As per the recently conducted series of surveys, more than 50% of women have affirmed that such an initiative has not only boosted their confidence but also compensated their free time at home as they can earn and pursue their hobbies independently. And fanning this flame of encouragement is still on!
Kudos. More power to women!
Let the stats speak
(In the picture: How the company has scaled up to a multi-million business.)
(*Data courtesy: tech.economictimes.indiatimes.com)
About the Author
Shibani Banik is an Instructional Designer-turned-Content Writing Specialist who has helped numerous e-learning firms design their Instructional course materials. Her recent transition to full-time content writing within the digital marketing space has helped several digital marketing companies set their brand tone and build their audience.