Mumbai Calling...
Neha
in
Expert Advice
|
09 Sep 2015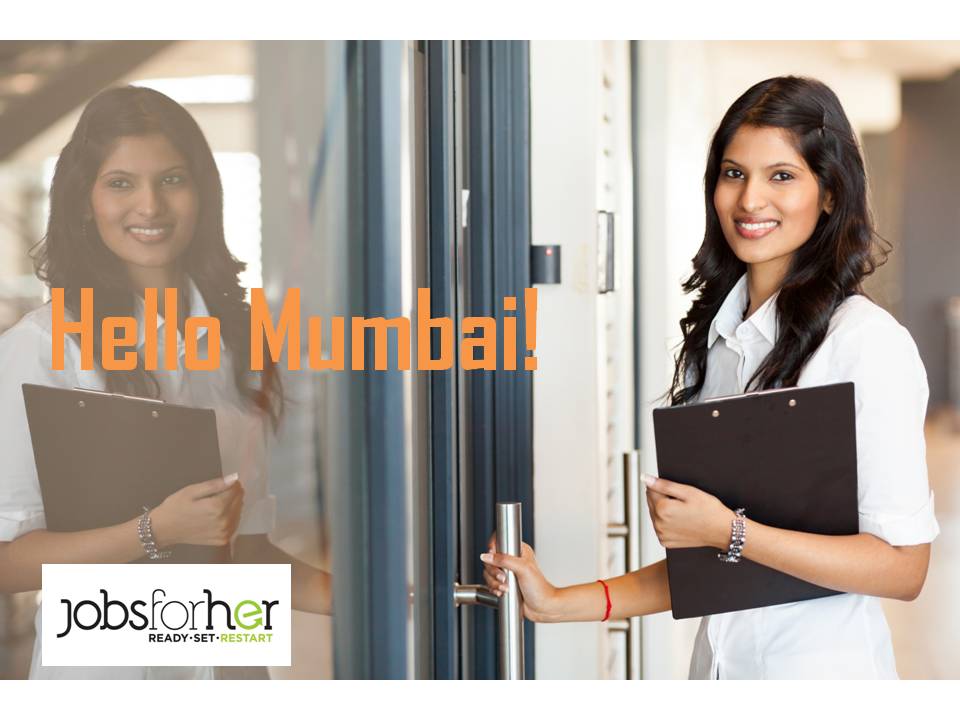 JobsForHer answers, "Yes."
JobsForHer is a connecting portal for women who wish to start, restart and rise in their careers. Whether your break was for life events like marriage, motherhood, elderly care, or other personal reasons, we will help your career get back on track. Our portal connects you to a range of job options, reputed companies and curated experts – anything you require to start, restart and rise- you will find it here.
Our vision is to reverse female brain drain from within the Indian workforce.
As we shared yesterday, on our 6th month birthday, the JobsForHer movement has metamorphosed into nothing short of a social and economic movement across the city of Bangalore, with stories flowing in every day about women restarting their careers post life events like marriage, motherhood or elderly-care. Buoyed by this early success, we are thrilled and proud to open up our platform to the hometown of our founder, Neha Bagaria - MUMBAI! The number of women who have reached out to us from across India, asking that we start in their cities, has been absolutely unbelievable. We will continue creating success stories city-by-city, woman-by-woman, resume-by-resume, starting next with Mumbai.
We thus invite women graduates, working women and women-returnees across Mumbai to upload their resumes on our portal and let us know what kind of jobs you are looking for!
Here are the steps you can follow:
1. Visit www.jobsforher.com and Register yourself as a Candidate
2. Add your profile details as well as submit your resume
3. Check out our job openings by filtering for Mumbai on our Jobs page
4. Don't find the job you're looking for? Email Pritha at pritha@jobsforher.com to let her know so that our BD team can find the job for you!
5. Spread the word to family, friends, friends of friends, and any woman that you meet who is on a career-break and looking to return to work.
Do also like our Facebook page and stay updated with online and offline events that we host on a regular basis. From Ask-Me-Anything (AMA) sessions with successful, inspirational women, to book-launches of similar women, to meet-ups with the JobsForHer team - we make sure we stay connected to the women who drive our vision and keep us going, every day. We exist because you want to start your careers, climb the corporate ladder and return to work, as did each one of us at some point in our lives.
We know that there are millions of Indian women across the country who enjoyed successful careers before personal commitments compelled you to step away - whether for marriage, or to be a trailing spouse, or to look after your children, or the elderly in your families. JobsForHere is here for you to find your path back to the career that defined you and put the zing into your step every morning.
Know a Mumbai woman who wants to start, restart and rise in her career or a Mumbai company who wants to hire experienced and qualified talent? Ask them to post their resume or job opening for free at www.jobsforher.com today and join the back-to-work movement!