description Summary
Iam an Entrepreneur with 15 years of corporate experience in telecom, banking and insurance industries. I comes with expertise in Strategic Planning, Business Development, Brand Marketing & GTM.
I have founded www.nuuper.com which is a 'Conversation Board' between a brand and its users. Iam keen on helping women founders & makers with their marketing and sales strategies, help them find their early-adopters and map larger markets for their products/services.
Iam also intent on sharing my learning experiences, as an entrepreneur, with other women who are wanting to take that step toward being an entrepreneur. The jouney as an entrepreneur does not have to be lonely and difficult, especailly when we have the opportunity of sharing our expericences and knowledge with each other.
Iam a spiritual seeker by heart and a follower of Sri Aurobindo's teachings and i derives strength and inspritration for my work from these teachings. I believe, as women, we have an equal and a meaningful role to play in this world.
You can reach me on yamini@nuuper.com.
Website: www.nuuper.com
Functional Area
Consulting/Strategy management, Marketing/Advertising/MR/Media Planning, Product management, Sales/Business Development/Client Servicing
Industry
FMCG/Food/Consumer Durables, Management Consulting
Skills
Strategic Planning; Marketing Strategy; Product Rod-map and Implementation; Business Development
Quotes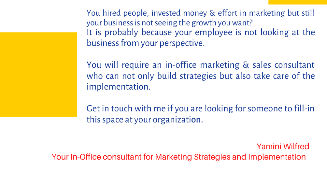 Your In-Office External CMO