description Summary
Neha Bagaria is an entrepreneur at heart, a Wharton grad, a wife, a mother-of- two and a woman who restarted her career, thus founding JobsForHer.
Neha founded JobsForHer to reverse female brain drain from within the Indian workforce.
JobsForHer.com is an online portal to enable women to restart their careers post marriage, motherhood, elderly care, etc.
JobsForHer is not Neha's first entrepreneurial venture. She founded her first company Paragon, right after she graduated from the Wharton School of the University of Pennsylvania. When marriage brought her to Bangalore, she started working with Kemwell, a contract pharmaceutical manufacturing company, in the fields of HR, Finance and Marketing strategy.
Neha took a 3.6-year break in her own career when she had her children. During this personal journey, she became aware of the various difficulties a woman faces in order to re-enter the workforce. She then became committed to the cause of enabling women to restart their careers and founded JobsForHer.com on International Women's Day, 2015.
Events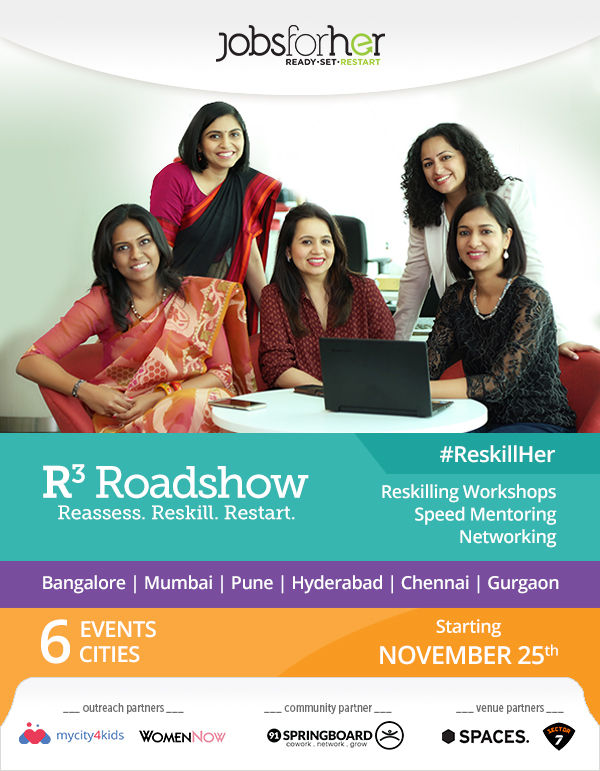 R3 Roadshow - Reassess Reskill Restart Roadshow
R3 Roadshow Reassess. Reskill. Restart. Bangalore | Mumbai | Pune | Hyderabad | Chennai | Gurgaon (For registration Click on the ...
location_on Bangalore,Mumbai,Pune,Hyderabad,Gurgaon,Chennai
Functional Area
HR - Recruiter
Industry
Internet/E-Commerce/Startups, Recruitment/Staffing
Skills
HR, Finance, Marketing Strategy
Videos
Restarting your Career is a Possible Dream - JobsForHer Founder Neha Bagaria at INK 2016
What happens when a woman is driven to get out of the house, break-free of her career break,& change the world for her?
Break the Barriers
Neha Bagaria, Founder of Jobsforher is on a mission to enable women to re-start their careers after a break.
Women in Tech - Panel Discussion - Leena S N, Neha Bagaria and Richa Khanna
A panel discussion on women in technology, moderated by Zainab Bawa.
Neha Bagaria @ RestartHer2017
JobsForHer's Founder Neha Bagaria's exclusive interview with Bloomberg TV
LIVE with Neha Bagaria about #RestartHer, India's biggest career fair for restarters
Neha Bagaria at Sapient, Bangalore - IWD 2017
JobsForHer CEO Neha Bagaria's Interview with Linkedin
Live Chat with Neha Bagaria and JobsForHer Team