description Summary
Aparna is a Life Transformation Coach: Body, Mind & Emotion and founder of Celebrating Life.
A Mother of a teenage daughter.
She has a rich practice/experience of over a decade in coaching and mentoring. An MBA graduate and a former corporate professional who left her well-established carrier 15 years ago, to live her dream, of helping people live fulfilled happy and healthy lives.
She works with corporates from Leadership Teams to new managers to coach and nurture Mindful Leadership skills.
She teaches in B-Schools & Executive MBA, Organisational Behavioural and Mindfulness.
She is a part of Yoga TTC programme where she helps yoga schools in formulating their courses and teaches the teachers.
Her USP is her natural ability to understand people and heal them with psychosomatic or somatopsychic problems. Her coaching methods are driven from deep understanding and practice of psychology, neuroscience and yogic methods.
She essentially engages through her unique training programmes and workshops that focus on helping people find their best potential.
Mindful Leadership Development,
Emotional Intelligence in day to day life
Lifestyle and Stress Management
Mindfulness Meditation
Physical, Nutritional & Mental Wellness.

She is a Peak Performance Coach and works with leaders, athletes and sports persons to help them stay on track and up-scale their leadership skills.

She works with youth as she believes youth are the foundation and hence future of any country, and if the change needs to happen one has to work at the ground level.
She believes in being a student for life. Apart from learning from everyday life, she invests considerable time in upgrading her knowledge. She has done multiple certifications in the area of fitness, behavioural science and Leadership.
she is certified:
Happiness Coach from Berkeley Institute of Well-being California.
Life Coaching Programme from The Master Coaching, USA
NLP Coaching Certification from Indian Leadership Academy, Bangalore
International Certified Yoga, Pilates & Tai-Chi Trainer
Certified Nutritionist. and many more...
She thoroughly enjoys her work and apart from this, she equally enjoys playing and chit-chatting with her daughter, travelling, reading, writing, gardening. She says she workout at least 5 days a week and Meditates every day without fail. Her favourites workout include Yoga, Pilates and Walking.
Events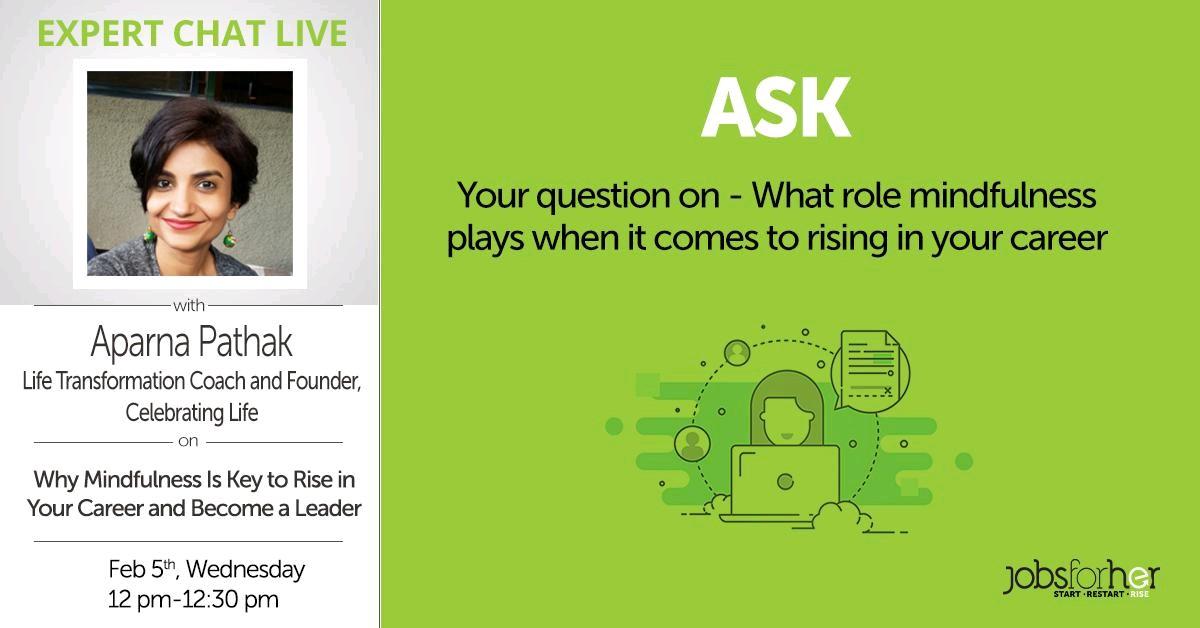 Why Mindfulness is the Key to Rise in your Career
Find out how being in the right state of mind will make you a leader at your workplace. Join this Expert Chat on 'Why Mindfulness is Key to Rise in Your Ca...
location_on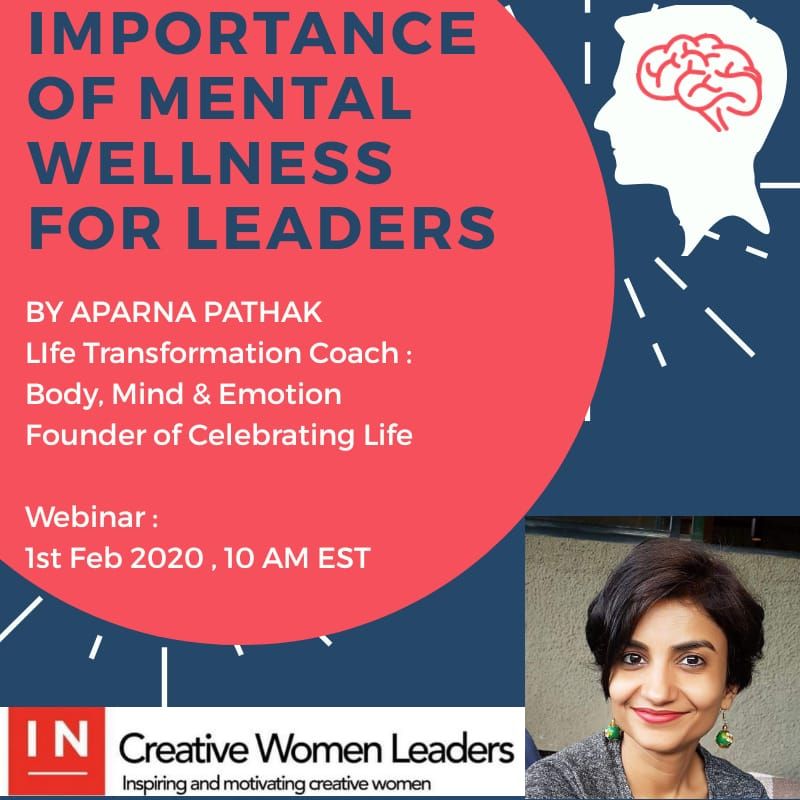 Importance of Mental Wellness for Leaders
Webinar Consider the following perspective, sincerely and deeply: 1. For our body to stay fit, flexible and agile, we train, exercise and engage in physical f...
location_on
Functional Area
Consulting/Strategy management, Medical Professional/Healthcare Practitioner/ Technician, Other
Industry
Education/Teaching/Training, Wellness/Fitness/Sports
Skills
Mindful Leadership | Happiness Coach | Psychosomatic & Lifestyle Management| Wellness Coach | Emotional Intelligence| |Yoga & Mindful Meditation | Behavioral Change|
Quotes

A passionate teacher is always a sincere student. - Aparna Pathak

Toxic Habits and Toxic People Slow down the Process.- Aparna Pathak

Nurture the Soil within you every day, such that it cultivates growth & development of self and everyone around.- Aparna Pathak

Applied Knowledge leads to happiness and it's non-application to ignorance, hence misery. - Aparna Pathak

Old behaviours cannot yield NEW Success- Aparna Pathak
Videos
Why Mindfulness is Key to Rise in Your Career and Become a Leader