Webinar with Dimple Jha - Talent Acquisition Lead- SapientRazorfish India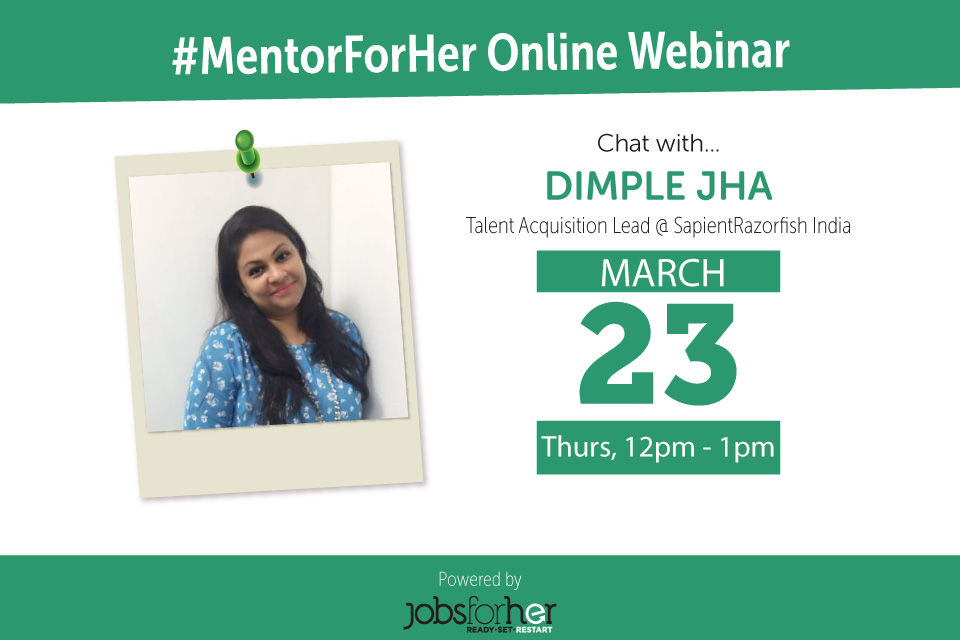 23rd March, 2017 to 23rd March, 2017

|

12:00pm to 01:00pm

|

Any
Free
Registration closed
Free
Webinar with Dimple Jha
Talent Acquisition Lead- SapientRazorfish India
She builds Sapient. As the Talent Acquisition team lead for SapientRazorfish India, she infuses about 16 years of industry experience to this most challenging role. Recruiting excites her because it pushes her to go out and find precious talent, steering through industry competition, and meet company's aspirations and its client's expectations. In the past, she has worked with organisations like Headstrong (Genpact) and few other IT Services & product organisations.
As a leader, she is an ardent believer of enabling the team's potential. Her focus, therefore, is on supporting her team members to develop their skills through mentoring & coaching. We learn and grow together. And we never stop learning and growing!
Sapient helped her fulfil two of her dreams – Gender Diversity & Giving Back To Society. Her biggest high in her first few years at Sapient was setting up their CSR initiative in Noida. And she went further ahead by setting up a Sapient CSR Trust in India that funds all the CSR work they do. She is extremely passionate about Diversity at workplace , specially Gender Diversity. Since last few years she has driven the WLN agenda for mentoring & nurturing women to pursue their career more effectively. Under this, they have also launched multiple programs that enable women to grow in their career.
She picked up painting 2 years back, the white canvas brings out her creativity and allows her to detach and introspect. Currently she learns oil paintings and attends weekly classes without fail.
She always encourages people to pursue their hobbies - it gets you to think, to find yourself.
And once you're in tune with your mind-space, you take the first big step to greatness."
Click on link below to join the webinar on 23rd March'2017 at 12noon
Download the GoToMeeting app to participate!