VMinclusion Taara for Women Technologists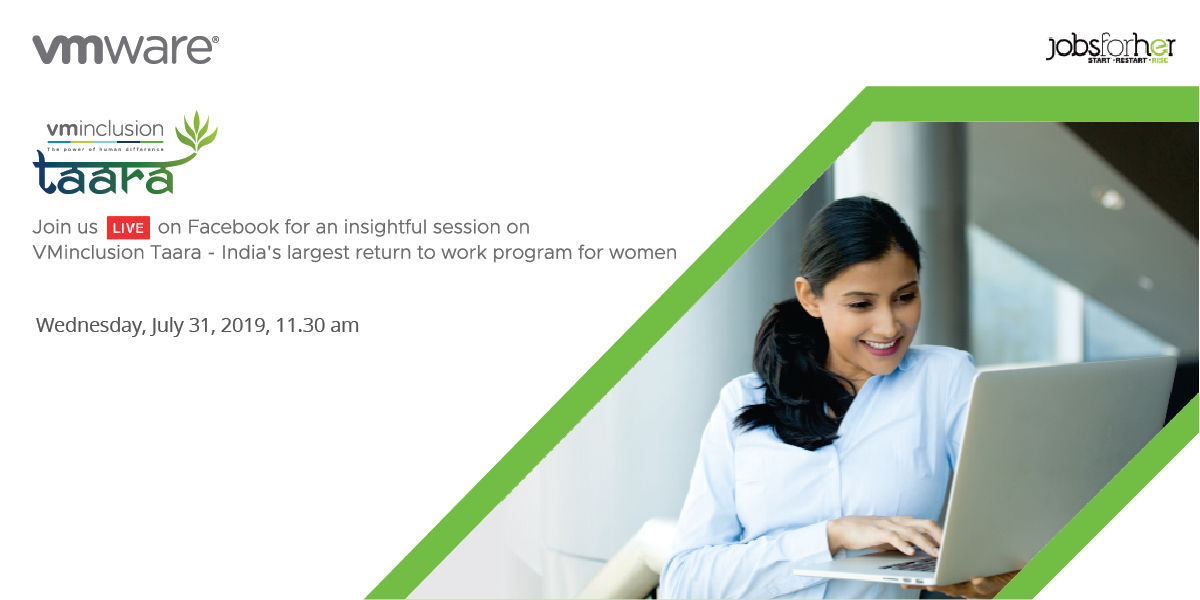 31st July, 2019 to 31st July, 2019

|

11:30am to 12:00pm

|

Any
VMinclusion Taara helps women technologists return to work by providing them with training and upskilling opportunities. This initiative, in partnership with Women Who Code, aims to upskill 15,000 women in India over the next two years through FREE technical education.
As of July 2019, VMinclusion Taara has seen over 3,100 women enroll from across the country. The program has also generated a warm response from leading organisations, like Bharti Airtel, Cognizant and Dell pledging their support.
JobsForHer will be LIVE from the VMware office in Bangalore, with a panel of stalwarts from the organisation, who will share insights on:
What VMinclusion Taara is all about

How it helps women technologists bridge the gap

What it has done for women who underwent the program

Their future course of action
And more…
So, if you're a woman in tech, looking to find your way back into the world of technology, tune in to this LIVE and ASK YOUR QUESTIONS to the experts.
The panelists include:
Ramkumar Narayanan, VP Technology & Managing Site Director, VMware India

Anita Vijaykrishnan, Vice President IT, VMware India

Harjeet Pruthi, Senior Program Manager, Women In Technology, VMware India

Bhavini G, Taara Graduate

(Bhavini went back to work after 15 years, thanks to the VMinclusion Taara program)
Inspired to attend?
Click on the REGISTER tab above.
Know a friend who might benefit from this too?
Don't forget to share this with her!