Verizon - Meet & Greet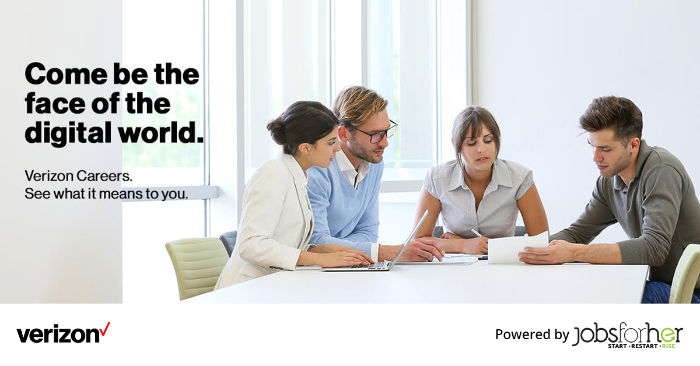 30th November, 2019 to 7th December, 2019

|

09:00am to 06:00pm

|

Chennai, Hyderabad / Secunderabad
Note - This event is open for women who are with/without a career break.
We champion diversity and value the innovation that comes from the diversity of opinions.
WINGS - Verizon's Back to Work program, provides a launchpad for women who want to rejoin work after a career break. The program highlights the importance of negating the indifferent approach taken by hiring managers towards women who have taken career breaks due to various personal reasons.

An orientation program is held for new hires to help them settle comfortably into the organisation. Managers and their teams go through a sensitisation program hosted by an external agency to equip them to communicate and collaborate with new hires and become their support agents in the organisation. A buddy is also aligned with each new hire for a few months.
Women professionals with a minimum break of 6 months to a maximum break of 5 years are considered for compensation at part with Verizon standards. Over the past 3 years, many women professionals have been hired under this program.
How to attend?
Take a look at the list of job openings below and register. If you qualify, our team will get in touch with you.
Shortlisted candidates will receive an email to attend the exclusive event, where they stand a chance to get hired!
Venue | Date | Timing:
Hyderabad:
Nov 30th (9.30 am-5 pm)
Venue: Verizon Data Services India, BLDG#10, TITUS Building, Mind space, Survey#64, Hyderabad - 500081
Chennai:
Dec 7th (9.30 am–5 pm)
Venue: Verizon Data Services India, OLYMPIA TECH PARK CITIUS BLOCK-B, # 1 Sidco Industrial Estate, Guindy, Chennai - 600032
AGENDA FOR THE EVENT

10.00 am-10:30 am

Registrations

10:30 am-10.50 am

Verizon Overview

10.50 am-11 am

"WINGS – Back to Work" conversation

11 am – 12 pm

Round table with Verizon Leaders

12 pm – 1pm

Networking and Lunch

1 pm onwards

Interview closures
Last Date to Register – Hyderabad 28th Nov & Chennai 5th Dec
This is your opportunity to shine. APPLY NOW and watch your career soar!
Know more about our company here: https://www.jobsforher.com/company/verizon-india/5904