URJITA (Program for restarters to re-orient, reskill and get job ready) - 1-O-1 Session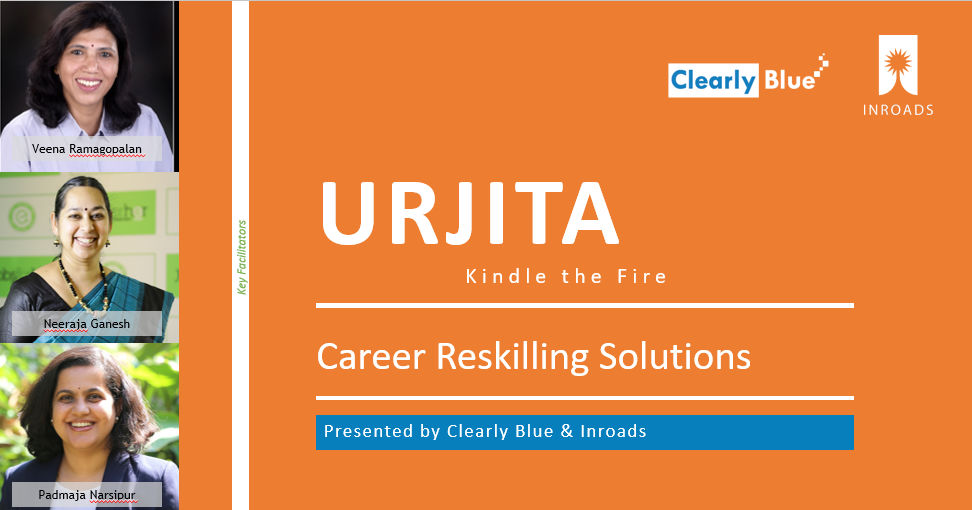 8th September, 2019 to 30th September, 2019

|

02:08pm to 12:00am

|

Any
Program description:
In a highly competitive world, making the right career choices is a must. And the best way to keep up-to-date and stay ahead of the game is through reskilling courses and training courses.
URJITA is a holistic restarter/career reskilling program for aspiring women to relaunch their careers with confidence.
This program will enable women on a career break to learn new skills, challenge themselves to something new, recreate their niche and therefore find a better version of themselves.
Program Outline
This program will equip you with the following:
The skills and competencies required to succeed
The confidence to drive personal growth and reclaim professional identity
Necessary tools for a successful career path
The introductory program will include 3 modules, which can be delivered to the participants as a package, in separate modules, or through individual program mentoring .
The 3 modules are:
Elevator Pitch
Interview Skills
Resume Writing
Program Takeaways
The key benefits of each module are as follows:
Elevator Pitch
Importance of having a compelling and impactful introduction when you tell someone about your career goals
Key elements to make your introduction interesting, compelling, memorable and concise
Do's and don'ts for the elevator pitch to work
Examples of a good and bad elevator pitch
Using role play to understand the process
Interview Skills
Understanding the phases of an interview process
Preparation for an interview, during and after the interview
Understanding of the STAR model
Dos and don'ts of how to handle an interview
Understand the basic questions asked during an interview and learn how to respond effectively
Understand the nuances of a one-on-one interview Vs a panel interview
How to deliver an impactful closure
Using role play to understand the process
Resume Writing
Dos and don'ts of writing an impressive resume
How to showcase social presence, via portals, meetups, hackerank, etc. on your resume
Examples of good and bad CVs
Learn how to represent yourself
How to customise your resume for the role you apply for
Practice sessions to understand the process.
Program terms and conditions:
Online delivery of modules
One-on-one mentoring shall be considered based on the participants travel convenience
Participants will need to pay for their travel
Group session will be held only if the cohort size is more than 5 participants
Personalised coaching and mentoring shall be provided at an additional cost