The Negotiation & Leadership symposium 2018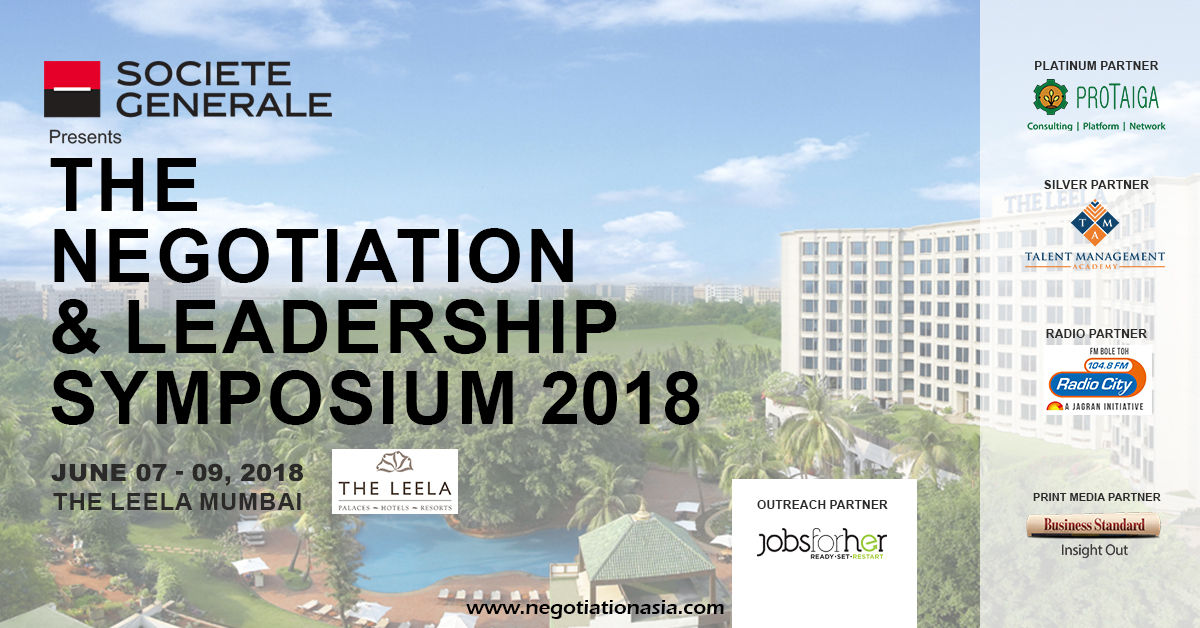 7th June, 2018 to 9th June, 2018

|

09:00am to 06:00pm

|

Mumbai / Navi Mumbai
THE NEGOTIATION & LEADERSHIP SYMPOSIUM 2018
Asia`s only C-Level Negotiation Conference!
June 07 – 09, 2018 The Leela, Mumbai
"Negotiation is a learned and not an inherited talent"
The 2018 Negotiation and Leadership Symposium is coming to Mumbai, It will be the largest gathering of thought-leaders on strategic negotiation in the world. Come to learn strategies from the most successful negotiators & leaders that will guarantee you 10X Growth in 2018.
Many women fail to recognize opportunities to negotiate — about their roles, about the support they need to be successful, about the resources to get the job done, about buy-in from their peers and those they lead. The panel aims to help women by sharing solutions & strategies to such complex situations and the desired outcomes can be
Women who attend will leave better equipped to:
Advocate effectively for themselves, their teams, and their organizations
Ask for the resources and support they need to optimize their performance
Take advantage of a wider range of opportunities
Promote their own careers and develop professionally
Accurately assess their skills and value
Achieve leadership roles within their organizations
Recognize internal barriers holding them back
Ensure they get appropriate credit for their contributions
Fully utilize their skills and talents
Improve their decision-making
Recruit mentors and sponsors to help promote their careers
Build the collaborations necessary for success
Identify and leverage important network connections
Communicate clearly, command attention, and convey authority without provoking a backlash
Contribute to the culture and market power of their organizations
The Symposium provides executives the opportunity to spend two day immersed in a productive environment with peers from large enterprises and multinationals, as well as business specialists and other experts.
Kicking-off The Asia`s only Negotiation and Leadership Conference is a networking drinks reception in the heart of the City – an event you cannot miss.
The evening is purely social and will bring together key leaders and most powerful negotiators across the globe. It's an excellent opportunity to meet with fellow TNLS delegates, catch-up with clients and contacts and chat with likeminded business associates in a relaxed environment before we get down to business on Friday.
Women special Price - INR 9,000 + 18% GST
Others - Rs. 16,500 +18%GST
Register your spot now.