TEACH AND LEAD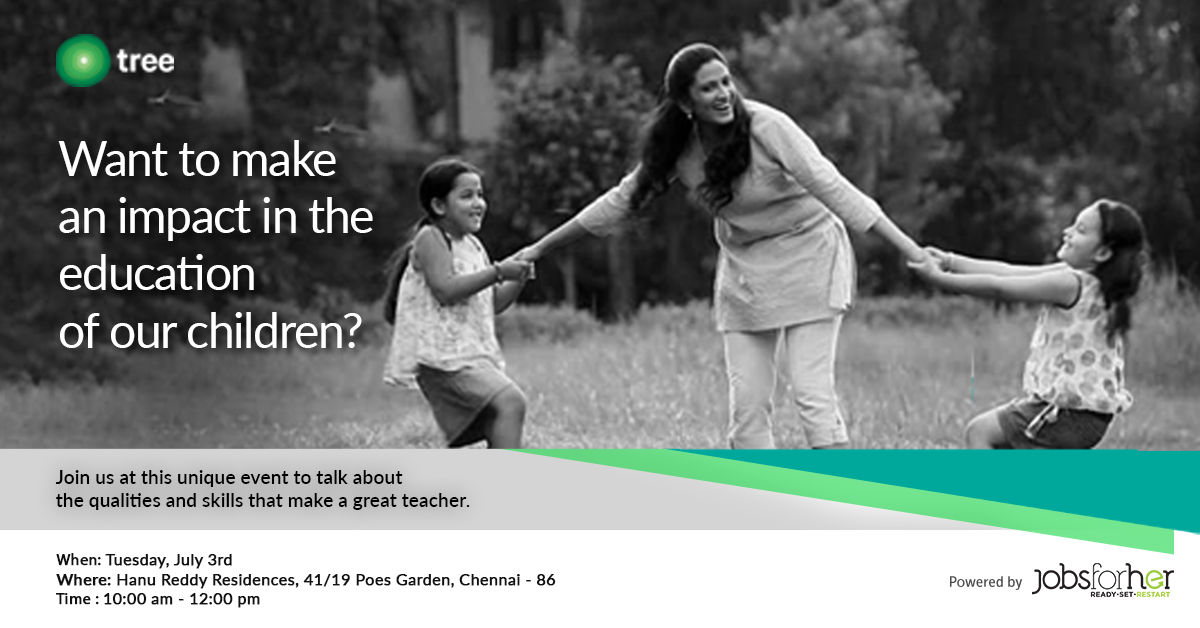 3rd July, 2018 to 3rd July, 2018

|

10:00am to 12:00pm

|

Chennai
Are you ready to return to the workplace and relaunch your career?
Would you like to do something meaningful, stimulating, and truly transformative?
We're looking for people who have deep empathy and compassion for others, a love of learning, abundant energy, and a sense of fun and wonder.
As a teacher, you will be responsible for the growth of individual children and the development of our future society.
We need YOU to teach and lead the next generation.
Come join Maya Thiagarajan, the founder of TREE, on Tuesday, July 3rd, for a discussion on how to launch your career in education.
TREE is a company that recruits, develops, supports and inspires teachers across the span of their careers.
Our BRIDGE course helps you gain the skills, experience, and confidence needed to start teaching. We also provide career counselling and placement opportunities to all participants.
ABOUT MAYA
A global educator, Maya Thiagarajan has taught in India, Singapore, and the US. She earned a BA in English from Middlebury College and a Masters in Education Policy from Harvard University.Maya began her teaching career with Teach For America and then spent ten years teaching high school English at top private schools in the US. She later moved to Singapore, where she taught in the IB program at The United World College of South East Asia (UWC).
Struck by the different approaches to education and parenting that she encountered in Asia, Maya began to interview Chinese and Indian parents living in Singapore. Using her own experiences as well as the stories of parents whom she interviewed, Maya wrote a highly acclaimed book titled Beyond the Tiger Mom: East-West Parenting for the Global Age.
In addition to teaching and writing, Maya has conducted numerous teacher training workshops in Singapore and India.
In 2017, she relocated to Chennai, India, to pursue her dream of starting a company that would help schools recruit, develop, and inspire teachers. She is currently the Founder and Education Director at TREE.
Agenda:
10:00 AM - 11:00 AM - Teaching in the 21st Century - Presentation and Facilitated Discussion with Maya Thiagarajan
11:00 AM - 12:00 PM - Time to ask questions, network, and speak with Maya and other leading educators.
To read her Blog - Looking for a High-Impact Career? Try Teaching!