SRIRAM: A PARAGON OF EXEMPLARY VIRTUES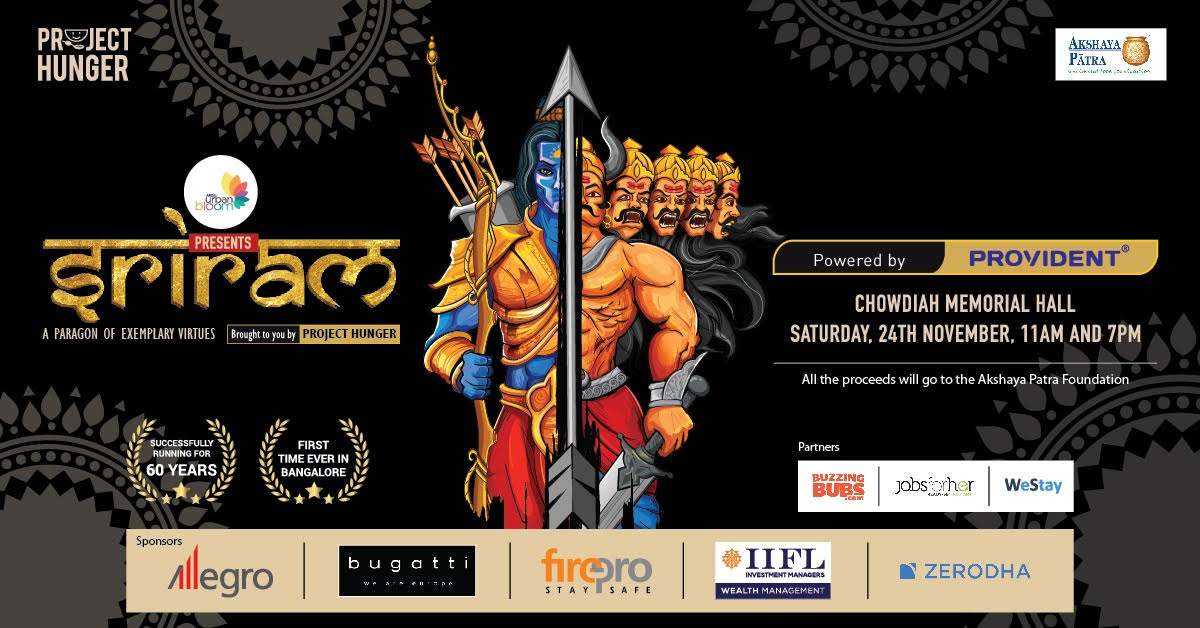 24th November, 2018 to 24th November, 2018

|

11:00am to 10:00pm

|

Bangalore / Bengaluru
PROJECT HUNGER
Project Hunger is a social initiative organized by a group of like-minded associates, whose mission is to alleviate hunger and malnutrition in India. The team members volunteer their time, effort, and resources to raise funds to serve India's vulnerable and undernourished children. All of the proceeds from this performance of "SriRam: A Paragon of Exemplary Virtues" will benefit The Akshaya Patra Foundation for their latest project – a commercial kitchen in Puducherry, which will feed 50,000 economically deprived school children on a daily basis.
THE AKSHAYA PATRA FOUNDATION
The Akshaya Patra Foundation is the world's largest, not-for-profit Mid-Day Meal Programme serving wholesome food to over 1.76 million children from 14,702 schools across 12 states in India. Headquartered in Bengaluru, Akshaya Patra aims to end malnutrition and support the right to education for India's socio-economically disadvantaged children.
SRIRAM: A PARAGON OF EXEMPLARY VIRTUES
Shriram Bharatiya Kala Kendra presents its 62nd endearing edition of Ramlila, showcasing a perfect synergy of idealism, grandiosity, and reality.
The Kendra's Ramayana has been witnessed by every President and Prime Minister since its inception in 1957 through the support of Pt. Jawaharlal Nehru, who donated money from the Prime Minister's National Relief Fund for the first Ramlila.
The Ramayana has inspired Indian civilization for over two millennia. The epic saga portrays the core societal values of devotion, loyalty, interpersonal relationships, and respect to elders. Shriram Bharatiya Kala Kendra's Ramlila presents the ideals, the conflicts, and the trials and tribulations of the human experience in an entertaining and captivating avatar.
Making its Bangalore debut, this production of "SriRam: A Paragon of Exemplary Virtues" depicts the story of an irreproachable and ill-fated prince and his faithful princess, of magically flying monkey companions, and the demon king Ravan through original music and classical Indian dance. The epic saga of Ram, Sita, Lakshman, Hanuman and Ravan will mesmerize the audience long after the performance ends.