sHeACK: Crediwatch's 1st Hackathon for Returning Moms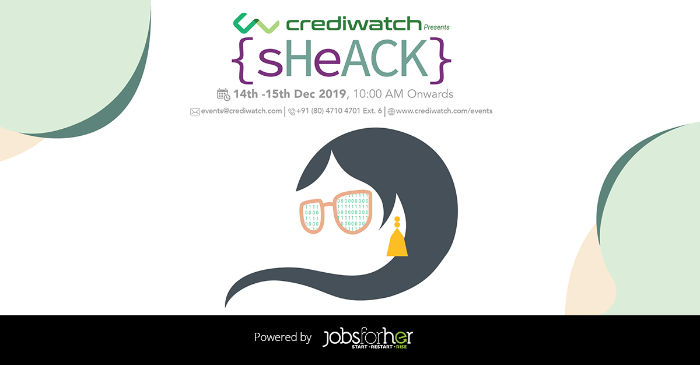 14th December, 2019 to 15th December, 2019

|

10:00am to 06:00pm

|

Bangalore / Bengaluru
About sHeACK
Crediwatch is inviting techie moms!
Working moms are the best role models for children. Based on this belief, Crediwatch's sHeACK — a hackathon exclusively for mothers, to give working moms a break from their full time job — as a mom.
sHeACK, the Hackathon is spread over 2 days, between 10 am-6 pm, in Bangalore, keeping in mind the fact that moms have to get back to their kid(s).
The technologies they are looking for are Python, Ruby, Javascript, and more.
Who Can Participate?
Any mom with 3+ years of past work experience in tech can participate!
Event Details
Date: December 14 & 15, 2019
Timing: 10 am-6 pm
Venue: No1, 28th B Cross Rd, 4th T Block East, 4th Block, Jayanagar, Bengaluru
Agenda
DAY 1
Date: December 14, 2019
Time: 10 am-6 pm
| | |
| --- | --- |
| 10 am | Registrations & Keynote Talk - Introduction to the event, various rounds and revealing the prizes |
| 10.15 am | Let's Rock 'N' Roll and get started with the Hackathon... Brainstorm... Group Photo, 'Live Tweeting' |
| 11.15 am-11.30 am | Snacks & Tea break - Chai Pe Charcha (networking) |
| 1 pm-1.45 pm | Break for lunch |
| 1.45 pm-3.00 pm | Back to hackathon |
| 3 pm-3.15 pm | Snacks & Tea Break |
| 3.15 pm-5.45 pm | Back to hackathon |
| 6 pm | The 'PAUSE' button moment - Let's continue hacking tomorrow (same time same place) - Group Photo, 'Live Tweeting' |
DAY 2
Date: December 15, 2019
Time: 10 am-6 pm
| | |
| --- | --- |
| 10 am | Introduction- various tracks/rounds |
| 10.15 am | Hacking continues- Brainstorming Session |
| 1.15 am-11.30 am | Snacks & Tea break - Chai Pe Charcha (networking) |
| 11.30-1.00 pm | Back to hackathon |
| 1 pm-1.45 pm | Break for lunch |
| 1.45 pm-4.30 pm | Back to hackathon |
| 4.35 pm-6 pm | Presentation, Feedback, Group Photo, 'Live Tweeting'. & Announcement of Winners and Prizes !!! |