Recruitment Events by Top Companies for Senior Women Professionals Across India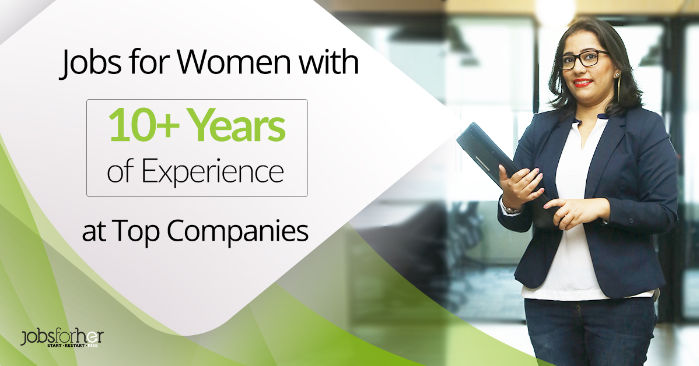 1st March, 2020 to 31st March, 2020

|

10:00am to 05:00pm

|

Bangalore / Bengaluru
Rise and shine in your career with events powered by JobsForHer. Top companies that are looking for women professionals with 10+ years of experience are organising exclusive hiring events to help you propel your careers.
Women risers, take heed. Harness your potential to the fullest. Top companies across industries and functional areas are hiring women with 10+ years of experience in skill sets such as:
Finance & Accounting Delivery: Domain expert in PTP, OTC, RTR, FP&A, Tax, treasury; management of P&L; stakeholder management

Finance & Accounting GPO: Pre-Sales/Sales, team management of 50+ members

Business Excellence: 'Six Sigma Master Black Belt", "Black Belt with Quality improvement' or 'Lean Deployment'

Mobilisation: Programme Management

Credit Risk & Analysis
Why YOU Should Apply
Top companies in India are waking up to creating stronger, resilient teams to carry out successful business strategies. They are opening doors and creating stronger leadership teams to head their businesses, thus hiring more women to help diversify management roles.
If you are a woman with 10+ years of experience waiting for the right opportunity to rise and shine, then apply to these companies who want you on board.
If you're shortlisted, our team will be in touch with you for a ThinkHERthon, an exclusive meet for women professionals like you to engage in peer-to-peer networking and gain insights into the working world of women.
Apply Now!