RecruitHER: A Recruitment Drive for Women in Tech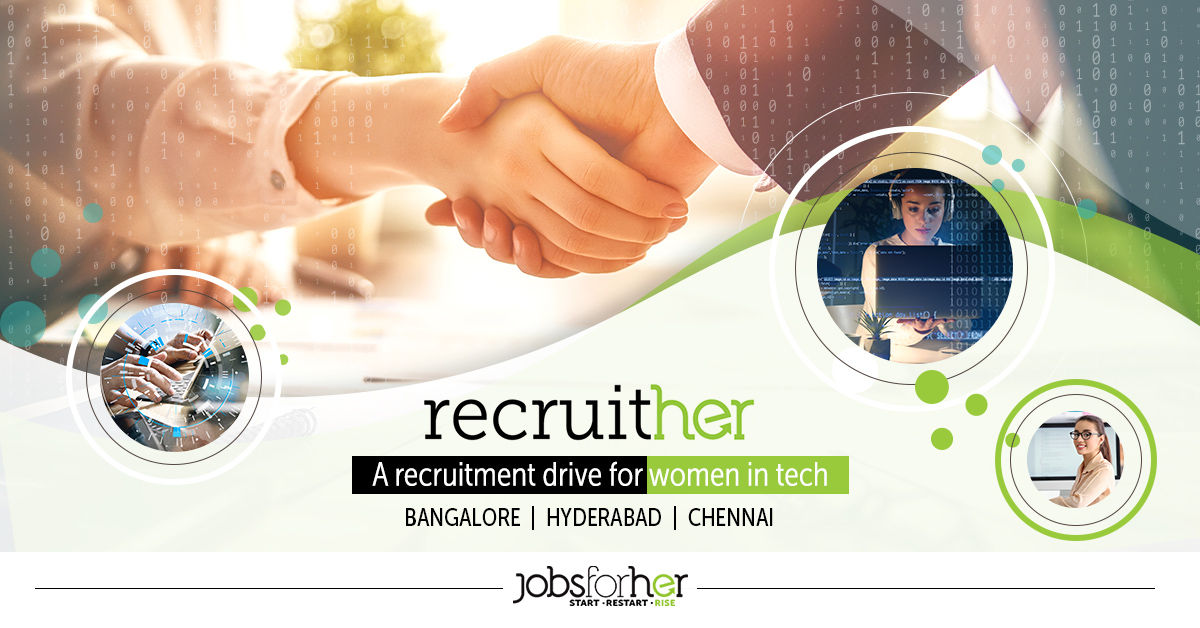 22nd June, 2019 to 20th July, 2019

|

09:00am to 05:00pm

|

Bangalore / Bengaluru, Hyderabad / Secunderabad, Chennai
What is RecruitHER?
A recruitment drive for women in tech, this June & July, in Bangalore, Chennai, and Hyderabad! A face-to-face lineup of events for women professionals across the country to meet, connect, and get hired on the spot.
Curated by JobsForHer, an online portal to accelerate women's careers by connecting them to jobs, community, mentoring, reskilling, inspiration, and networking opportunities.
We have 6000+ companies waiting to hire dedicated women in the tech profession and enable gender diversity in the workplace. All YOU have to do is take advantage!
Connect. Engage. Get Hired. at RecruitHER
Bangalore - 22nd June
Hyderabad - 6th July
Chennai - 20th July
Here is an opportunity for you to get face-to-face with people at women-friendly companies.
Some of the top tech skills that we are targeting are:
Mobile Developers (Android, IOS, Hybrid)

Frontend Developers (HTML, Javascript, CSS, JQuery, Angular

Full-stack Developers (Java/J2EE, .Net, PHP, Python)

Testers (Manual, Automation)

Data (Data Scientists, Data Analytics, Big Data)

DevOps (Azure, AWS, CI/CD, Jenkins)

Consultants (SAP, Oracle, Salesforce)

Product (Product Managers, Project Managers, UI/UX Designers)

Do you qualify for these tech skills? If yes, apply and wait to be invited to attend RecruitHER: A Recruitment Drive for Women in Tech!
Your journey with RecruitHER:
Register below
Your profile gets shortlisted (if it meets the criteria)
You get invited to RecruitHER!
Connect. Engage. Get Hired. at RecruitHER