Reality Check: A Bangalore Meetup to Power Your Career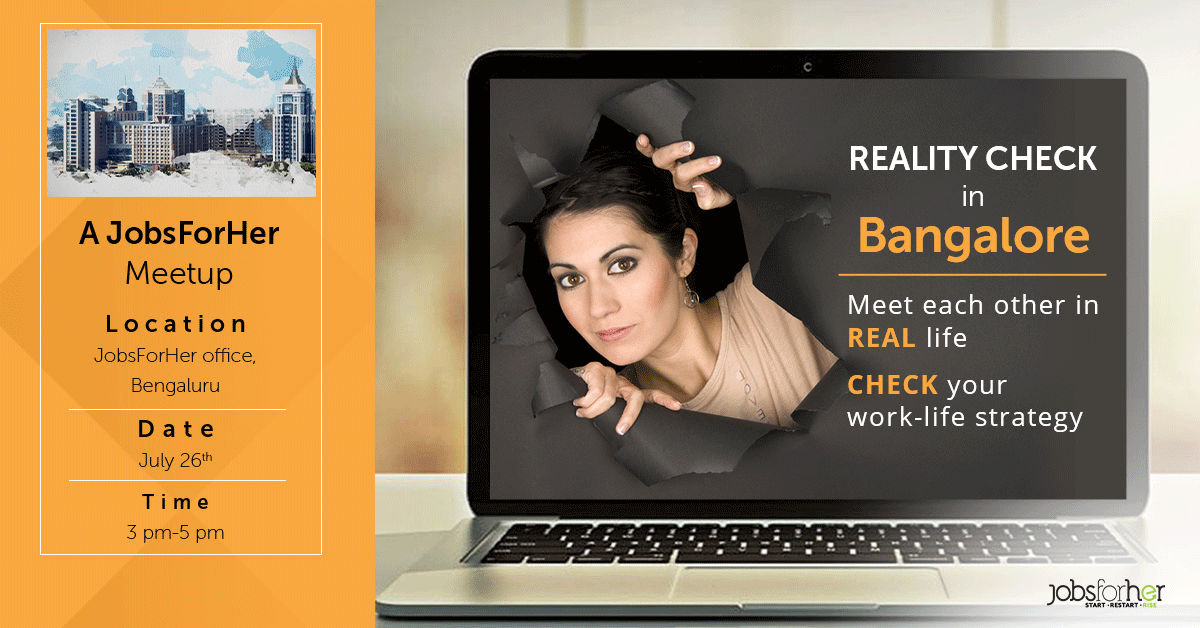 26th July, 2019 to 26th July, 2019

|

03:00pm to 05:00pm

|

Bangalore / Bengaluru
Being a woman of today, you've probably experienced both — a face-to-face meetup and an online connect. These could be for personal or professional reasons.
Whether a reunion with old friends over a hot cuppa or a hangout over Skype, a career networking session or a masterclass online — we've seen and done both.
And while both kinds have an edge, we can say from experience that the benefits of a face-to-face meetup are far more impactful.
Women on the JobsForHer Groups look towards each other for answers, experience and sometimes just for someone who listens. They are slowly, but surely becoming each other's allies, just as we knew they would.
To fuel that bond, we have planned MEET & GREET events in members' individual cities.
We kickstarted our first with Hyderabad, followed by our second meet up in Kochi, the third in Chennai and now, we are super excited to host our fourth meetup in namma Bangalore!
When: Friday, July 26, 2019, 3 pm-5 pm
Where: JobsForHer Office, 31/5, Rich Crown, Above State Bank of Mysore, Coles Road, Cleveland Town, Pulikeshi Nagar
With Whom: Neeraja Ganesh, Head, JobsForHer Foundation
What you can look forward to:
Networking with several women professionals from the JobsForHer Groups

Career advice from the JobsForHer team in your field of interest

Addressing any hurdles or questions about how you can rise in your career
In an online world, nothing is more powerful than an offline connect.
Come, make the best of this platform, because opportunity doesn't come knocking every day!
JOIN the conversation in the Women Freelancers Group to attend this event