Meet & Greet event with Unisys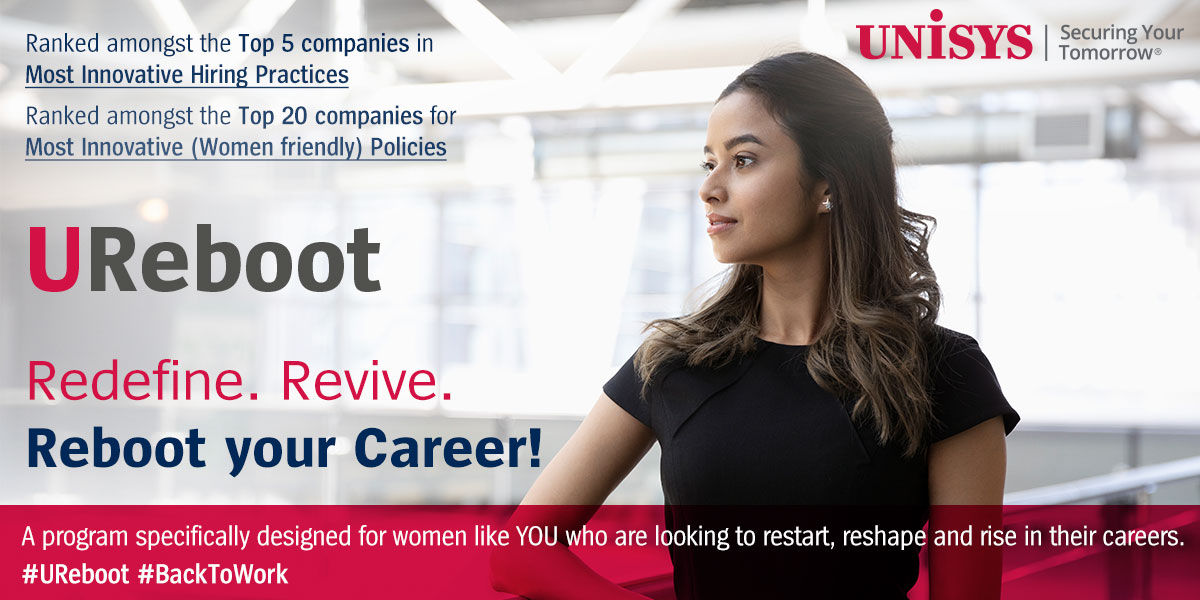 14th September, 2019 to 14th September, 2019

|

09:00am to 02:00pm

|

Bangalore / Bengaluru
"We are only as diverse as the people we hire, and we want to hire the best."
— Unisys
At Unisys, they understand that coming back to work after a voluntary break can be a major upheaval task for most women.
With all the personal and professional challenges coming your way, it may be hard to feel confident and qualified.
Unisys Reboot
Launched in 2019, UReboot is the latest diversity hiring initiative by Unisys India aimed at empowering women professionals to have a strong and exciting comeback in the corporate space.
It addresses a variety of issues, the most primary being striking a work-life balance, as well as advanced ones, like acquiring vital skills, finding mentors and beyond.
UReboot is a big step towards increasing diversity across all levels at the workplace and also to bridge the talent gap.
Date: 14th Sep 2019
Venue: Unisys India Pvt Ltd | RGA Tech Park, Block-3, Wing B, Survey No 31/1, Chikkakannalli Village, Varthur Hobli, Sarjapur Road, Bangalore-560035
These are the skills required:
| | | |
| --- | --- | --- |
| Role Name | Skills | Experience Level |
| Lead Java Developer | Java, vert.x java / Rx java, Reactive Programming, Microservices | 9 yrs to 11 Yrs |
| Automation Tester | Automation Framework, selenium, Java | 9 yrs to 11 Yrs |
| Senior .NET Developer | .Net, C#, WCF, WPF, Webservices | 6 yrs to 10 Yrs |
| Project Manager | Enterprise Applications, Project Management, Planning, Costing, Java/.NET | 10 yrs to 15 Yrs |
| .Net Cloud Architect | .Net, Architecture Skills, AWS, Cloud | 9 yrs. to 11 Yrs |
| Lead Engineer - Systems Programming | C++, "C", System Programming, Windows, Networking/Security Domain | 9 yrs to 12 Yrs |
| Data Analyst | AI/ML, Python, R | 6 yrs to 8 Yrs |
| UX Designer | Creative, Adobe Photoshop, Illustrator, Figma, Typography, User-Centered Design | 6 yrs to 10 Yrs |
| Principal Engineer - Systems Programming | C++, "C", compiler, Kernel, file system, OS internals, Windows internals, database internals, application layer, windows driver | 12 Yrs to 17 Yrs |
| Solutions Architect | presales, Application development with Cloud/ End-user Services | 10 yrs to 14 yrs |
How to attend?
Register here if you have the right skill set and our team will get in touch with you if you qualify.
Shortlisted candidates will receive an email to attend the exclusive event, where they stand a chance to get hired!
Last Date to Register - 12th Sep 2019
AGENDA FOR THE EVENT

9.30 am-10 am

Registrations

10 am-10.15 am

Introduction to the UReboot Program

10.15 am-10.45 am

Reboot Essentials – A Panel Discussion and Q&A

10.45 am onwards

Job Interviews

11 am

Networking with Unisys Leaders

1 pm-1.30 pm

Lunch
This is your opportunity to shine. Apply now and watch your career soar!
About Unisys
Unisys is a global information technology company that builds high-performance, security-centric solutions for the most demanding businesses and governments on Earth.
They specialize in providing integrated, leading-edge solutions to clients in the government, financial services and commercial markets.
Unisys offerings include:
Security software and services
Digital transformation and workplace services
Industry applications and services
Innovative software operating environments for high-intensity enterprise computing
The company serves more than 1,200 clients globally, with more than 19,000 employees.
Unisys India
Unisys India represents a microcosm of Unisys Corporation in its focus on delivering a comprehensive portfolio of technology products and services that combine the latest collaborative platforms with highly mature, standardized processes, and deep domain and technical expertise.
Unisys specializes in providing industry-focused solutions featuring leading-edge security to clients in the government, financial services and commercial markets.
As a world-class employer, Unisys India fosters a culture that honours and cultivates the best in you — your experiences, skills and desire to excel. We strive to ensure an environment where different perspectives and ideas are fully respected and valued.
Amazing Workplace for Women
In their continuous endeavor to provide a women-friendly work environment that promotes gender diversity, Unisys offer a strong support system that enables women associates to grow professionally.
As an organization, Unisys India provides various platforms for women employees to empower and benefits to support them in achieving their professional goals.
Special Programs and Initiatives for Women Associates
Mélange — The Diversity and Inclusion Council: This associate council was launched in 2016 by the India leadership to bring together people who are passionate about promoting a diverse work culture and being the torchbearer. The council aims at empowering women employees through relevant training and skill development programs.
Buddy Program for New Mothers: The Buddy Program is an attempt to keep women employees going on maternity leave engaged with what is happening in the organisation and their teams in particular. The aim is to ensure women on maternity leave don't feel disconnected when they are away from work and to ease their transition when they return.
Crèche Allowance: Another important benefit for a new mother provided by the company is crèche allowance. All Unisys India women associates, across all locations and shifts, are eligible to claim actual crèche fee or Rs 6,500 per month (whichever is lower) towards the child's crèche fees. This crèche allowance is applicable for children up to four years of age.
Other benefits include:
Healthy Work-life Balance
Paid Sick Leaves
Paid Parental Leave for Both Parents (6 Months for Women)
Professional Development Opportunities
Retirement Programs
Strong Culture and Ethics