Loud Women- One minute theatre Festival and break out sessions for Women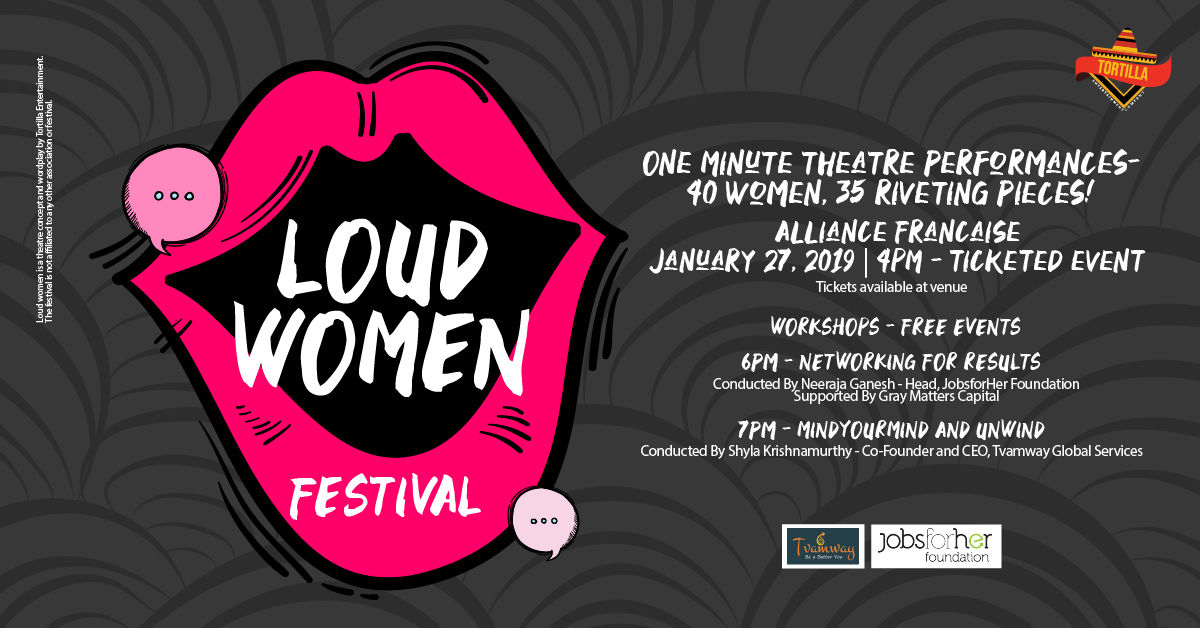 27th January, 2019 to 27th January, 2019

|

04:00pm to 09:00pm

|

Bangalore / Bengaluru
Free
Registration closed
Workshops are free, the theatre show is a paid event with a special discount for JobsForHer foundation community members
"Loud Women" is an evening of women's voices raised together and separately in praise/ protest/ unison / about issues, joys and life experiences.
Sometimes being a woman with a perspective is enough to cause a ripple positive or otherwise in the families, communities or countries we live in.
"Loud Women" is when we hand women a megaphone and a stage and let the thoughts flow.
Be part of this voicing of the joy and travails of living at this time in world history.
Share their experiences, thoughts and dreams in one minute dramatic pieces that echo your sentiments not just theirs!
Following the show we will have break out workshops and sessions with well known women entrepreneurs and thinkers delivering modules on thought provoking and career enhancing subjects.
One minute plays. 4-6 pm
Featuring 40 one minute pieces by women from all over the city!
Venue: Alliance Francaise
Date: January 27, 2019
One Minute Theatre Festival- 4pm
General public ticket price - Rs. 200/-. Special discount of Rs. 25/- for JobsForHer foundation members.
Break Out Sessions- 6pm to 9 pm. Free entry.
Speaker: Neeraja Ganesh- Head- JobsForHer Foundation
Workshop- Networking for Results

Speaker: Shyla Krishnamurthy- Head- Tvamways Global Services
Workshop- MindYourMind and UnWind-
Speaker: Dipika Trehan, Iconic Woman awardee - Women Economic Forum
Session: Making a woman fall in love again.. This time with herself
Speaker: Shreya Krishnan, Mrs. India World 2017 and VP, Marketing and Communications, Anviti Insurance Brokers