Let SPJIMR Help You Get back to your career with confidence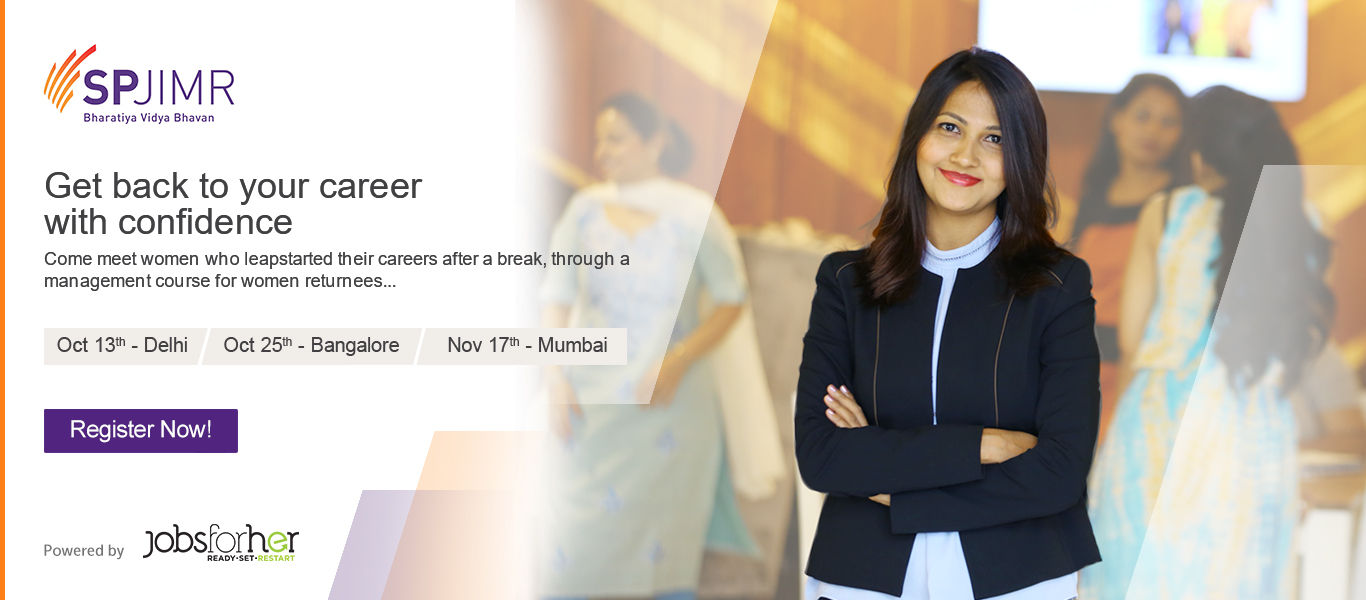 13th October, 2018 to 13th October, 2018

|

10:00am to 04:00pm

|

Delhi / NCR
SPJIMR has acquired the reputation of meeting societal needs of under-managed sectors by offering unique, purposeful and relevant initiatives.
On the 13th of October, SPJIMR is holding a Meet & Greet at their Delhi campus, where they will introduce their 11-month full-time programme for women returning to professional careers. During this Meet & Greet, SPJIMR will introduce the women to the faculty and alumnus.
Dr. Anshul Verma, Associate Prog Head for PGMPW, Holds a dual Ph. D. in the area of Credit Risk Management and the area of Applied Business Economics from Dr. B. R. Ambedkar University, Agra. He will be present to introduce the institute and the programme on the day.
Your Day at a Glance
Morning Session: 10:00 am to 11:45 am
10:00 - 10:45 - Introduction to the Institute and programme
10:45 - 11:00 - Meet the alumnus
11:00 - 11:30 - Q&A
11:30 - 11:45 - Tea break
Mid-day Session: 12.00 pm to 1.45 pm
12:00 - 12:45 - Introduction to the Institute and programme
12:45 - 1:00 - Meet the alumnus
1:00 - 1:30 - Q&A
1:30 - 1:45 - Tea break
@ SPJIMR, Bharatiya Vidya Bhavan Campus, Kasturba Gandhi Marg, New Delhi - 110001
Stay tuned for updates on SPJIMR's upcoming events in Bangalore (Oct 25th) & Mumbai (Nov 17th)