Kanthari Talks - Change From Within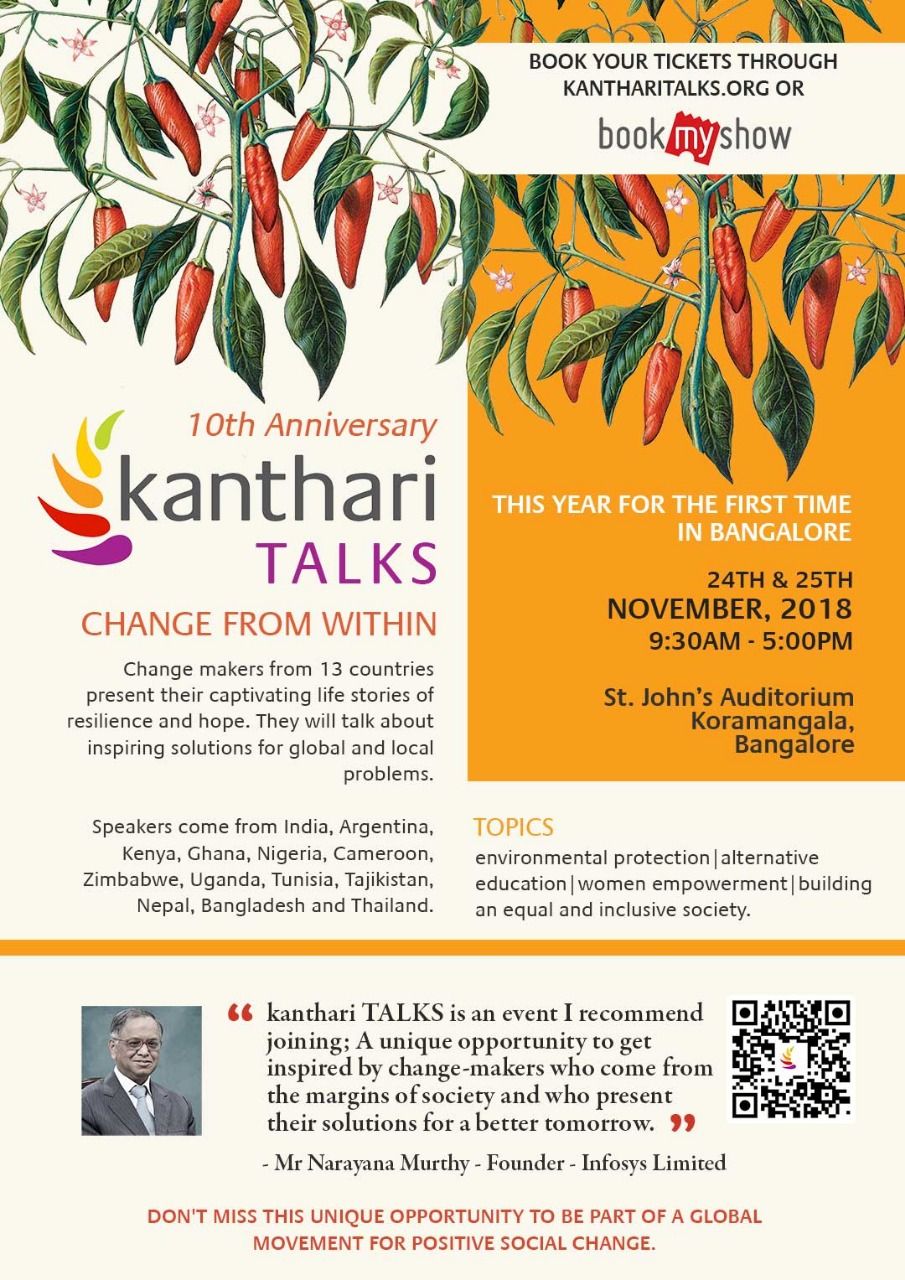 24th November, 2018 to 25th November, 2018

|

09:00am to 06:00pm

|

Bangalore / Bengaluru
kanthari TALKS are the culmination of an intensive, hands on, seven month social leadership program. Throughout the program, the participants from around the world work on turning their dreams of social change into a tangible and implementable action plan. These change makers then go back to their communities armed with the tools they need to challenge the status quo and build their dream projects. The kanthari TALKS give the rest of the world an opportunity to get a taste of these spicy kantharis.
In just 10 minutes, each participant will educate, entertain and humble you with their stories, dreams and action plans for a better society. Their projects cover the areas of protecting the environment, human rights, alternative learning and empowering the marginalized.
This year for the first time in Bangalore Changemakers from 13 countries presents their captivating life stories of resilience and hope. They will talk about inspiring solutions for global and local problems.
Speakers come from India, Argentina, Kenya, Ghana, Nigeria, Cameroon, Zimbabwe, Uganda, Tunisia, Tajikistan, Nepal, Bangladesh and Thailand.
Don't miss this unique opportunity to be part of a global movement for positive social change.
Topics Covered:
Environmental Protection
Alternative Education
Women Empowerment
Building an equal and inclusive society
Date - Nov 24th and 25th
Venue - St. John's Auditorium, Koramangala , Bengaluru