Iron Lady Leadership Program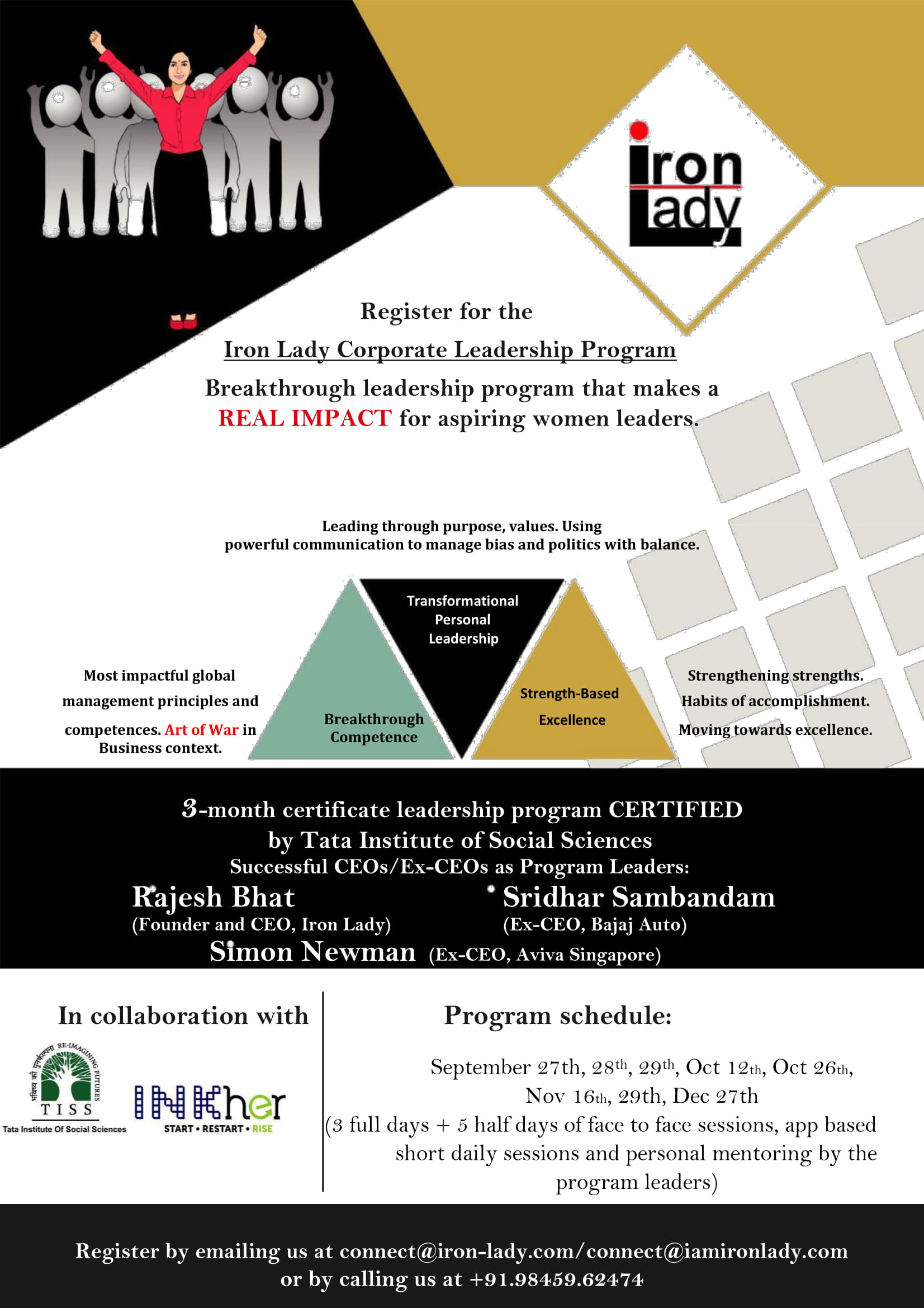 27th September, 2018 to 29th September, 2018

|

09:00am to 06:00pm

|

Bangalore / Bengaluru
Rs. 120000
Registration closed
Breakthrough leadership program that makes a REAL IMPACT for aspiring women leaders
3 month certificate leadership program CERTIFIED by Tata institute of social sciences
With Successful CEOS/ Ex-CEOS as Program Leaders
Rajest Bhat (Founder and CEO, Iron Lady)

Sridhar Sambandan (Ex-CEO Bajaj Auto)
Simon Newman (Ex-CEO, Aviva Singapore)
While the actual program costs Rs. 1.2 lakh per participant, based on the collaboration between INKHer and Iron Lady, scholarships are being provided to a few participants to offer it at Rs. 14,800 + 18% GST per person
Program Leaders: Program schedule:
Part 1 || Three full days | Sep 27, 28, 29
Takeaways
A new sense of internal confidence
Powerful communication and balance
Lead with a sense of purpose
Part 2 || Two Half Days | Oct 12 and Oct 26
Takeaways
Strengths and accelerated learning
Abstraction, strategic thinking and values
Part 3 || Half day each | Nov 16th , Nov 29th & Dec 27th
Takeaways
Breakthrough competence
Art of War in business
Project presentations, future learning and growth
Between Part 1 and Part 2, there will be on the job assignments, feedback, mentoring. Customised books, articles, videos.
Between Part 2 and Part 3, there will be Project preparation, expert guidance and adventure activity.