Vapasi by ThoughtWorks: Gear Up to Return to Your Career in Tech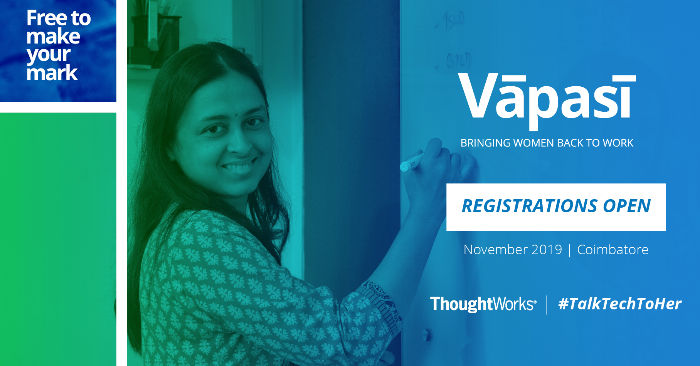 4th November, 2019 to 28th November, 2019

|

09:00am to 05:00pm

|

Coimbatore
As a woman in Tech who's returning to work after a break, would you rather do an online course to update your knowledge or a session with hands-on experience, like Vapasi?
Register for Vapasi — a #TalkTechToHer initiative by ThoughtWorks — to enable experienced women technologists like you, currently on a career break, looking to resume your tech journey.
The next edition of Vapasi is a technical bootcamp tailored for Developers, to be hosted in Coimbatore.
And what's even better, REGISTRATION IS FREE!
When: 4 weeks, from November 4 to November 29, 2019)
Timings: 9.30 am-5.30 pm, Monday-Friday
Last Date to Register: October 28, 2019
About Vapasi
This bootcamp is an initiative by ThoughtWorks to help women sharpen their programming and testing skills through hands-on sessions.
The last 8 batches of Vapasi tailored to Developers and Quality Analysts had 142 women returnees participate in the program. Many of them are currently on their second-career journeys, working with ThoughtWorks and other companies in India.
How you benefit from Vapasi:
Vapasi focuses on Developers who are currently on a career break and looking to re-enter the world of programming. So, as a woman Developer, you will gain the essential skills required to make a confident career comeback.

This 4-week training program will help sharpen your programming skills through hands-on sessions on object-oriented programming practices.
Eligibility Criteria
Women software developers with 2 or more years of programming experience

Currently on a career break of minimum 1 year

A good understanding of any of the object-oriented programming languages (Java/C#/Python etc.)

A good problem-solving skills
Application Process
Register for free on the form below with your details

You will receive an email containing a simple programming problem

Code the solution in your preferred programming language and send it

Short-listed registrants will receive an email confirming your seat for the 4-week workshop
Are you ready to restart your career journey? Here's your first step towards it.