Dynamic Digital Marketing Workshop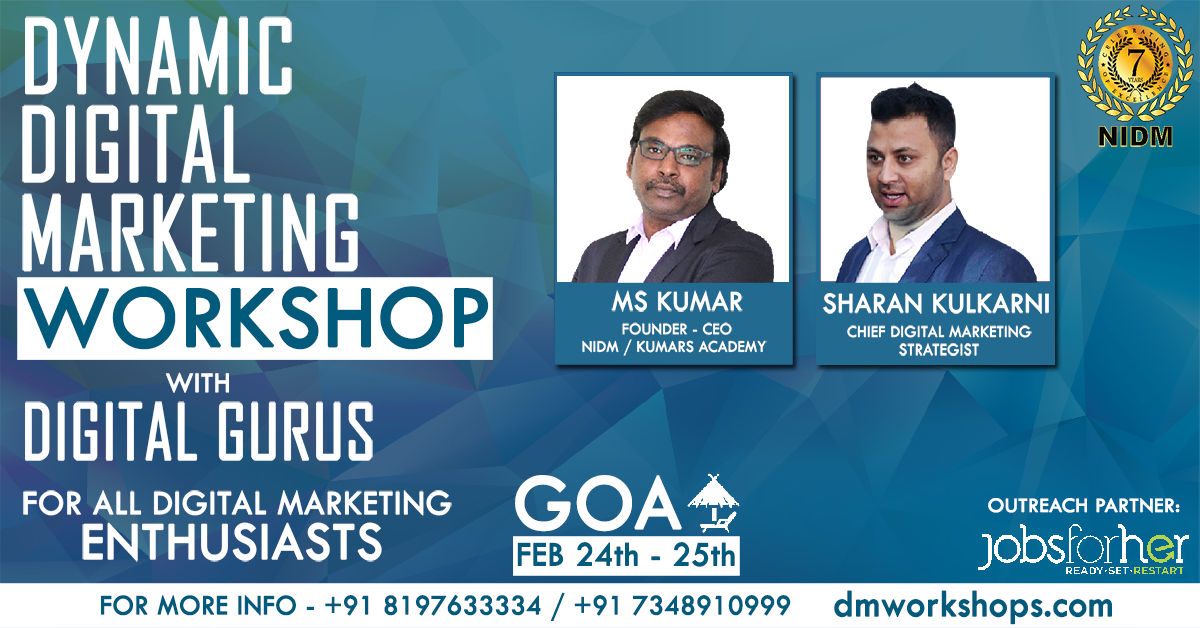 24th February, 2018 to 25th February, 2018

|

11:00am to 05:00pm

|

Goa
Digital Marketing Workshop
The workshop is aimed to bridge the gap between knowledge and skill, exclusively designed for all Digital enthusiasts, all Business professionals, Sales people and to make the best use of the Digital Marketing Concepts and its Strategies
UNDERSTANDING DIGITAL MARKETING
We will give you a brief on Digital Marketing and its evolution. How it has become a part of our everyday lives and how we can use it as a tool for creating brand awareness, promoting and selling our products online. We talk about the role of digital marketing in Business today. And walk you through the effective use of digital marketing tools and techniques.
EFFECTIVE IMPLEMENTATION OF 2018 SEO TRENDS
We will have a session on 2018 SEO trends and best practices. Why and How it effects brand visibility and credibility. And How to convert website traffic in to leads.
TARGETING THE RIGHT AUDIENCE WITH GOOGLE ADWORDS
Ever wondered why you come across so many ads in your Google search result page, when looking for certain products? We will help you understand how to target the right audience with Google Ad words. And share a few tips and tricks on How to get the best ROI for your campaigns?
JOIN 2 DAYS WORKSHOP 24TH & 25TH, Only FEW SEATS LEFT. HURRY UP! REGISTER NOW,