AWS Women in Tech Day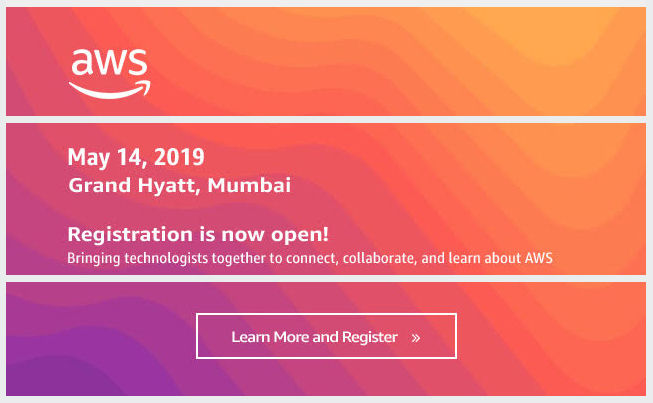 14th May, 2019 to 14th May, 2019

|

09:00am to 01:00pm

|

Mumbai / Navi Mumbai
About the event
AWS Women in Tech session is a half-day conference aimed to inspire, educate and bring the women IT professionals together through technical discussions, demos and an opportunity to network with AWS experts.
Join us to learn about AWS and get up to speed on the hottest trends in cloud computing, while also discussing the hands-on labs, training, and other resources available to help you take the next step and gain a deeper understanding of AWS.
Who should attend
Whether you are new to the cloud or an experienced user, you will learn something new at this session organized exclusively for women cloud enthusiasts.
You will also have the opportunities to meet Amazon staff and partners to get your technical questions answered.
All attendees will get flat 20% discount on training offered by AWS Training and Certification, AISPL.
Agenda
9:00 AM : Registrations
9.30 AM: Let's Build with AWS
Rohini Gaonkar, Senior Solution Architect, Amazon
Are you a Developer, Administrator, or a Consultant? Want to know how you can accelerate your career with Amazon Web Services? Join us to discuss how to build skills in cloud computing for technical leaders from all backgrounds. We will discuss the breadth of AWS products & services, current technology trends and how you can get started by training, certifications, contributing to open source projects and much more.
10.15 AM :Serverless: Functions, Containers and Beyond
Arun Gupta, Global Principal Open Source Technologist, AWS
Serverless computing is one of the preeminent technologies driving cloud adoption and modern applications. Serverless is predicated on the simple mantra: never manage servers. While AWS Lambda enabled this new style of computing, today, serverless has grown to be more than just AWS Lambda. In this talk, we'll take a look at how the serverless computing has evolved and the myriad of serverless offerings that have been created since then. As the serverless landscape evolves rapidly, we'll dig into what's coming next. Is orchestration still relevant in this new paradigm? How will serverless fundamentally change the way we think about application architecture and where do we see the next wave of innovation?
10.45 AM :Tea Break
11.00 AM :Building Intelligent Apps using AI services
Gabe Hollombe, Technical Evangelist, AWS
On behalf of our customers, we are focused on solving some of the toughest challenges that hold back machine learning from being in the hands of every developer. In this session, we'll introduce AWs's high-level, pre-trained machine learning services. We'll see how developers can easily integrate these ML services into their applications to provide powerful AI capabilities for better customer experiences, all with no machine learning experience required!
11.30 AM : IoT and the cloud
Aarthi Raju, Principal Solutions Architect, AWS
Businesses are increasingly deploying connected devices to gather actionable data to improve their processes and products. These devices sense analog inputs from its environment and digitize them, generating huge amounts of data at scale. But the challenges remain: How do you manage millions of devices securely? In this presentation, you will learn about the building blocks of IoT architecture and see how to build and analyze data.
12.00 PM : Lunch Break
12.30 PM : Session ends
Venue
Grand Hyatt Mumbai
Grand Salon Hall, Mumbai, MH 400055
May 14
9:00AM – 12:30PM