Women's March with 6 of Fortune's Top Companies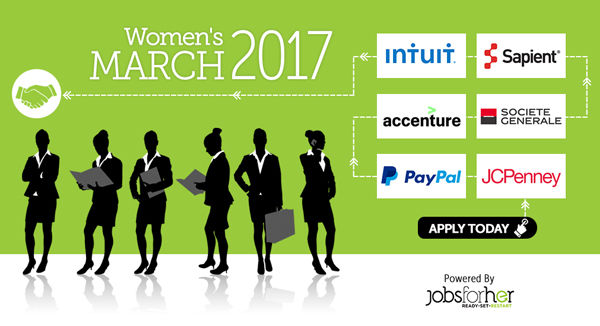 14th March, 2017 to 31st March, 2017

|

09:00am to 06:00pm

|

Any
Free
Registration closed for this event.
We just celebrated International Women's Day at the JobsForHer office last week. And what a week it was. Our Facebook Live Session had women from across the length and breadth of the country asking us questions about their career break - and our founder, Neha Bagaria, and the restarter women of the JobsForHer team answered them LIVE. We also introduced you to the women who are behind the team that gets Indian women back to work.
And this is not all. At JobsForHer, the buzz never really dies - especially when it's the month of March. As a sequel to our Women's Day Drive, we're now celebrating Women's March - a lineup of six of Fortune's biggest companies hiring women who have taken break(s) in their careers. Most of these corporates have returnee-programmes that are tailormade to reskill and rehire you post your sabbatical, so take a look.
PayPal's second edition of Recharge has begun. It is a six-week program that will help you build your interview skills and your confidence before you bounce back to the corporate mine again. If you want to get back to tech, PayPal has 15 job openings that you definitely shouldn't let go of.


Real Work. Real Impact - that's how second careers are at Intuit. Be a part of #IntuitAgain - a program that was initiated for women who had to step down from their tech careers and want to come back again. Once you get shortlisted by them, you will be retrained for free. Now that's a great reason to apply, don't you think?
Sapient India's Spring is a flagship Women Employee Returnee Program, which will enable women professionals who have taken a hiatus to return to the workforce, giving them flexibility and opportunity to recreate their niche in the professional world.
The company will create an enabling environment through this robust integration program and will assign each woman returnee a 'workplace sponsor' for a period of six months.


Time and again, Accenture has been lauded and recognized for its women-friendliness; for its inclusive work culture. Their women-friendly policies set an example for the corporate world to follow. They have 50+ openings on JobsForHer. Apply today for an opportunity with them will enable you to ease back into the workforce with little trouble.
With 1,014 locations in 49 U.S. states and Puerto Rico, JCPenney has left its mark in America's retail sector. They're now in India, inviting second career women like you to be a part of their legacy. If you've been waiting for that perfect tech job opening to come your way, their page on JobsForHer is the right place to begin.
150+ years in the banking space. Over 1,40,000 employees. Third Largest Bank in France. Need we say more? Societe Generale is certainly one of those companies that will look great on your resume, especially after that career break. Browse their job openings and apply before their jobs close.